i am feeling kinda silly.. in my last review i've recommended offliberty as my main method, at the moment, for youtube and soundcloud downloads.. now it seems the resource is broken and media content is not available.. so it's time for my next review, and it will be SAVEFROM.NET, or whatever local version it redirects you to. i get en.SaveFrom.net. it's quite a cozy site, it claims that it helps people download files from "popular resources", such as file hosting services (why? because of the limits maybe or something that sometimes those sites impose? i don't get it though), then video hosting sites, sound streaming sites, all the social sites are there, totaling maybe like 30-40 sites, most of those are Russian sites, because this resource is developed by Russians. makes me kinda proud cause i am russian myself. anyways, let's get back to the business.
our next pick is SaveFrom – easy to use, clean design, nice!..

let's go to SAVEFROM – it looks bright and inviting and straightforward. there are 2 ways to use the site from right on – by entering your desired video url into the box on savefrom main page right on top, or there's another way – by adding the url into the browser window right after the savefrom.net/ part, which will look something like this: http://en.savefrom.net/http://www.youtube.com/watch?v=JC2yu2a9sHk – although this second method requires a second click, and url should look like savefrom.net/#url=http:….  well, it's not a biggie, online service works nicely though… as usual i got for my favorite beebs!! haha. justin bieber, some new video there… here's what happens when i click yellow "Download" button (with the video link entered in the box already, of course)…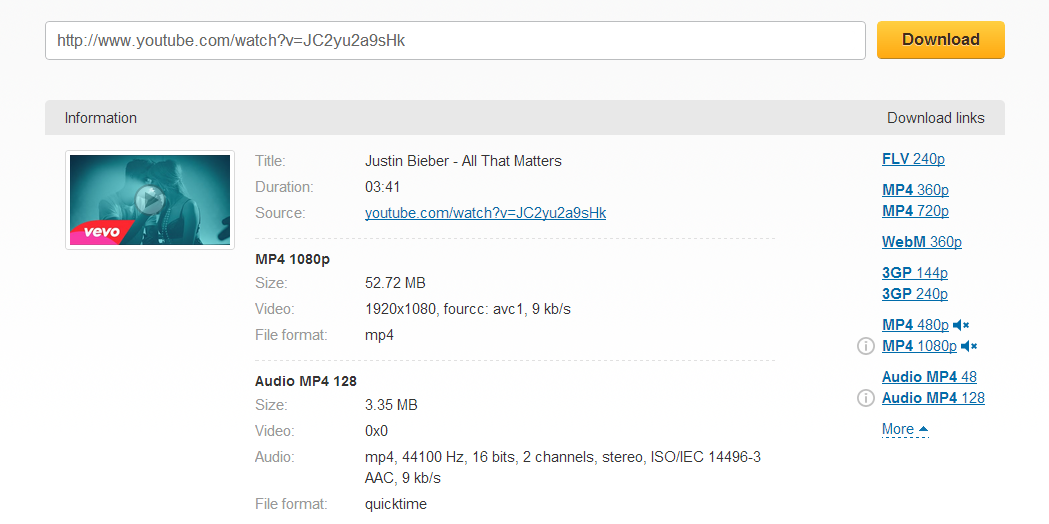 to save us some reading and to speed things up, this screen shot combines what i saw on the next screen, and it's the choice of different formats and also video or audio source to download from, and it's quite interesting, because apparently audio in 1080 might not even be better than 128kbps? is this correct or the site doesn't offer the 256kbps option for the audio? i've always thought 1080 video on youtube carried 256kbps sound? well, at the moment savefrom.net facebook page actually says that youtube is doing something again there changing their formats and stuff, so some of the options will be missing for a while. maybe that is the reason, i do not know. but now we see at least that 1080 video can be downloaded, and audio by itself also sounding quite a good option.. i have clicked those little (i) icons next to the options for download formats and this way shown the info. now i am going to go ahead and click mp4 720 to download.
yes, no more screenshots here, cause that's where it all ends – file is downloading in my browser. very nice, neat and fast. it's basically 2 click download. or maybe 4 click.. cause need to click that "more" link if needing more than 2 formats displayed initially.. very nice, quick and easy to use, seriously it might even replace the offliberty for me. it does have commercial advertising, but as it's a usual thing with these sites – ads are not provided by google, so expect intrusions on their behalf if you click them, it's only google that cares for the users and won't insist on providing shitty ads, – so beware with those ads.. don't trust them saying "you missing flash plugin" when you just came from youtube where you watched videos with that flash plugin… =) so be careful what you click, but otherwise i think this site gets 5 stars!! and also remember, this article only deals with online savefrom.net video downloading, i.e. using their website to do things. next i will write about their plugin, but it maybe after some other review, – i have many lined up. and i do prefer using online based methods for video downloading, it's kinda safer.. i think savefrom is very safe, it's safe to use savefrom.net with or without proxy, savefrom pushes no viruses or adware planted in it, so it's cool to use it, well, at least i do…
savefrom links and resources
facebook resource: english – facebook: Savefrom.net – en, there are 6 versions of their site right now – english, russian, german, turkish, ukranian and spanish. choose the one you like. only russian has its own following on facebook – facebook: Savefrom.net – ru, and on vkontakte – SaveFrom.net официальная группа | VK