I've been going around and near and back again with this site in my head, and finally decided – let me review  this youtube converter.. and i will say this from the very beginning – this is not going to be a positive one… too many "negativities" with this site. and for the second part of my thoughts in my head, i must say, the last review i wrote – Torch Browser Review – didn't really make any damage in the cyberspace.. why? i don't know.. apparently my review wasn't first or twenty first… it was, maybe, 100th… anyways, i will try from now on to save my time and your time and write more compressed reviews, while staying detailed and accompany myself with images, – as usual. here we go…
ClipConverter.cc Review and thoughts

lets start with the resource URL – it's http://www.clipconverter.cc/ and the site is dark and quite nice polished looking. but this is not what we're looking for, let's go ahead and try some new Justin Bieber video and try to download the video and audio with this service. here's what happens… generally this service stays on the barely legal side, since it's also a converter, it accepts files from your computer instead of URL, and it will take time to upload one, if you try, depending on your upload speed, of course.
first there's a look of their standard home page for not logged-in. yes, they have signup, dunno why… maybe some forum behind the closed doors? i don't signup. i just post my video link into the Media URL to Download: box, then "Continue" button needs to be clicked, so that the site could scan your desired video on the specified URL, see if there's anything in first place…
the row of buttons below the URL box represents the actual format that you want the resulting file to be.  if you have the first button Download pressed – it'll be looking exactly like the one below, – WHITE. if you need result to be converted, then press any on the buttons on the right. for audio only, when using clipconverter with soundcloud, some of them buttons will disappear and others may come up, depending on available media sources/streams..  let's see the beginning screen of Clip Converter:

so now i go ahead and enter the desired Youtube Video URL into the box, and click CONTINUE. this shows all available options for download, if i were to chose the "original" video that was uploaded, or if i wanted to convert it to something else, then all the buttons to the right of the white DOWNLOAD button will be of a great help. usually video on Youtube goes as FLV, thus all the available options for conversion: one can save this youtube video as audio file: MP3, M4A, AAC, or convert video into one of more popular formats, such as MP4, 3GP (in my 20 years with computers, it's first time i'm seeing this video format – 3gp), Windows' AVI and Real's MOV. oh, now i see, 3GP is, apparently, a special format Youtube uses to stream onto mobile devices. ok, now i know something new… =) Below is an example of available options for streaming media download:

by the way, when you click the START! button next – you actually accept the Terms of Use of this website, so it makes a bit of sense to skim through them real quick. maybe there's something talking about some kind of underwater currents that will screw you up like it happened in that South Park episode called Human Centapede (or something like that, rip off the Apple and some horror movie)..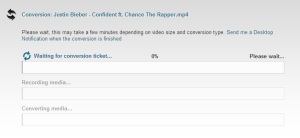 Now it's time to actually save youtube video – click START! for that reason.. a screen appears as if it's been some kind of software – first we're waiting for the server to be free to process our request, then it's video download process, i mean, clipConverter downloads the video to its own harddrive, and then comes the last step – Converting the Media, or just saving it and preparing for the download. here comes the first really negative experience: download actually happens from clipConverter.cc, and it's understandable – file was downloaded to their server, and if converted – that's where we download it from, but oh well… while normal download from youtube takes a minute or two, this method yields 50-60 minutes of download for a small 135MB video file.. not really my cup of tea.. i'm impatient. i have no time to spend on slow downloads. but oh well…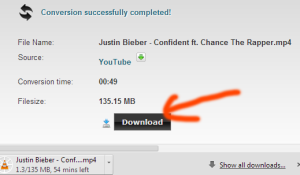 next screen actually offers the download button and i click it and there you go – 1 hour promised for this download… it really sucks.. plus it took 49 seconds to just prepare the download, which is very little compared to 1hr actual promised download time… but still.. it's a 1-click-thing on other sites… and here i click Browser BACK button to go back to the video selection/conversion screen, to see maybe how to save the video as MP3, and what do i feel? or see? or experience? i experience the second really negative moment: browser back button doesn't work. it's disabled. again, i do understand why? but i really, REALLY dislike it. i do get it, as i said. it's done so that users don't go back to the conversion stage after the actual conversion has already happened and temporary files been removed and all is basically over, and here one clicks back button and tries to re-run the conversion…  yes, it makes sense to disable those buttons, but it would be way better to let me go back but simply expire the page or show a possible error message or whatnot.. sloppy!
be aware that this site can show an Error Message after conversion screen, usually this is something unrelated, do not be alarmed, and simple page refresh will show the screen with download button.
Use Clip Converter to save Youtube as Mp3
below is the last screenshot i took to show how saving Youtube to mp3 actually works with ClipConverter.cc. i use same video link, and press CONTINUE again and here i am served with the possible download options. i click MP3 button to indicate i want just the sound. the screen offers to detect bitrate for me, but it also allows one to cut out a piece of the video and save it as mp3. for that simply mark Start and End of video checkboxed and enter the time as HH:MM:SS of start and end of the little piece that you want. it will also write ID3 tags into the mp3, using the info from the video page. here's how it all looks like: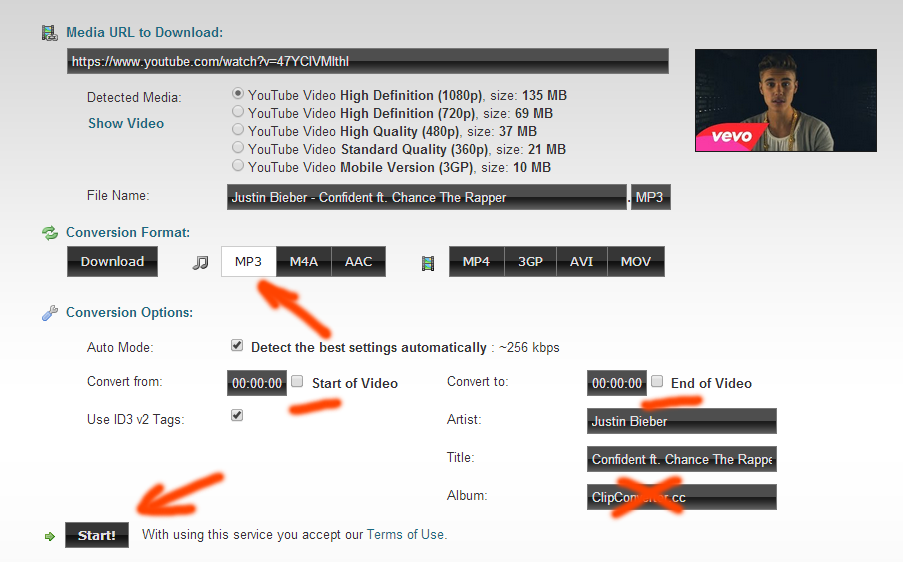 after all, i do not want to write out the good and the bad, as i did before, i just want to say: do not use this site, it's not worth it, unless you are looking to covert some video without even downloading it to your computer. otherwise the process is TOO LONG. download from their site? ridiculous!! really? yes, it is… but that is what you'll "pay" for the conversion. by the way, this can probably be solved by using the Clipconverter's Desktop Version, standalone software program that you'll install on your computer, then it will download video from youtube to your hdd first, before the conversion, and it will be fast. and then you convert it and it's already onyour computer, thus eliminating the 1hr long download. and what to do if i want to download a 2hr concert recording?? and if i want to convert it??? this will very easily render their server unconscious for at least an hour or two… unless they employ several server machines, adn the one doing conversion isn't the same with the one serving the site's pages…
with this method, downloading to their server, converting, etc – how about when i want to download a 2hr 1080 video? will their services jump up and happily start crunching my 3GB file? i think this is not really the way to do it.. if whole video is downloaded – let it be the software that's on your pc that does it…
Clip converter browser addon
check on in screenshot 1 above there's the menu, so click the BROWSER ADDON link there, and try it out for yourself. ClipConverter has addons for 4 major browsers. you can install clipconverter for your Chrome (or Torch for that reason), Firefox, Safari and Opera. it will act the same as i've described my vision of the way it should work. but i've been with these things for so long, i assume my way is the right way, because it saves time while delivering tons of useful info. but oh well, who knows…
more resources for Clip Converter.cc
ClipConverter.cc (ClipConverter) on Twitter