The time has come for me to write about Savetube.com and to discuss the nasty ways some sites have.. For a while I've been noticing that my site – savetube dot org – is getting some google traffic from the "save tube" keyword. I decided to check, maybe that is some kind of a nice service kinda "in my yard".. Yeah, maybe this is not going to be the best review ever, but i do have to address the fact that savetube.org has nothing to do with savetube.com.
As a matter of fact, I personally do not run, do not own or have or support or am anyway involved with (for that matter) any services that facilitate video and audio downloads from youtube, facebook and other websites in the world. I want this to be crystal clear. I only discuss websites here and software and browser extensions that may or may not have anything to do with audio and video downloading and youtube converter to mp3. Well, that's said, and now let's get to reviewing savetube.com.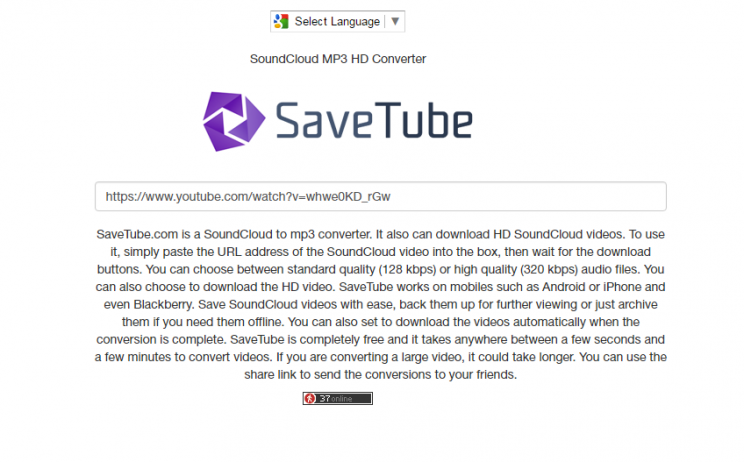 Savetube.com – just a micro-site "store front"
yes, if you have ever used this site, you'll see several things:
it only advertises its functionality with soundcloud. while it does work with other sites too (youtube, etc).
after entering a youtube link you'll see several options to download video or audio. and that's where it all ends pretty much…
try to download video or audio in any way – you will not succeed and will be redirected to their "main" service called cloudfile.co (which deserves its own article), where everything will be happening. Downloading, converting of video to mp3, HD video download, etc – it all happens via cloudfile.co.
My service and function and truly my call here on savetube.org is to provide clear explanations on how the service works and if it's somehow palpable and ok to use. well, this here i tell you right away: do not use savetube.com. better look around on savetube.org (here in this blog) and find a better way to download and convert online video. Better ways will include Off Liberty, Onlive Video Converter, etc. Pretty much anything from our Top 10 Online Video and Audio Converters and Downloaders page. There I actually guarantee that methods will work and that they are current and updated along with major sites updating their media serving protocols. and so..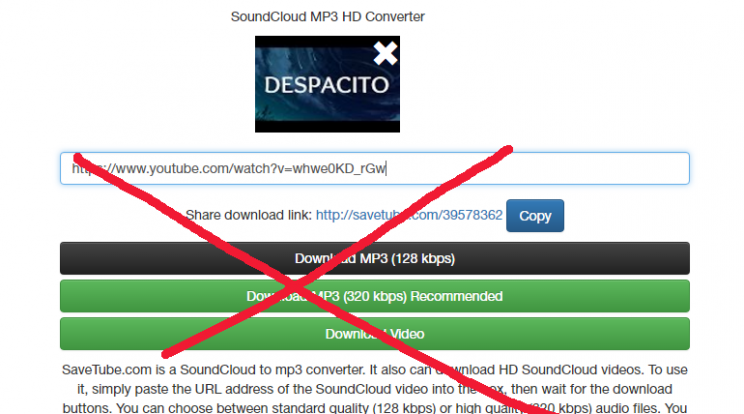 Do Not Use Savetube.com
i put it as a heading for the paragraph, but there will be no words here.. just soak it in.. well, i will tell the following: trying to click on ANY LINK OR BUTTON on this site will not yield any nasty pop-ups, no spyware or malware. in this relation the site is quite clean. but yes, it has to be, cause it's a nice redirect to their main service – cloudfile.co. But i'll tell you, run away from save tube com… Do not use it. If you really like cloudfile.co service – then simply bookmark it and visit it directly next time, sign up and have your own folder and stuff.. well, i'll talk about cloudfile in a separate article down the line. Plus one of the download options in the picture above is 320kbps "suggested" audio quality. both you and i know that youtube never offers 320kbps on its audio
Conclusion
savetube.com is just one of multiple redirectors to cloudfile.co, a completely different service that actually does the download and conversion of (online hosted only) video and audio. so savetube.com actually does nothing, it only shows options but doesn't live up to them.
DO NOT USE SAVETUBE.COM
that's all i have… till next review! =) btw, this one gets 1 star only.. cause it sucks!