Now I'd like to tap into Online Video Converter reviews. It seems as of late internet community is more interested in online video to mp3 converters rather than video downloaders. I'm guessing this is all due to Youtube having top songs when they are released for everyone to stream and watch videos. So people will rather convert online videos into mp3s nowadays, I think this is the trend of last couple of years.
Good quality Youtube videos will sometimes have 256kbps audio. Most of the time now they have various bitrate audio that could be upgraded to 160-192kbps, which is also not bad. Facebook rarely does more than 128kbps audio stream, soundcloud is same, and many others. which truly raises the question – why bother, audio is not that great?
Indeed, we all do understand that online and software video converters can, generally speaking, convert online video into downloadable mp4 video file, or an mp3, if needed. So in different words, converting online videos basically equals to downloading online videos. This is nothing new. This is what Savetube is all about – finding great methods to download, convert and save video and audio from famous and less known websites. So let's get to it! And this is the video we'll be playing with.
Online Video Converter review
It's great to have such a name. OnlineVideoConverter.com is the first result in google (at the moment) for the Online Video Converter search string. You won't miss it. But I will show below how it looks in my browser.
1. Onlinevideoconverter.com Front Index Page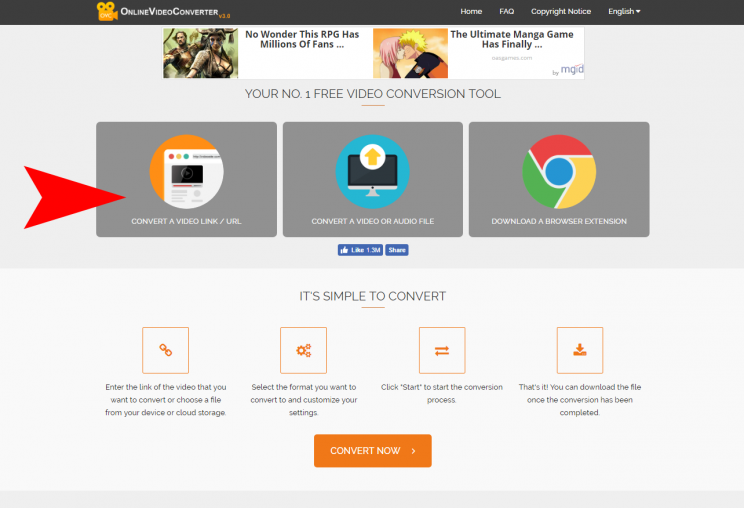 As you can see, there is advertising right on main page. and not the best one, not from google. so obviously google considers this website quite unpleasant, to stop advertising on it. Ads are on every page later, more than enough, 3 ad-blocks per page, and then on final download step get a new tab opening with annoying third party install.. make sure do not agree!!
but we'll get there.. Simply follow the red (and later – green) arrows and you'll do great! Now click on the left box, where red arrow is pointing. it'll put you on the actual video to mp3 conversion page. Now I am thinking, the pop-up tab can happen on any click, really, so watch out. Check step 4 for more instructions on how to refuse the install (hint – close the browser tab)..
2. Enter Video URL and select format to convert the video to
now we get into the heavily ad-ed area, 3 ad-blocks, oh well, some sites want money, so they do it, so be careful not to click it, i think it's quite shady… three things to do here, and they are clearly displayed on the image below:
firstly, enter the desired video URL into the box with first red arrow;
secondly, select the format you'd like. Default is video to mp3, but generally these are the available convert-to formats: Audio – mp3, aac, ogg, m4a, wma, flac, wav; Video – mp4, m4v, mov, avi, flv, mpg, wmv.
finally, click the orange Start button to start converting your video. 

now let's see what happens on the next screen.. of course, it's ridden with ads again, and download button is somewhat hidden.. always they try to get you to accidentally click on an ad..  so this now step 3 is when i had a new tab opened for me with an annoying third party app install offer… i graciously closed the tab to avoid accidentally clicking anywhere there…
3. Avoid ads and new tabs, look for blue download button to download video as mp3
Below is the screen-shot of where to find that download button.. After "video being prepared" counter runs out. Make sure click only in the big blue box that says DOWNLOAD: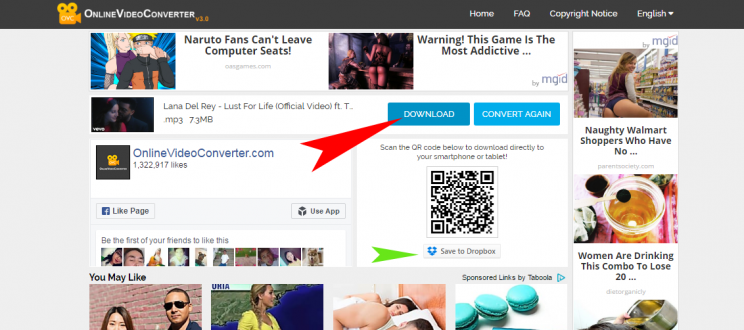 Mp3 download should start automatically. And yes, here comes a bit of trouble… When i clicked the Download button, i had a new tab opened for me, where i was offered to install something i didn't want…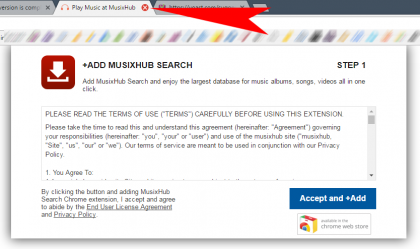 i have denoted the tab-close button with big red arrow. you should be familiar how to close a tab, right? also CTRL+F4 will help. just try and avoid clicking anywhere in that tab, cause usually any click there will be counted as positive by the ad, and will do something, like install some third party music search into my browser as default search engine.. no, thanks! so i simply close the tab. if you find yourself clicking that ad and getting into trouble, simply close whole browser window. this is how i get out of internet ad-trouble. Now look into your browser-downloads folder, or in the bottom of it usually downloaded files are shown.. if nothing is visible, try pressing CTRL+J. Yes, I like pressing buttons… =)
Conclusion: Online Video Converter is OK to use! Just be careful with the third party installs.
I think some ad-blocking software or browser plugin can help avoid the ads and avoid the third party installs being offered. Online Video Converter is just another way to download and save youtube converter videos, only pursued from a different angle – video conversion. In my opinion, Offliberty.com is a much nicer website, with less ads.
Same goes for Savefrom, which doesn't even have ads, although they are trying to push some standalone software at the moment.. so yes, every site tries to cut a chunk of online video converting traffic, but not every site provides amazing service. here downloaded mp3 has 192kbps bitrate, which was available via the 720p HD stream of the video.
There are no options for what size or bitrate to be picked for conversion or download. which is not so awesome. which is offered by savefrom and youtube-dl..
The Verdict: onlinevideoconverter.com is not making it into our Top 10 Online Video Coverters/Downloaders. Too much advertising, sneaky too.. Way too few download/conversion options.. And only a dozen sites are boasted to be serviced, so generally i am not sure if this is the best service to use. Maybe eventually I'll fine something better, but for now this Online Video Converter will do..
yes, they are on first spot for "online video converter" search phrase in google, but that is a completely different story. but they do get lots of traffic thanks to that. Alexa ratings say this site is in top 400 visited websites in the world…
so… maybe millions of users are correct and this site is sweet? not in my opinion, sorry.. giving it 3 stars. annoying.. too many ads warrant 1 star removed, and opened new invasive tab – another star lost..