Hello and welcome back to the wonderful world of youtube to mp3 converters and youtube video downloaders. Today we are going to play around with this new site i found called GetVideo.org. Site is not one of the most popular ones, but it is kinda getting lots of its traffic from Russia, and that means that eventually this site can become very big.. Look at VK or OK, or Yandex… all of them are in world's top 50 most used sites…
GetVideo.org Review
Easy to look at, monotone site, clean, has no ads, no popups, clearly trying to attract more users, still in its "growing" stage.. Ads usually scare people off, as well as popups.
Another feature this site boasts is youtube URL editing for quick access. If you're ever watching some video on youtube, all you need to do is edit the URL in the browser, and you'll be redirected to GetVideo's download page for this video.
The process goes by adding 2 letters to the URL in front of youtube.com address, to make it "gvyoutube.com", and press enter. this will send you to their download page, and it's a quick way to do this. Still, the "classic" way is when you copy the URL and insert it in the box. SO technically it's an exact same number of clicks or keystrokes..
https is broken… 🙁
It offers https security, so that's good… On the other hand, after you submit a download link or take the path with gvyoutube described above, https breaks, site is trying to load some scripts from none-https sources, so all the security provided by https becomes useless.. If some part is not secure, no part is secure..
So after all this is a nice site, although quite limited only doing video downloads. No youtube mp3 conversion here, keep in mind. If you're looking for one, check out our list of Top 20 Best Youtube Mp3 converters. Otherwise really this site is in no way better than savefrom, 9xbuddy or y2mate. Even new Savemedia Website does both video downloads and mp3 conversions..
GetVideo also has their own software they are trying to push. Maybe that's why no ads, cause the software is the ultimate goal, when people get used to it and start paying for it, after trial period expires. I haven't tried their program, here i am discussing their website. But you can check it out…
GetVideo.org Step by Step Tutorial
Now we'll be trying to download Katy Perry's new video called Hey Hey Hey. In the last few articles i've switched to downloading stuff that is seemingly OK to download. But later i realized that it's not that… Downloading stuff from youtube is not illegal. It does go against their Terms of Service, that say you cannot do it.
But on the other hand, it is not a felony. It's just a violation of their TOS. the worst that can happen is you lose your access to youtube. That's all. Then you can use proxy to get there, but the point is clear: downloading from youtube is not illegal, it's just bad behavior.. Youtube, music labels and other copyrights' holding companies want you to think you're breaking the law.
No, you are not. All you are doing is going against Youtube's wishes that they've announced in their Terms of Service.. Same as having your dog poop on lawn that has the "curb your dog" sign.. It's not illegal. Some people might get pissed about it, maybe poop on your doorstep at night, but that's as far as it goes… mp3 converter sites like listentoyoutube or soundcloud to mp3 are fully fine.. They are just maybe not correct to do what they do, but still, it's not an illegal behavior..
In any case, let's get back to the tutorial at hand… In the next few images I will show how easy it is to use GetVideo.org. Open up their front page and check it out.
Step 1. Open GetVideo.org front page
check it out, you can switch between russian and english versions of the page, and basically there's nothing there really, just box and button…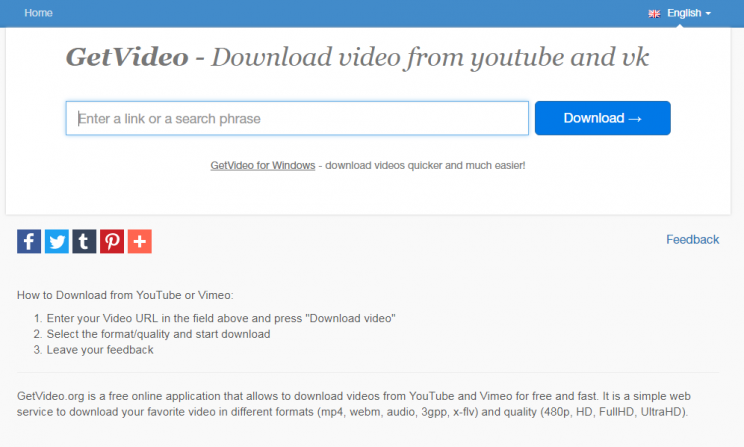 Step 2. Enter video URL and wait a moment
usually it starts getting info on its own, and the image below shows the "working" indicator.. if process didn't start, press the Big Blue Download button.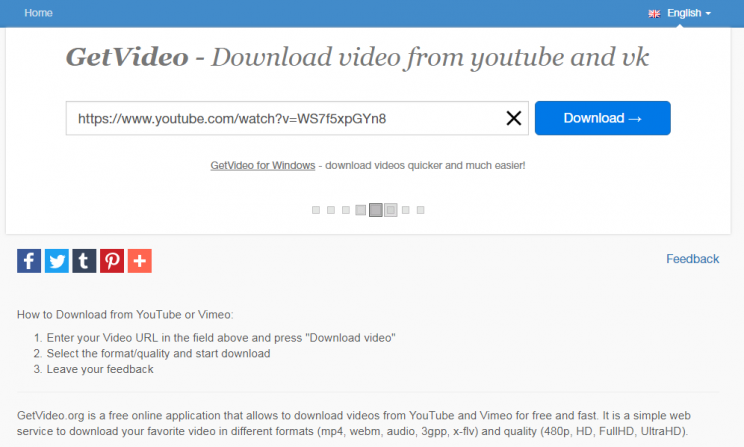 Step 3. Pick your download format and go for it!
I go for the best quality option… and it doesn't work…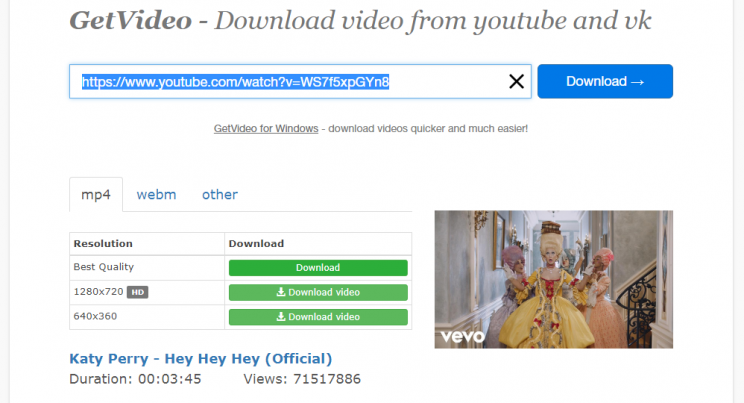 Step 4. Best quality option redirects to software download
Now we can finally figure out why there were no ads.. Cause of the software.. First option for video download is the "Best Quality" button that redirects you to the page where you can download software… 720 option is available though..
Software is not for me.. If i need 1080p download, i either go for youtube-dl or use online service, the only one that does 1080p HD, – peggo.tv … so in this case i just click browser back button and go back to the download options…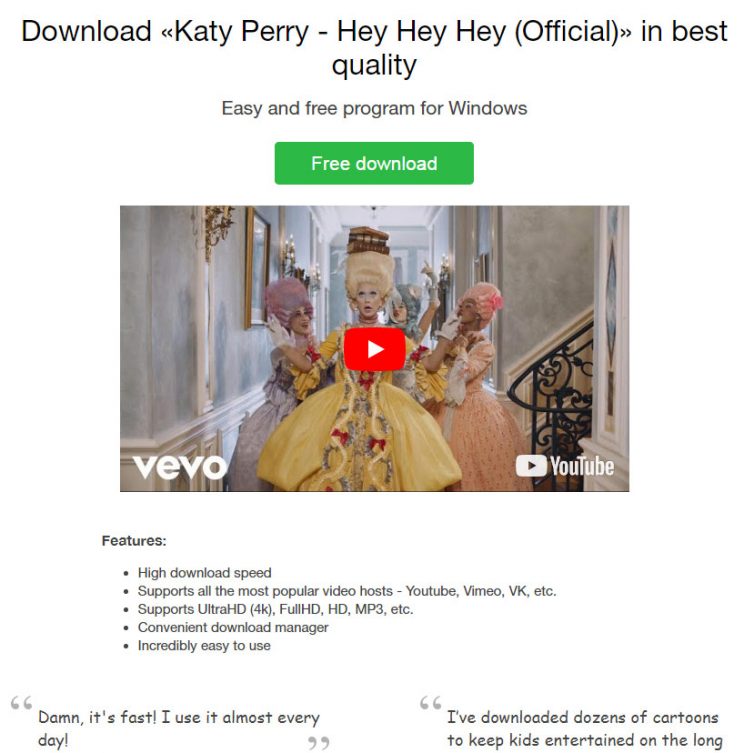 Step 5. Now pick the 720p HD format and download
Best Quality failed us, so the next best option is 720p HD which is pretty much the go-to format for all the sites.. The most you get online is 720p HD downloads, except for peggo.tv as mentioned, they do 1080p HD.
Step 6. Proof of download
fast download happening from youtube's servers. good job!

Conclusion
The site is OK, i am not recommending its use, because many other sites do same job and do not try to trick you into downloading their software.. 3 stars, really… and that many only because there're no popups there. otherwise would have been a 2 or 1 star… Sites like flv2mp3, h2converter, listenvid, genyoutube and many others do the video and mp3 downloads, and do not try to force you into software installations.. So.. think twice before getting use to this site! =)