Here's another mp3 converter that actually quietly and stealthily made its way onto the pages of savetube. And I actually like it. Do not come here throwing your URLs in my face telling me what to write and when and where… This guy made a comment on some article i wrote, left his mark, his URL, and now look at that – here comes free website review.. And a positive one at that.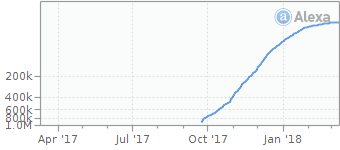 Judging by the all-of-a-sudden growth rate for this site, we can assume it's riding on the global change wave of youtube mp3 org being shut down and all. Very many sites have found their traffic in the months of September-November of 2017, those terraforming months of the youtubemp3 converter scene..
Well, Ok, let's talk more about H2Converter.
H2Converter Review
The site is easy on the eyes, quick and quite efficient. SOme of the animated parts are a bit annoying, but we do need to deliver our messages, and animated parts usually attract people.. So i understand.. I do not accept it and wouldn't use this way, but i do understand.
As opposed to the previous review I've done, this one completed its task in seconds without any second attempts needed. Good job! Video inserted, converted, and downloaded. No problem! The design does look alot like Ytmp3.cc, those choice buttons mp3 and mp4 do remind me of ytmp3.cc..
I always have a hunch in like these related things.. But maybe I am wrong. Who cares, right?
Step 2 shows a drop down with format selection. Check out there are buttons before the conversion starts that allow cut smaller piece of the mp3, and select different bitrate, and change this and that… Maybe even too many options. But on the other hand, seems like the right amount, after all these minimalist sites with only 1 button for download and zero options at all.. And this youtube video downloader
Anyways, not much to say here, honestly.. Job boasted, job done, good results.. Good Job!Am i giving it 5 stars? I am actually, I am… Well, let's move on to the tutorial then…
H2Converter Quick Step by Step Tutorial
In this tutorial we will download a video from the youtube collection by NoCopyrightSounds, which offers its subscribers tracks and videos that are OK to download and convert to mp3, they even supply an mp3 download link on every video. Today we're going for Andromedik – Let Me In. It's a short 3.5min video with mostly audio, so we should have no problems with it…
Step 1. Open h2Converter front page and check it out
click here to open the site. It's safe for browsing, has no ads or popups, no malware either.. Notice it has https version, safe for browsing and cannot be tracked by your interned service provided or workplace network admin for that matter..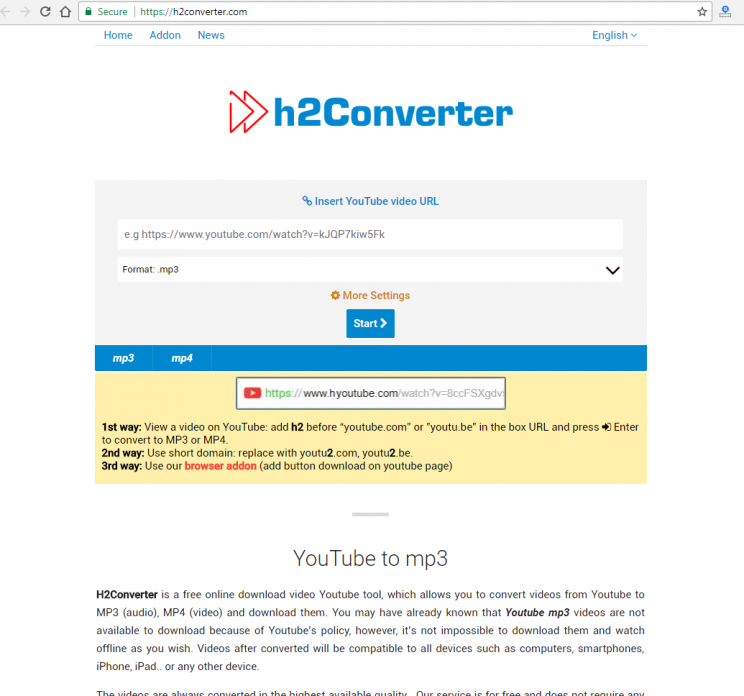 Step 2. Choose from wide variety of formats
you can change conversion bitrate, mp3 converter can avoid mp3 at all, video can be downloaded, everything is here. Plus covered are the options to cut mp3, to change this and that, good job!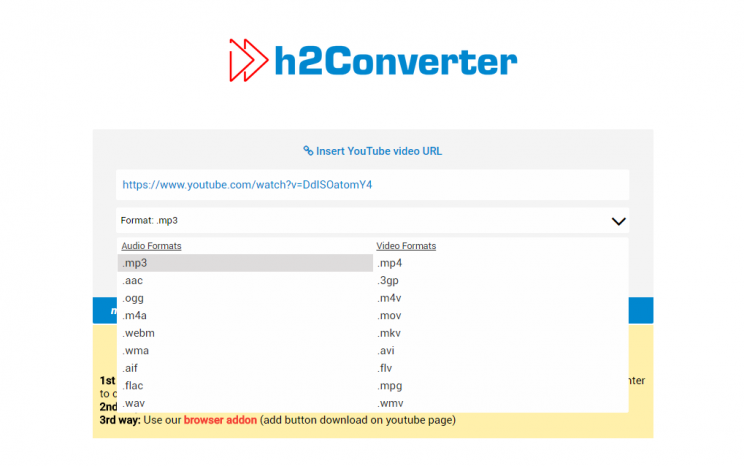 Step 3. Shows how conversion process is happening

Step 4. And now we can download the mp3. or mp4.
Depends on what was requested, here is the download link now. Quick download happens directly from youtube in case of the video.

Step 5. Proof of download

Conclusion
Neat site with no ads, zero popups, just trying to become the dominator. Maybe this domain name is not the best for SEO, but generally speaking this site is doing good, making millions,. probably.. So yeah, it can be used, it's OK to use, it's safe and https is enabled. So… Check it out. It also does what it promises and conversions happen pretty easily..