YoutubeMP3.to is yet another site from the first page of google's results for "youtube to mp3" search. I've decided to review all of them that i haven't already reviewed, and so far covered all ytmp3.cc, converto.io, 2conv.com missing and this one is the last. So let's talk about youtubemp3.to, a new and popular youtube to mp3 converter.
YoutubeMP3.to's crazy overnight success
Yes, this is now a whole section in my article. i keep talking and talking how after youtube-mp3.org shutdown millions of people need new tool for youtube to mp3 conversion, and they find it thanks to google. Hypocritical search engine endorses freedom of info so it helps people find out how to download youtube videos, while punishing those who wanna make money off this, disabling their adsense accounts, for example..
And so check out how youtubemp3.to has gained tons of new traffic starting early september, just around the youtube-mp3.org disappearance..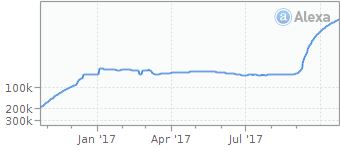 you can see very clearly, some random site hasn't had any big traffic during past year, Alexa raiting of 200k means roughly 2-5k visitors daily, barely more than savetube does, and just a month ago such a spike. Like several other sites chosen by google to represent its first page of search results on youtube to mp3 keyword.. Now let's see if this site is worth being on that first page…
Youtubemp3.to step by step tutorial
So let's visit youtubemp3.to and see how it looks like. The index page is not too bad. looks very very similar to many other sites built without love but with bootstrap. So obviously this was made and left afloat to fend for itself.. And look at it now, getting up into top 10k sites in the world… goog job!! So let's proceed and see how we can get D Lovato's Sorry Not Sorry song as mp3 for later listening….
Step 1. Open Youtubemp3.to and enter video URL
very easy and obvious step, open the site and put the Video URL into the box right in the center of the page. Here's how the front page looks for me: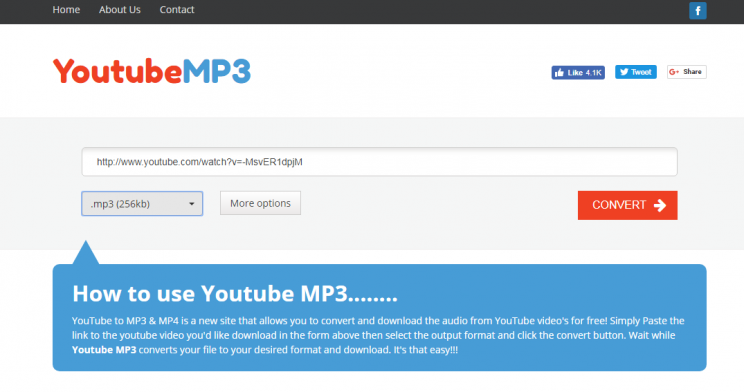 Step 2. Choose conversion format and more options
More options is simply volume control, you can make final mp3 louder or quieter. Also there's a drop down with the selection of formats. For mp3 you can get 256kbps or 320kbps bitrate. I tried 320kbps just to see and it only gave me 256kbps max.
On the other hand you should always remember, youtube only allows for a maximum of 128kbps audio. Any site that gives final mp3 more than 192kbps quality is wasting your bandwidth and storage space. It is basically like taking 1 cup of tea and placing it in the 3 cup size travel mug.. Why would you do the 3 cup mug only 1/3rd full? Just because you don't know any better? I doubt that is a good reply…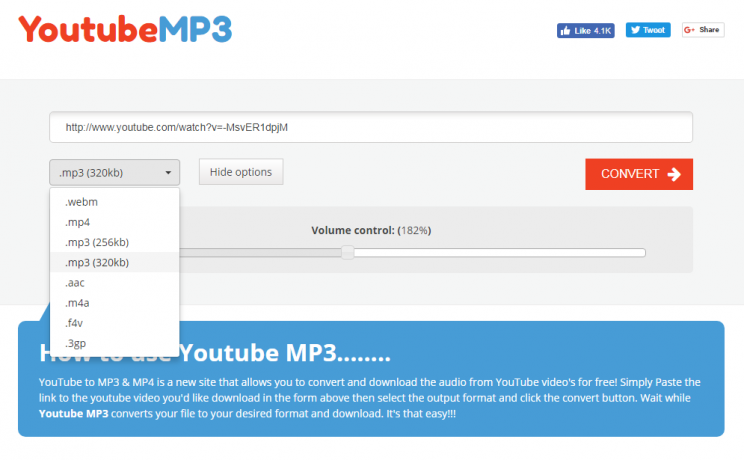 And so i select 320kbps and click convert. Thankfully this site stores earlier converted mp3s, or remembers where to snatch them from earlier, so this was a very quick step and my download link was offered instantly.
Step 3. Download your youtube mp3
very easy, screenshot below shows which button to press, and download happens pretty fast. Very very good, youtubemp3.to!!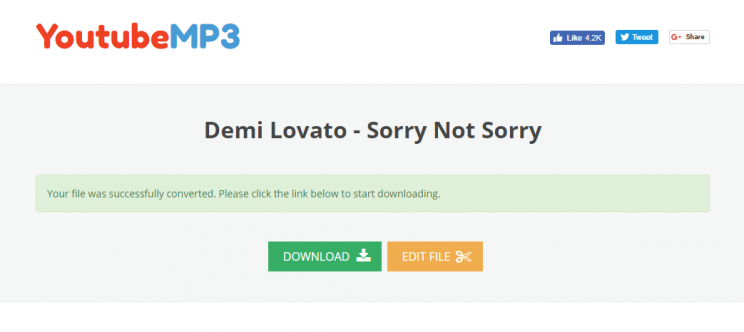 doesn't offer any software, doesn't do any ads, youtubemp3.to is actually looking to take a nice spot in our own top 10 youtube to mp3 converters. Seriously, I'll go in and change it right now. It deserves top 3 spots in that list..
YoutubeMP3.to quick usage example
here i've filmed a quick video on how to use youtubemp3.to in a very efficient manner. just watch out for popups.. any video can be downloaded in less than 1.5minutes.. take the challenge? =)
in this video you can actually see that the browser i use – Yandex – actually informs me that youtubemp3.to is using a crypto miner script and will use up a bunch of my resources. This is one of those nasty sneaky moves.. I will not be taking away stars for this, but you must know – never mine with people's computers without them knowing about it. cause if they find out – it's a big breach of trust..
Conclusion
very nice site, no ads, no annoying popups, nothing is bad, quite fast download, a very good source to procure your favorite youtube video as mp3. Editor's rating of 5, and you know I don't give that one out easily. If savetube says rating 5, then it is worth the visit. Try it out!