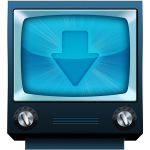 this article will start a whole new section on this website – the tutorials and guides on how to download videos on Android. nowadays everyone has a cellular/mobile phone. And the majority of these mobile phone users are actually using smartphones. Me, – i am a fan of Android. that is why i am starting this section with a rant on an Android app called AVD (Android Video Downloaded) and free version of it can be obtained via Google Play here. Please, note, i am reviewing the free version of AVD, which means it will be ridden with commercial ads and suggestions to try other apps created by same authors. this is normal, for free versions, that are popular (only from Google Play it was downloaded 10 to 50 million times, which is alot!!) please, be patient with this free version, or pay for it USD 2.99 and get VIP version, without ads and with some extra (but still quite limited) functionality.
Android Video Downloader – AVD – Getting Started
First of all i must say, ANYTHING that is sold or spread via Google Play, anything, any software that values the fact that it is sold and offered via Google play, will not now try and break the rules, cause Google's been known to present angry lawsuits, actually suing people for offering ways to download videos from youtube.com … well. make it short – if you want your app to be in Google Play – make sure it's not breaking any Terms of Service, which are VAAAAAST for google products, but oh well, it's honest and basically it's in AVD FAQ. it says something like "we scared…no youtube. ok?". lol.. lmao.. no just kidding. not being in Google Play is basically not being on Android, right? so they comply. it's a smart move by google, or was, when it came… anyways, this software (or app, as we say for smartphones) comes up first for any "android video download" search or similar. so i'll be using my tablet with android 4.3. i am not sure what are the earliest versions of Android supported by this app, but try and install it, maybe it'll work for your device?
Below i have two links – free and paid versions of this app. We go with the free one. Ads, ads, ads.. everywhere ads.. well ok.. they deserve it.. but they also limit functionality a bit.. ghm.. in my humble opinion, it has to be either/or: either you bug me with ads and remove them, or limit functionality and enhance it, but don' t do both, that is really greedy. greedy people get a star shaved off the rating.. that is 4/5 stars my dearest… yeah, but otherwise it's quite a nice  and easy-to-use app.  i noticed free version rates 4.0/5 and paid 4.4/5, which is undestandable… so let's move over to getting those videos..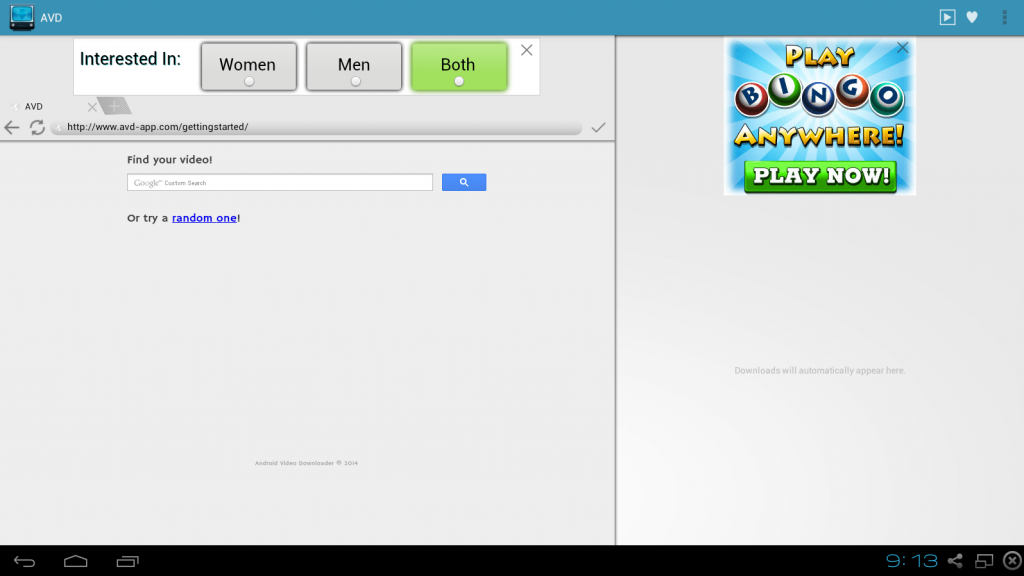 this is the first screen we see after starting the app. several things to note here:
this is an Android app, it's not a browser plugin or something like that, this app cannot work with Android Internet Browser or Chrome or Firefox, no, this app has its own internet browser built-in, thus you will need to view the video in this app, in its browser to be able to save it. please, do not try to find some sliding-in button in youtube app, or in chrome browser, they are not there… not like, for example, Savefrom Browser Plugin, which actually messes with html of the page to place it's downloader buttons on known configs, like any sites from top 500..
it requires Adobe Flash Player to play videos, i did need to install it on my tablet, which until not i only used for e-books. please, don;t forget to restart the app or sometimes even your phone, to see the effects after Flash player install. start AVD again. I didn't know this, the fact that it needed to be restarted, so i spent 30 minutes really getting angrier and angrier with the AVD APP, thinking this stupid thing didn't work.. but it did (after restart). and does (see pics below for proof)….
free version rated 4.0 by a total of 200k+ people. over 25k are 1-s, coming from those who don't understand what to do, how to work this app. eventually they (these users) get upset, uninstall the AVD app and give it low rating (maybe doing those things in opposite order). out of 200 thousand plus – 114k ratings of 5 and 25k of 1s making it an average of 4.0.  but at least this shows that app works for most people..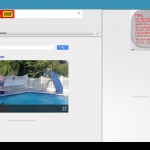 so in the next screen i try the "random" approach and get this video of a fat kid trying to dive from a trampoline and breaking it… funny, kinda… the video appears and i need to actually click play to have it automatically save to the right side tab of pre-planned-to-save videos. maybe this is how it acts on my tablet, i don't know, so i go ahead and install AVD app on my HTC One-x, and same thing – you need to actually tap the video, play it, to have AVD save it and process it…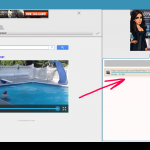 On the tablet it acted pretty well: video list on the right, offers to view, send or save… then tapping the save button would save it to an accessible folder, or it can be changed, it offers the path input option. On my HTC ONE-x phone AVD acted out a bit, after i saved one video, it also saved some playlist and something binary i didn;t even recognize, then video was downloaded, and on save it downloaded again, actually negating the purpose of itself – double data transfer for no reason… then there was some advertising video downloaded that i never tapped on.. don't know, maybe it's how free version pushes ads on you.. here's what happened when i clicked on the video: see the red arrow? this is how i show where the video "jumped", then clicking on that video offers a little selection menu, as i said before, which is shown below (by the way, on HTC it actually showed some notifications about some video coming in, i accepted, and ended up with 5 or 6 videos and files in general):
1. View the saved video, maybe it's in temp folder for now? 2. Send it somewhere.. 3. delete it. and 4 – the main one – save it on your device permanently!!
finally i am attaching this "proof" picture, it's a screenshot of my storage and downloads, here's the AVD Android Video Downloader downloaded video right in there! right after the flash player.. haha…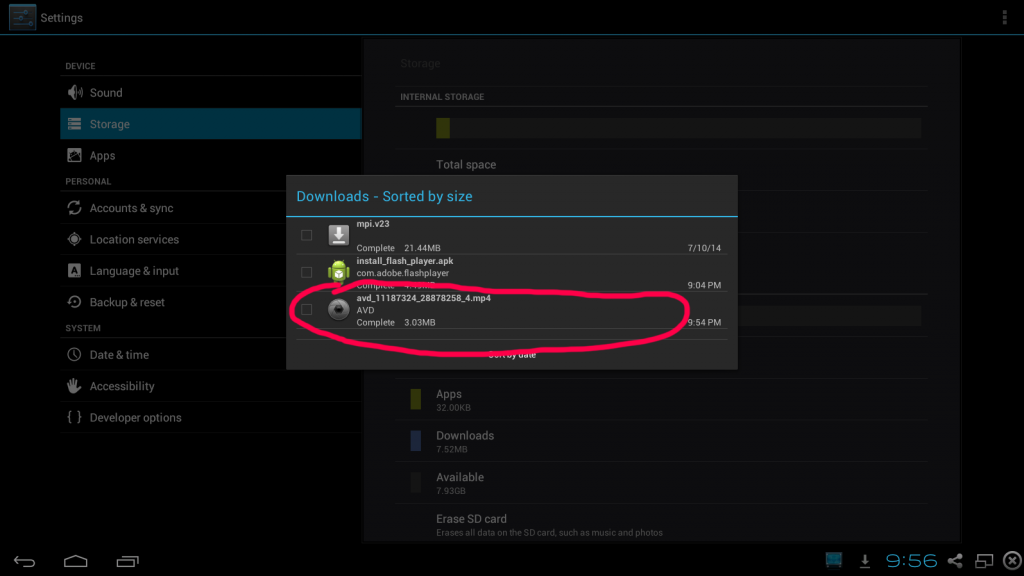 all in all it's a nice piece of software, lacking the monster youtube downloads (i think those constitute 90% of all video downloads everywhere, and that is normal, since youtube probably holds 90% of all video plays on the internet now, being 2nd biggest search engine and all)…
well, after all i liked this app, it's not that hard to use, just remember not to look for its download button anywhere outside of the app, it's not a browser plugin, remember that! plus it did direct downloads from video hosting, thus giving the fast download speed. worked nice.. only of course those ads, the app is rigged with those, they show up after each video save or send, or even deletion, shows nonchalant half-a-minute hanging screen offering some stuff, i just hit "home" and continue working, but it's bothering, of course.. too many ads.. USD 3.00 for the app – maybe it's worth it? i don't know…
in the next articles i will show other methods, how to, for example, use offliberty on android.. in the meantime, you can use this one, just remember how to uninstall it, when you're tired of ads…
How to Uninstall AVD Android Video Downloader
there are 3 easy methods to uninstall AVD app. all three methods will leave all the downloaded videos behind..
method one: find AVD icon on screen or in apps, tap and hold your finger on it, a menu above will say "uninstall", where you should drag'n'drop the icon
method two: go to Google Play, open My Apps, find AVD in there, tap and tap on Uninstall, enjoy!
method three: go to Settings -> Applications -> Downloaded Tab -> find AVD in there, tap on it, then tap Uninstall.
Android Video Downloader – AVD – Links & Resources
Install AVD from Google Play (link) :: FREE VERSION WITH ADS
Install AVD from Google Play (link) :: PAID VERSION $2.99 NO ADS