2017 Editor's Update:
Keep-tube.com site is no more. It now redirects visitors to savemedia.com – a sprout of keeptube's, which inherited all of its negative components: ridden with ads, popups and all, doesn't offer HD 1080p. And tries to push it's software – the infamous VDownloader, full of adware and malware. Do not use either, i do not recommend!!
our next target is Keep-Tube.com. and again we see a generic website made with one and only reason – to get traffic and to traffic some good, in this case – ads and program, which we already know – VDownloader is "the software of Keep-Tube"… ha ha… lets just begin here on Keep Tube, i go ahead and search for Justin Bieber videos on google, and i paste the video URL into the textbox on keep-tube.com. this can be easily see on the screenshot to the right.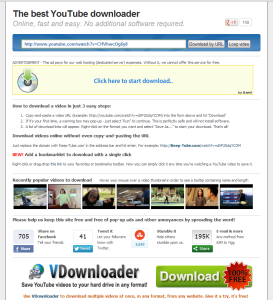 i click Download by URL button and the next Screen shows up, where i have a choice of several quality streams to download the video from youtube. i can pick either smaller screen and file size, or bigger ones, which is equal to quality selection on youtube page. but not really clear why it couldn't be represented with usual youtube values of 720, 1080, etc.
also file name of the video being saved will not have the title of the youtube page, it will be some random stream name. so make sure and remember what you're downloading, or rename the file as soon as download finishes. on the left you can see the screenshot 2 and the options and features provided by keep-tube.com when i click the download button…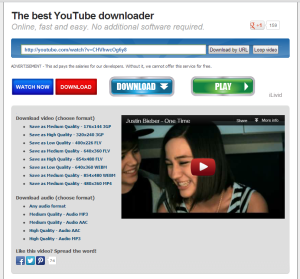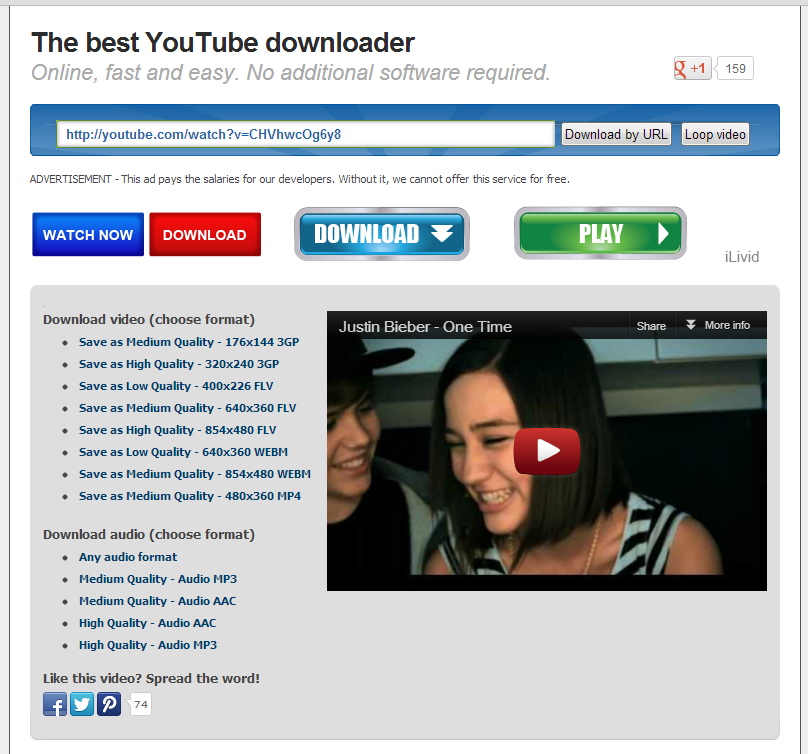 finally we have a few words to say here.. keep-tube.com seems like a nice little website that actually has pretty good traffic and besides the feature of downloading the videos. it also provides the popular videos to download, which is quite a nice touch, trying to build a community or something like that, i guess..
keeptube site is safe to use, it is not trying to install any spyware or virus, there is no virus in keeptube, it is a preconceptions from the face that browser is asking you about something. simple solution is either to "run once" as it is in chrome or "allow to run always". that is if you're planning to use this site all of the time. do "once" first and go from there. one negative thing here is that there are links to download audio from the video, but all of those links lead to vdownloader website. which is straight up deceiving the visitor. simple "download audio from this video using this program" would be a much better suggestion.
Features offered by Keep-Tube.com
ad-free video downloading
download using proxy
offers to download trending videos
offers possibility to download without even the copy-paste of the url, simply replace youtube.com domain with "keep-tube.com" right in the address bar and press enter, and video will automatically begin downloading.
Features not offered or falsified
download audio from youtube video is advertised but deceivingly not allowed
only youtube.com is supported by this keep-tube.com
this 2-page site is using cookies? excuse me…
Conclusion
it's ok to use keep-tube. or was ok rather. i think it's gone. at least for now. now it's redirecting to savemedia.com. which is a loud name, i would say… they had to dish out some money for that domain… i guess it was working for them and they earned well. or found investors? LOL…. but seriously, if you're interested, OffLiberty.com is a great online video downloader & converter.