So you've been asking on facebook page, in comments and emails.. How to Download Youtube Videos on Android? it's such a demanded topic that i've finally decided to tackle it. Why has it become so hard to download videos from Youtube on Android systems (smartphones, tablets and GALAXY)? One simple reason – Google's Terms of Service. Which, besides their many many many "no-no-no"-s, also prohibit any app or software from abusing google products, like downloading youtube videos… Several lawsuits have taken place already, and now all developers that want their software on Google Play and don't want to get sued, they all disabled their apps from messing with youtube. So it's either the wild way, – search for an app outside of google Play, which i myself haven't ever done yet, haha.. Uncomfortable? yes!.. But wait, there's another proven method which we've devoted a whole section of our website to – download online videos using websites, topic with several articles, yes.. What? you surprised?? Don't be.. in the next few paragraphs i will show my experience using Offliberty to download a video from Youtube on Android 4.3 tablet.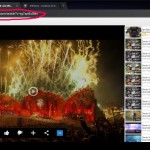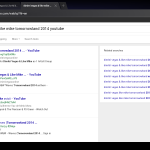 Find Video URL in Android Internet Browser and Copy it to use later
Step1. It's in that icon pic (to the right, 1 and 2 going left to right), I am out to download Dimitri Vegas & Like Mike Tomorrowland 2014 Youtube video but for now let's pretend i don't know the video URL. This is also a topic in itself, and i am sure not many people are familiar with it – how to copy/paste stuff (including URLs) on Android systems. After many years by now with Android smartphones, i've noticed that some objects, or maybe most objects react from continuous touch. But never copy URLs directly from google – it will not be what you want, it will be google's redirect to your resource, so watch out, this is true in Desktops with windowds and tabs and phones and Androids alike.. Anyways, i open Android Internet Browser (any browser will do this, no matter your favorite one, i am using standard Android Internet Browser) and do a search in Google for Dimitri Vegas & Like Mike Tomorrowland 2014 Youtube video, and touch the one i like, oh, i tap it, right? i am used to saying click, but will try saying tap and touch, touch usually will mean prolong contact.. the So this is where Step 2 comes into play – Opening the video itself… it's a 1hr long engagement, and my tablet cannot take that, 1080p – it cannot be transferred, and if my super awesome Galaxy phone or whatnot with huge resolution and it will take maybe 3 hours to download so much, while actual running time is 1hr.. and so we open the video page. note the URL shown in red =) there are several ways to get the URL of the video now, my preferred is the prolonged touch, tap and hold, and this menu comes up, probably will come up if you click menu button, some tablets and phones have it, and there we just select Copy Link URL and it's "in clipboard" using windows terminology.. =)  As you can see in step 3 image below: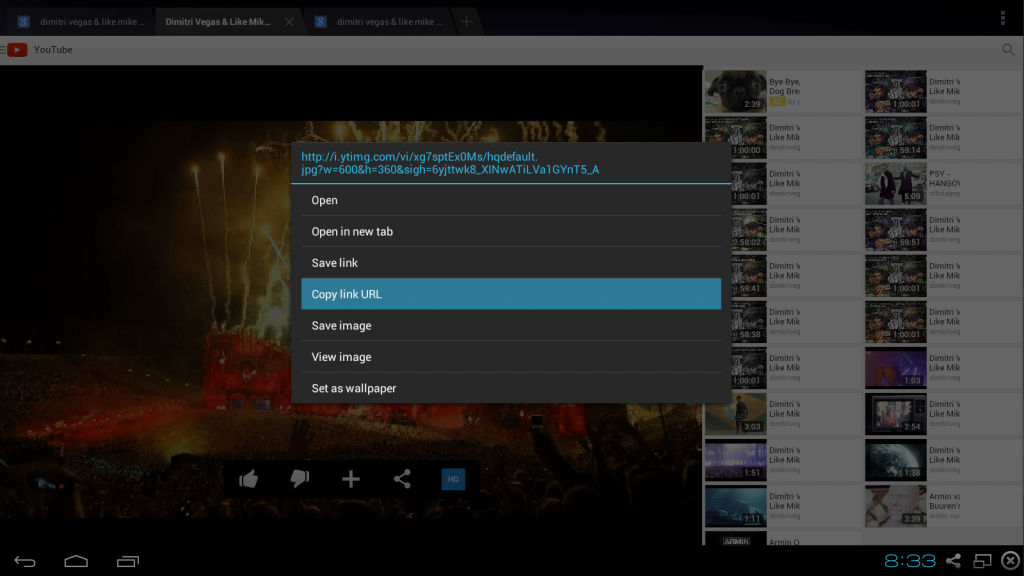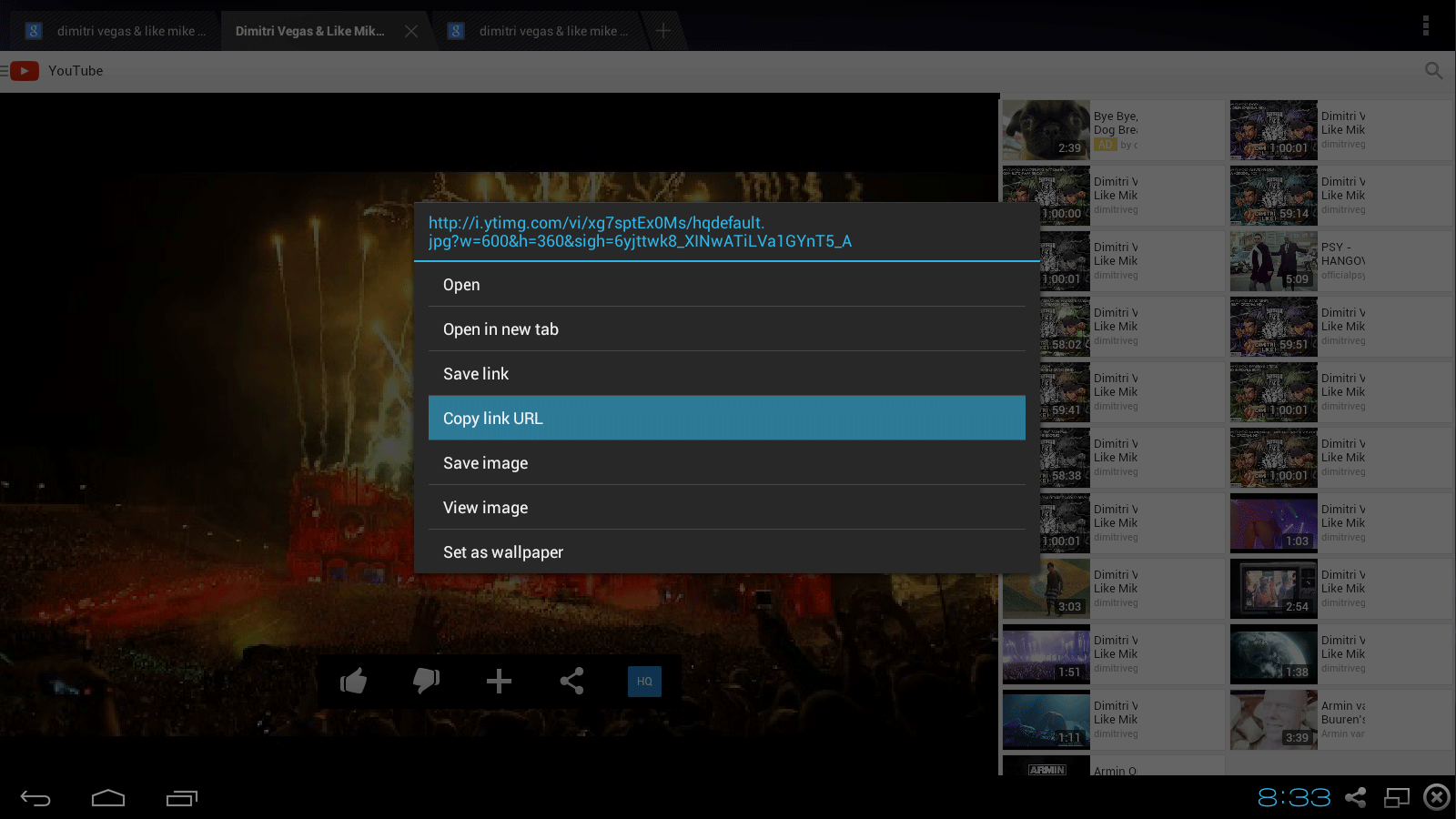 you can also click on the URL in Step 2, hold your touch on it until those blue tipped trapezoid-like things show and you can spread them apart thus selecting some text, and then copy it by clicking the appropriate icon on top, but i think this is a better way…  more elegant, no need to click any extra, adjust the selection area, etc. i am not sure if this will work in Youtube App though.. Well,you know, the app that offers to play youtube videos all the time… since this now we using is Android Internet Broser, that is how it's programmed – respond with such menu on continuous touch. So other places might not respond this way, but there are also "share"  buttons on videos, click that and link is there again, ready for sharing.. so copy it the way you like and move on to…
Navigating to Offliberty and setting it up for the data and audio transfer,,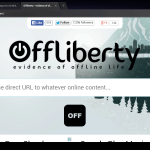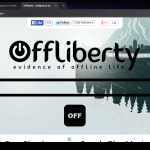 step 4.  enter http://offliberty.com in your browser, or navigate to offliberty, as they say.  now it's time to Paste the Video URL to the lonely box on the screen, again if you touch it and hold it for a little while, step 5 picture shows little weird blueish thing showing once more, and the PASTE little button, well, do it, click that button… Paste the Video URL to the video download box on offliberty. Now for Step 6 we show the way it looks like before we go ahead and click the OFF button, that turns into this OFF sign, and is marked by many red arrows!! of course, it's not obvious right away.. maybe to full other sites…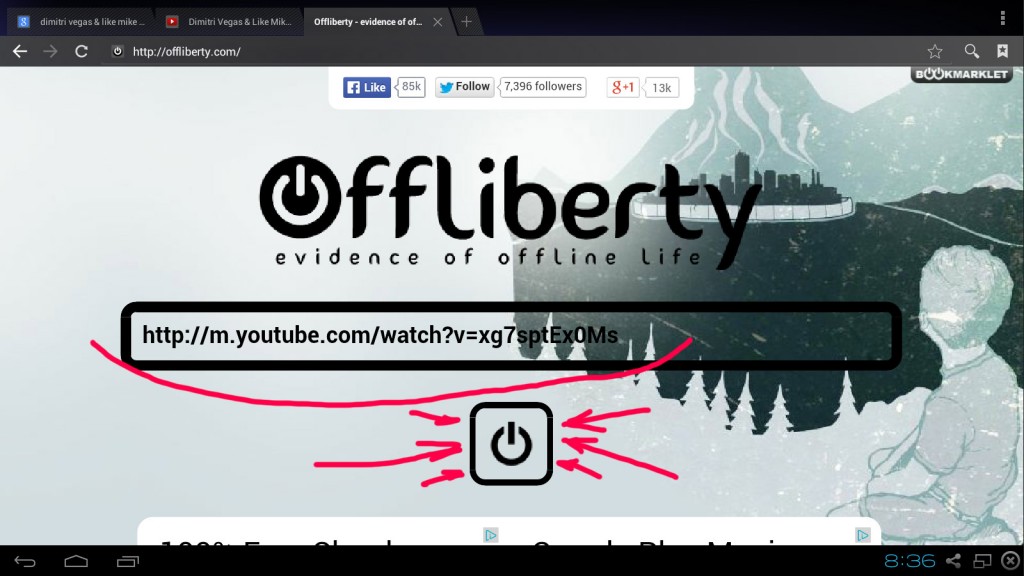 And we're ready for the next step – the actual download. Naturally, I am one for downloading the online videos and watching them later without any bandwidth/data-transfer issues, that always affect any broadcast, live or not; as well as possible video and picture enhancement filters and such, as VLC video player can post-process picture up to several levels. With all those SLI-s and sich we get tons of processing power, great resolutions, i myself have two screens, one with 27″ 2540 by 1460 and another 24″ 1920 by 1080, both 1080p screens. Well, just want to say, I am also for HD and my setup is very good for it and allows seeing all details at very good picture quality with 3GB video card doing great job. so… 1080p youtube stream @ 4300KBps gives about 1.9GB per 1 hour of broadcast. i'd be happy my tablet download 1080 version in three times that long…  and what if i just like the audio, even wih 240kbps transfer i will do double the data needed for 128kbps audio stream (allegedly) stored in a 240kbps video one. so this is an article for frugal people and those who can't really stream and stream data over and over, wasting all kinds of bandwidth.. i also think this is not covered by any laws or legislation, this is basically streaming something 1 time, and then enjoying it at home, not sharing it with anyone, doing this for personal use, and not for any profit or other stupid ideas..  so yeah…. that's said, we move over to next part
Download Youtube Video and Audio on Android using Offliberty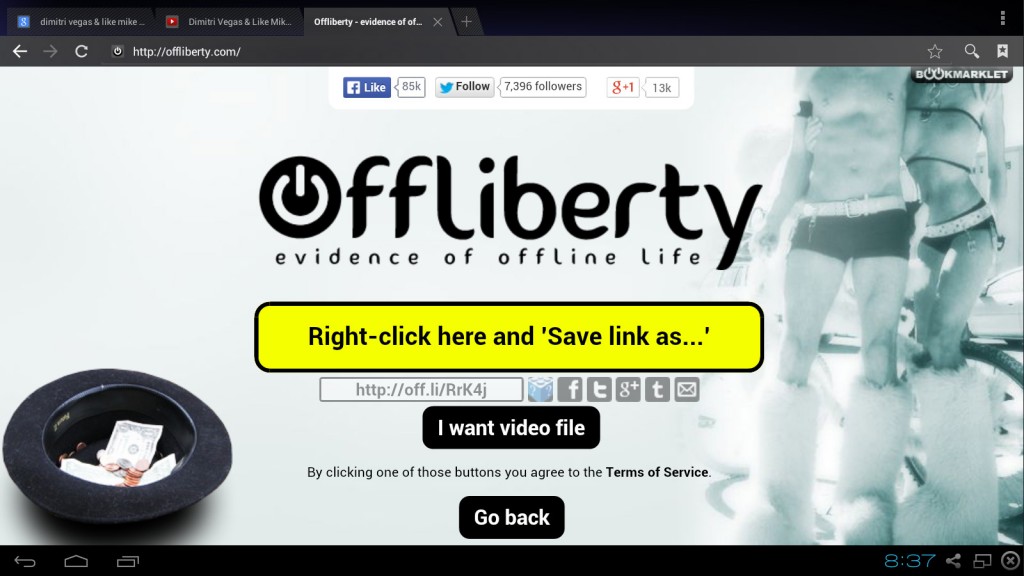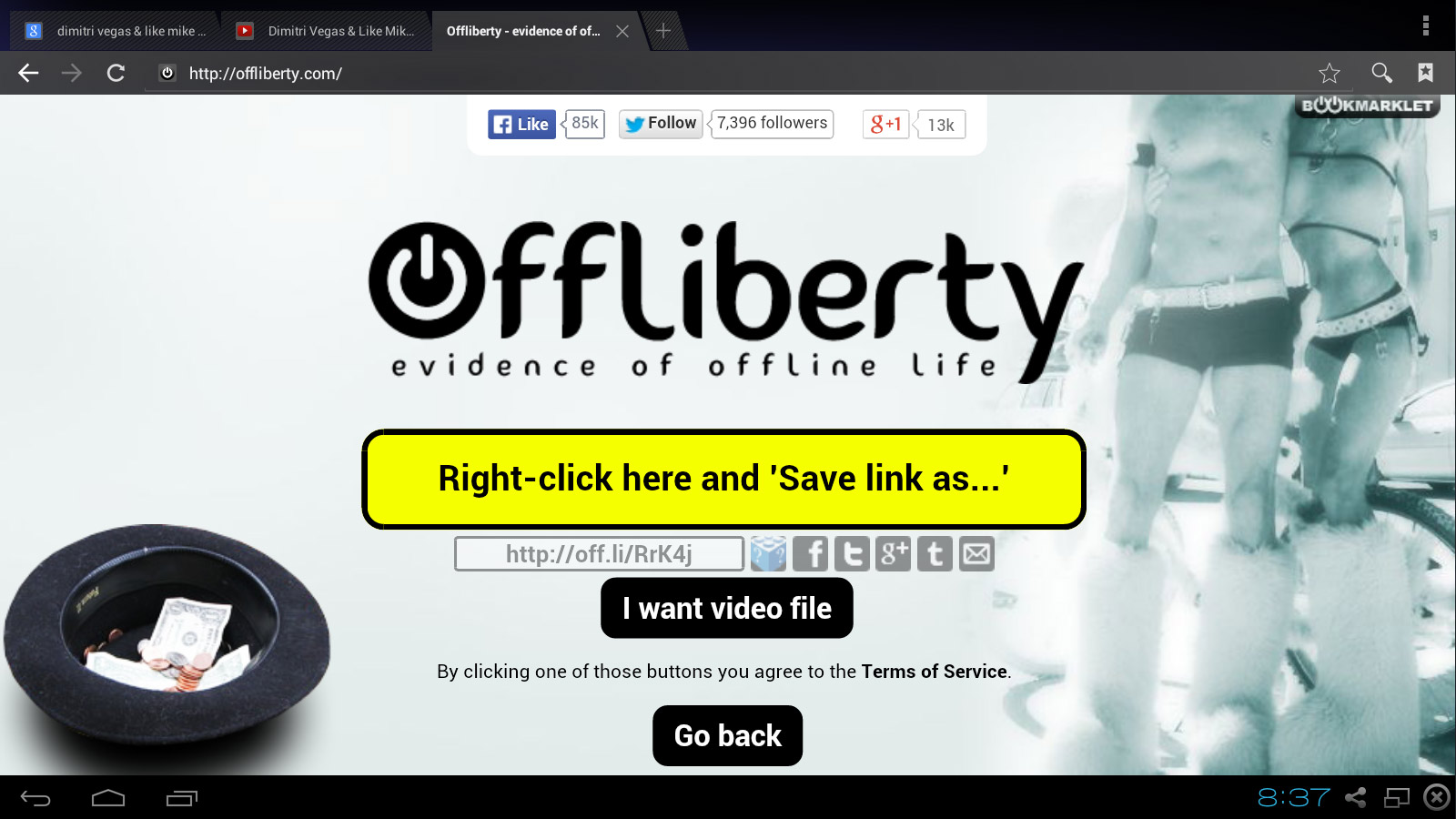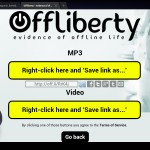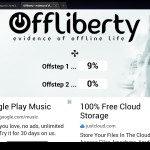 Step 7. here we are after clicking that button, a few seconds wait and yes, click,or rather tap and hold the big yellow button, and your audio version of the youtube video will start downloading. But we want to go even further, and snatch the video too.. it's a 1hr long one, so will be a big data transfer, with these mobile version of youtube link, i actually didn't notice until now, Offliberty has offered a 1.2GB video, as seen below.. while 1080 version is 1.8GB so i am assuming only 720p max is allotted for mobile devices by youtube? because usually Offliberty does the best possible HD version… so in steps 8 and 9 are shown on images screenshots to the right, where Step 8 is simple wait from my side for Offliberty to download the raw video data from youtube (yes, that's how it works in this case, apart from Savefrom, for example, which just gives you the links to download stuff from youtube directly to you, avoiding third party), and then put it together and let you download it as a video file from one of its subdomains (k36.offliberty.com in my case :).  and Step 9 shows 2 yellow boxes, top is to download the Dimitri Vegas & Like Mike Tomorrowland 2014 Audio from their youtube, and below is the new link to download the video. tap one or both, hold it, wait for it, and in the appeared menu make sure select "SAVE LINK" to have your device download the mp3 or video, or both files. Here's an example of what it looked on my tablet, and check by the clock on the right bottom – you can see two download icons showed up..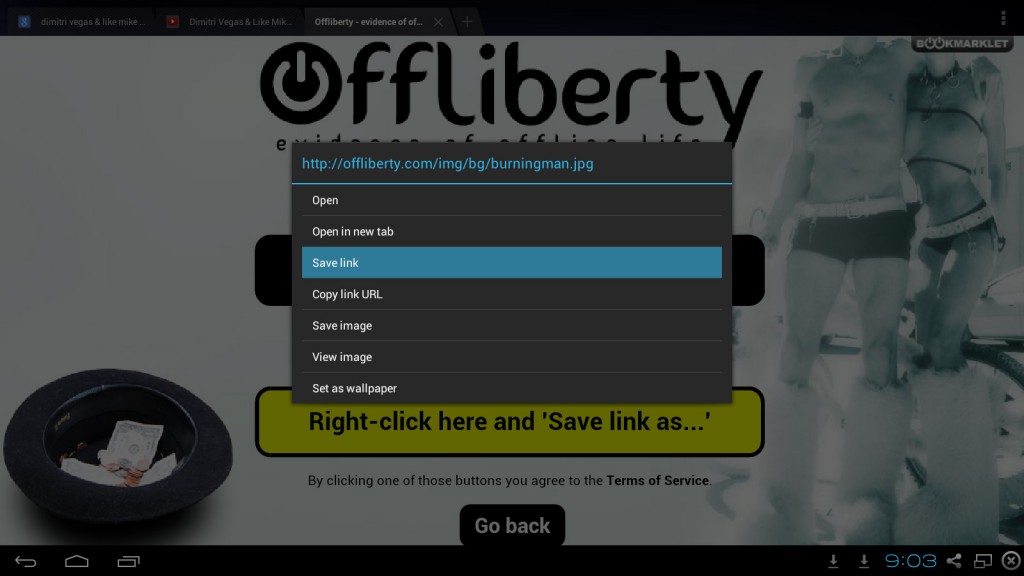 for the final screenshot, enjoy my "Downloads" showing both files being downloaded… The audio came directly from youtube, thus it only took a few minutes to download, really… While video, of course, offered 1.2GB 1hr long piece, thus TBH it's still downloading, and it's been like what… 2 hours.. i know, this is from offliberty server, but still, imagine that…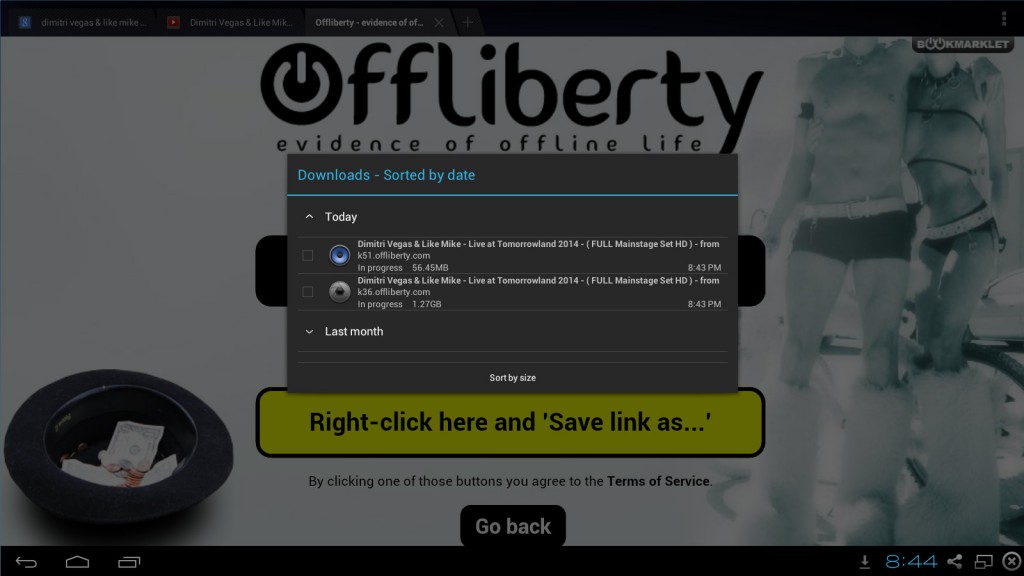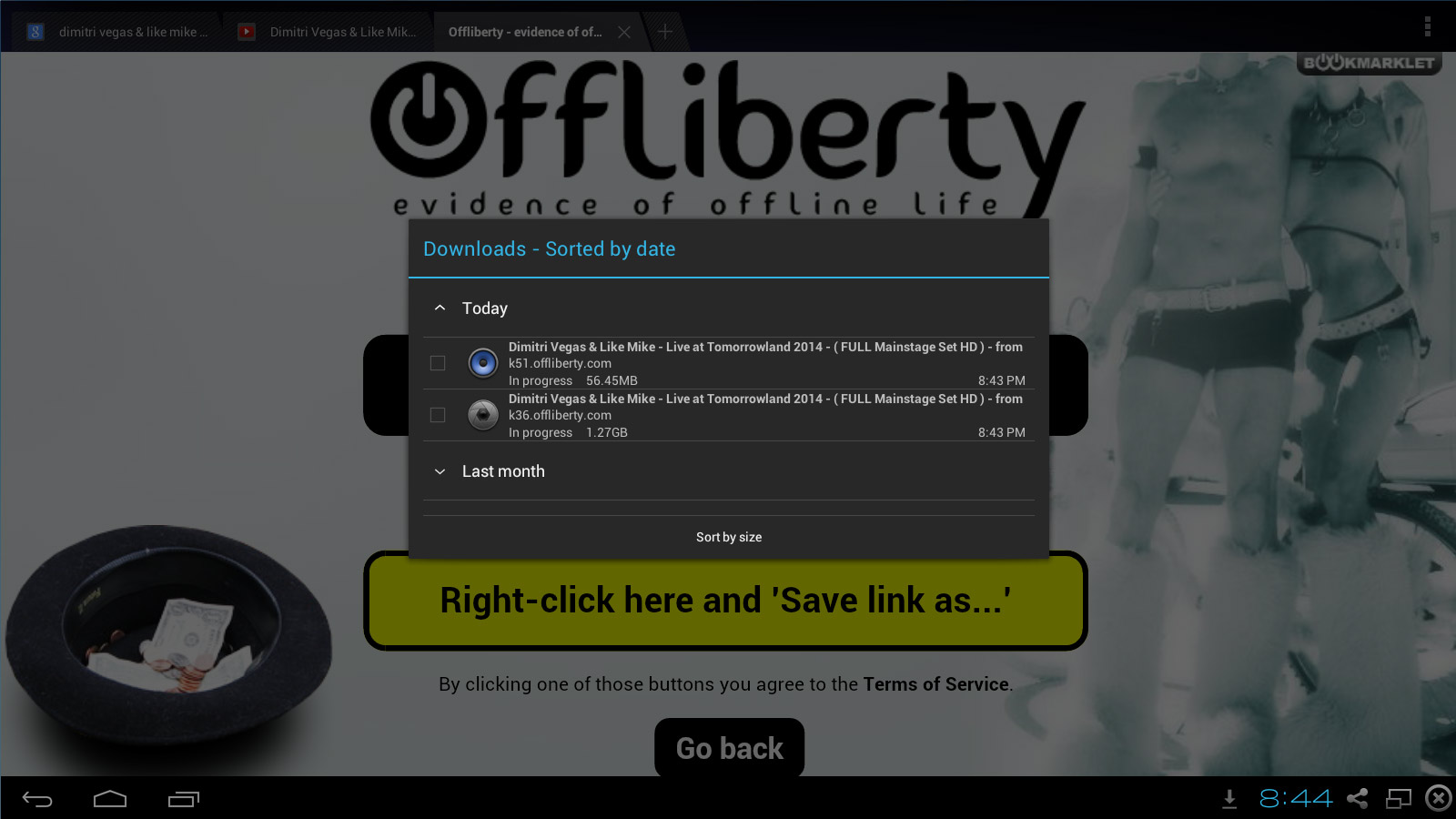 actually it's been 3 hours already.. this article came out pretty long and full, touching several important topics. like the one that touching stuff on android and holding the touch – is good, it can yield URL in most cases.. Or a menu to copy URL to "clipboard".. seriously, how is it called in android? Copy it, to paste it later? ghm.. i need to read up on that.. And i do know that copy-paste on Android is a pain in the butt.. it's easies to forward a message and erase part of it, that copy part of the message (and start new one). but oh well, those are things we lose when going mobile.. I also must say, this is a very good method to use while downloading online video, not only youtube, anything Offliberty can handle – it's good for it, and i like it!