Hello, welcome back to Savetube. Today we're going to discuss the omnipresent Keepvid and its new incarnation – https://keepv.id/. Funny, with Indonesian domain extension, this site has the shortest Keepvid site name in the Universe!
As you may remember, original Keepvid.com has gone dormant back in early 2018, stopped helping people download Youtube video and convert it to mp3 (if it ever did mp3 conversions). So right then and there Keepvid.Works showed up, gathered up all the traffic until late 2018, when some new Keepvid came around. Took all the traffic again, sold domain to some random fail-army site or something. And eventually another version came – keepvid.pro – and that one still reigns the internet as new Keepvid.
But not for long, as even newer, faster, cleaner and leaner Keepvid is here. Check it out… This will be an article full of good words, as I love new Keepvid's look, reminds of the .com's look back in 2016-17. But this will also be a tutorial dash screenshot-show, if you will..
Keepvid's front page
Here's the nice blue on white look for Keepvid's front page. Very familiar features, also check out the menu, it claims to be better and faster than many websites out there..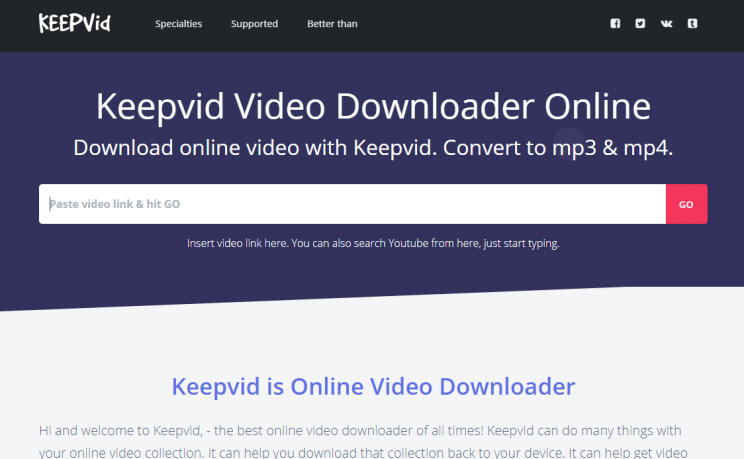 Very nice, looks clean and has lots of instructions and explanations below the fold. As for us, we're going to explore the automated search suggest and Youtube search as it is on Keepvid.
Keepvid's Youtube search & autocomplete
Well, autocomplete/suggest happens before the actual search, but it just doesn't sound right if said the other way "Keepvid's Youtube autocomplete & search"… Wehh. I guess because "Youtube autocomplete" is not a thing.. But Search and Autocomplete are 2 different features.. In any case, sans semantics we have an amazing Youtube search here. It's enough just to type couple of letters to have autocomplete show you the keyword you're looking for. Select that, and search is already happening, and results are coming…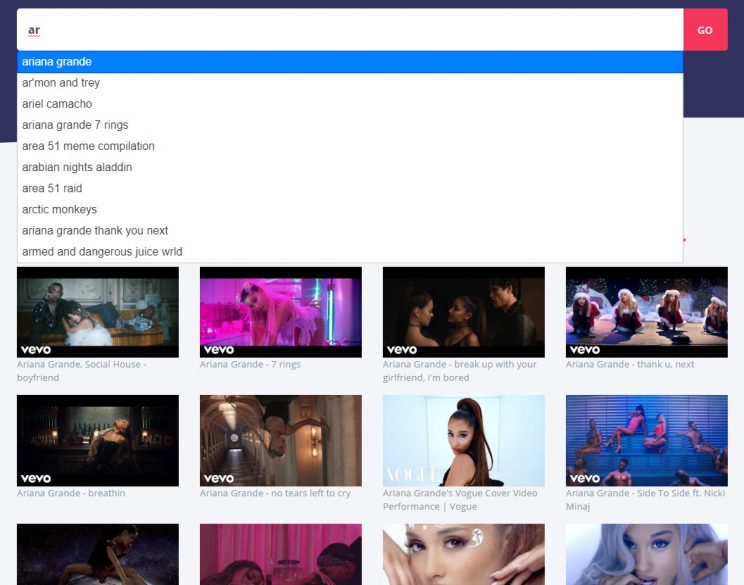 We are actually using your local Youtube's trending searches to show search suggestions, but if you don't like whatever is shown or your search string is so long that autosuggest stops working, – then finish typing your thing and submit, there will still be a search, even without suggestions being used.. Now we can select any video from the dozen shown, and go ahead to downloading it from Youtube.
Keepvid Youtube video downloader
And it is quite easy if you ask me. Right-click (or tap-and-hold) the big red Download Video button, then select Save Link As (or Download Link, if you're using a mobile device). Nothing else matters. If you don't use this technique, you're bound to run into a situation where video won't download but will rather start streaming. It's a normal thing, just hit browser Back and do as I explained. Or you can also find menu on the video, there is usually a download link in that menu.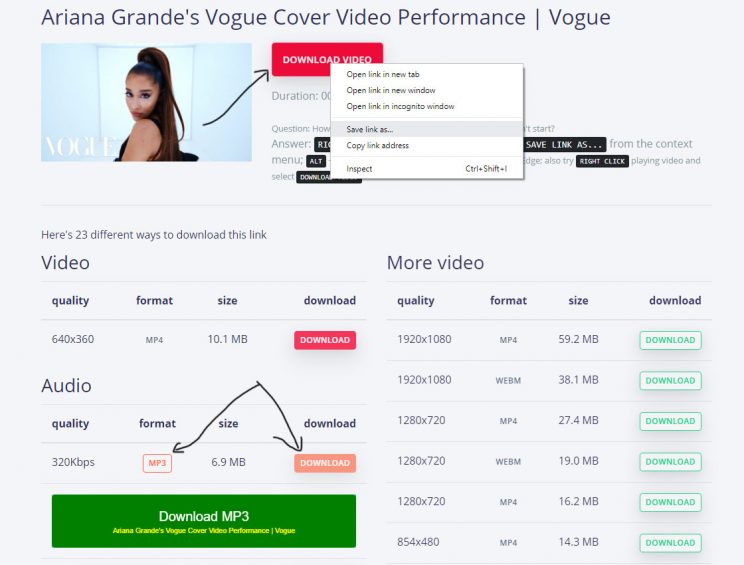 If you're looking for keepvid's mp3 converter ability, don't look no further, just scroll down and see the mp3 option shown right there in the Audio section. Hit the Download button next to mp3 sign, big green button will load up, click or press that button and mp3 will be downloading to your device very shortly. The process is very narrative, has great feedback, etc.
Conclusion
New Keepvid is great, it can be very useful, as it has Verystream Video Downloader specially made for the new Openload's incarnation.. So yeah, get on board, Keepvid is awesome!