I must admit, it's becoming harder and harder for me to find new (that I don't know about) popular services and review them. What's popular? In my opinion, a site is popular if it is inside Alexa's top 10k world most popular sites.
It is very objective, and may not even be true, but this is an easy way to estimate site's popularity, so i use it. and so today's subject is y2mate.com – a website up in those 10k, so .. a rather popular one. as popular as Listen To Youtube that's been gone missing lately.
Today I'm going to present the Tutorial First, and then do the review, because one of the steps there requires some ranting… Otherwise site is very nice and has no ads, which is a breath of fresh air in today's commercialization of youtube downloader websites… But before that – a quick overview…
Y2Mate.com services overview
y2mate.com is looking good and promising even better. Site is offering 720p HD video downloads from youtube. And alas as most such sites, this one doesn't do muxing of 1080p HD with Audio Only track, as youtube serves them, so… No 1080p HD, not even talking about 4k HD downloads…
then there's mp3 conversion service, nicely presenting mp3s as 128kbps, thus not asking for any extra data transfer. Not upencoding to 320kbps either, what makes files 2.5 times larger without any sound improvement. Good job!!
Then there are also other audio formats available, such as m4a, webm, ogg.. And smaller video formats can be downloaded too. A bit complicated especially for a new guy who knows nothing about HD or other formats..
One can translate this site into several languages. This often helps the popularity, because local site versions can produce mad traffic.
Finally, this site had NO ADS. this is amazing and is really inviting, to say the least. But, this site does promote 2 different android apps. One would be MuviDownloader App and another Vidmate HD Video Downloader. I am not sure which one was developed by y2mate's team, probably the first one, if any.. I did see ads for the other one on other sites.
This is normal, for sites to offer Software Installs. For example, we here on savetube are (at the moment) recommending this Airy HD Video & Mp3 youtube Downloader, it's a nice piece of software, that has versions both for Windows and Mac, so – check it out!
Also as you may see on the 1st screenshot below, it is possible to simply edit youtube.com video URL to quickly move over to y2mate.com. For that to happen, simply add PP into the video address right after work youtube and before the .com part. So your video URL will read like
https://youtubepp.com/watch…..
Doing this will quickly send you to the step 2 of this tutorial, avoiding step 1. This seems like a recent innovation site's operator has instroduced. Good job, makes it exactly as ssyoutube trick employed by SaveFrom, and some other services do it too… Saves a few seconds, it does..
Y2Mate.com Step by Step tutorial
So here comes the step by step tutorial. We are going to try and download and convert to mp3 Katy Perry Hey Hey Hey video. Yeah, yeah… Bieber hasn't done any new videos as of late, so nothing to download there… LOL.. Anyways, let's get right into it…
Step 1. Open y2mate.com front page
Click here to open y2mate and see how it looks like. Pretty nice, clean design. Open architecture…  No, i don't know about architecture.. But yes, these sites are all so generic, that sometimes i'm at a loss what words to use, you know? to describe sites to make them look different from each other…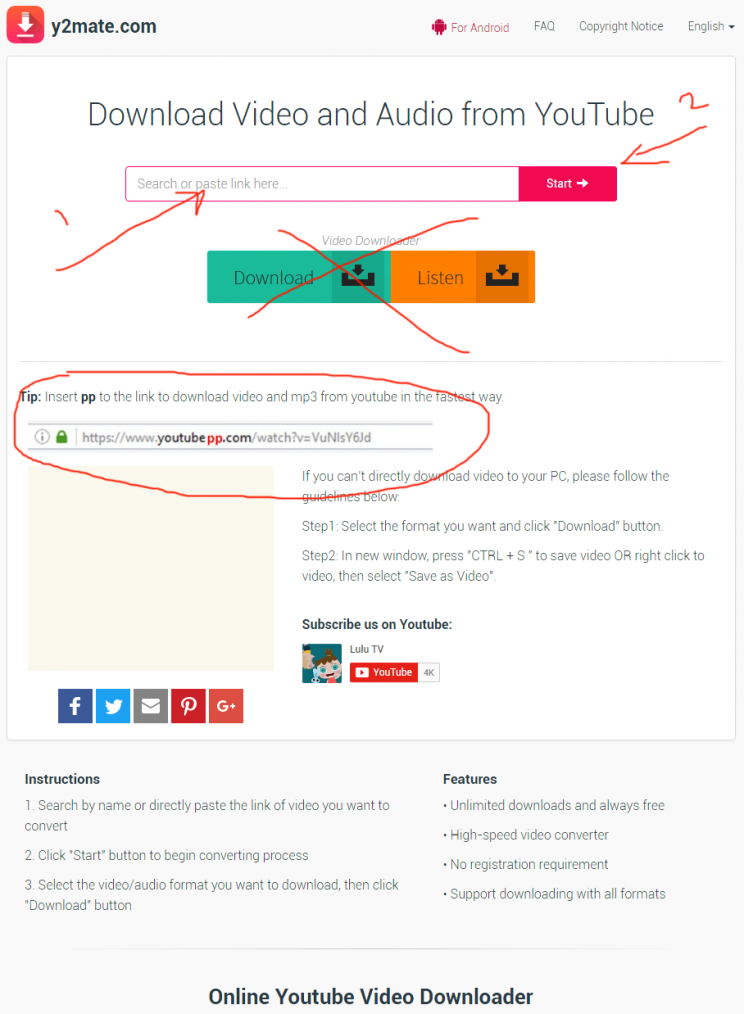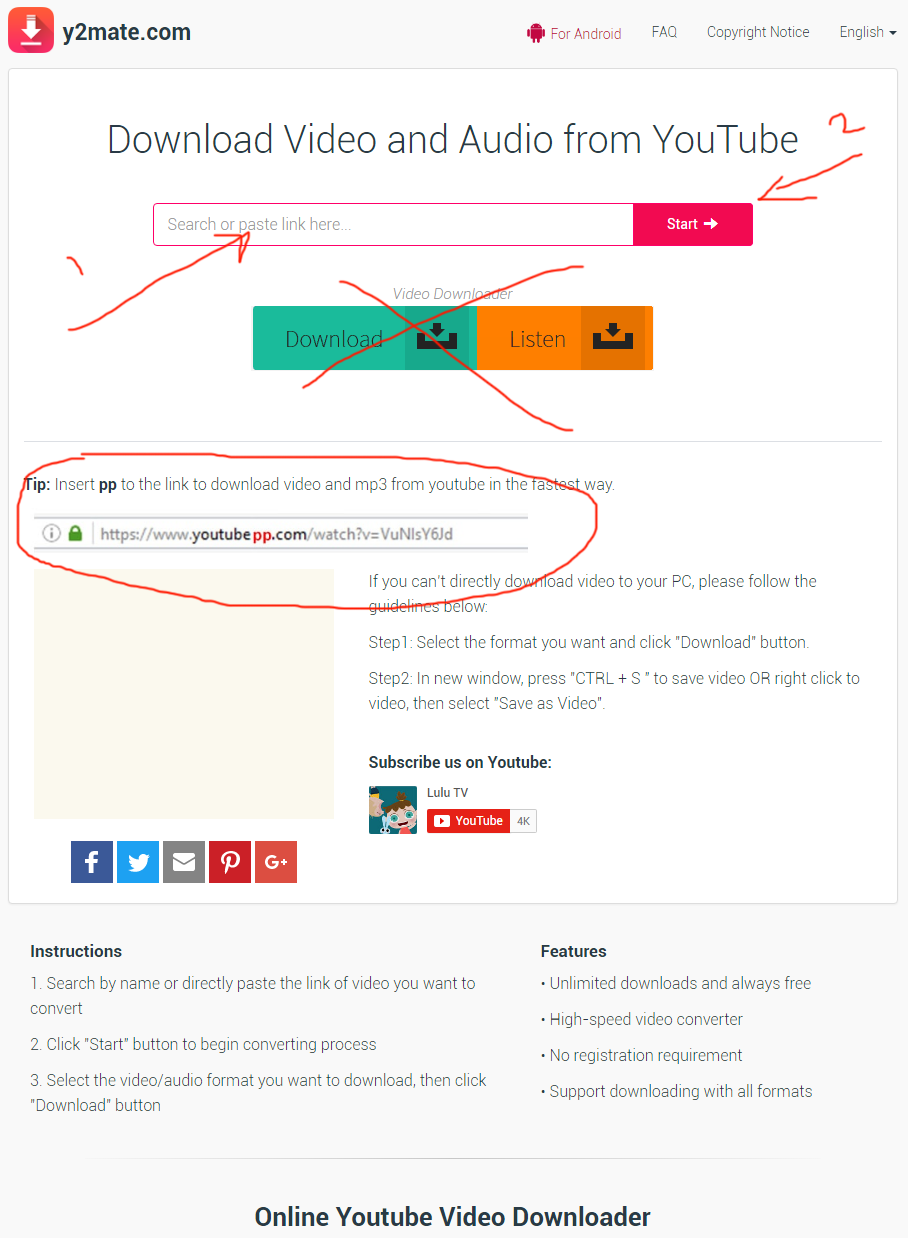 Step 2. Insert Video URL and see what happens
In the box i denoted with the arrows, paste your video link URL. See how y2mate.com quickly shows video info and a panel with MP4, Mp3, etc tabs, where you can select download format. We first go for the 720p HD video, and click the download button shown by the arrow. Download happens directly from youtube (super fast), file is properly named, kudos!!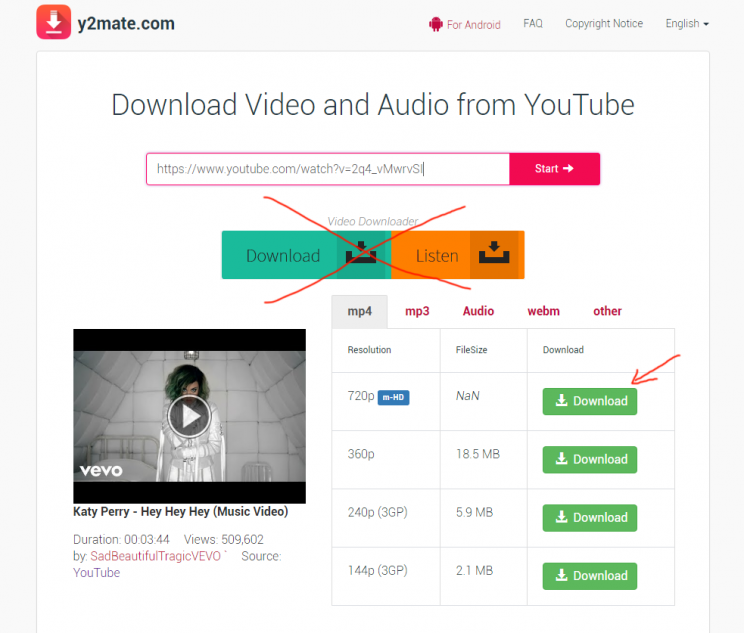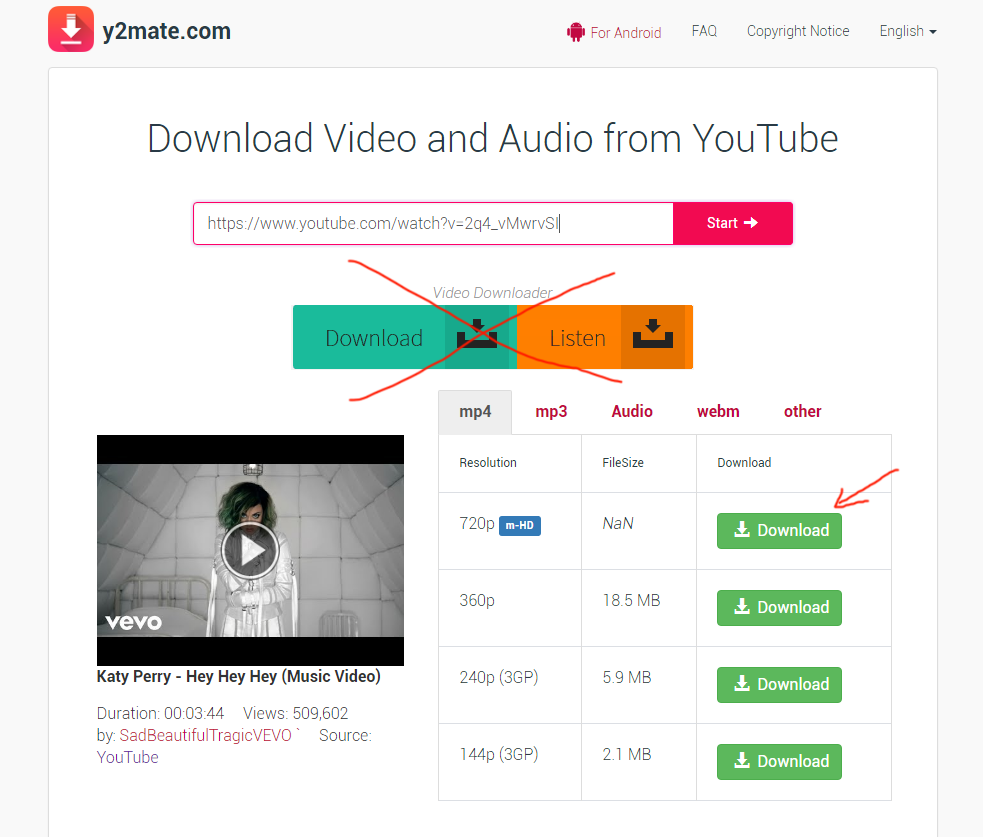 this step has set me back a little. But let me get to it later. Simply click the mp3 tab link and see the offered mp3 format for download.. At the same time do not click green Download or orange Listen buttons, they will both throw you to the Vidmate installation site. I have purposefully crossed them our in every screenshot where they are visible..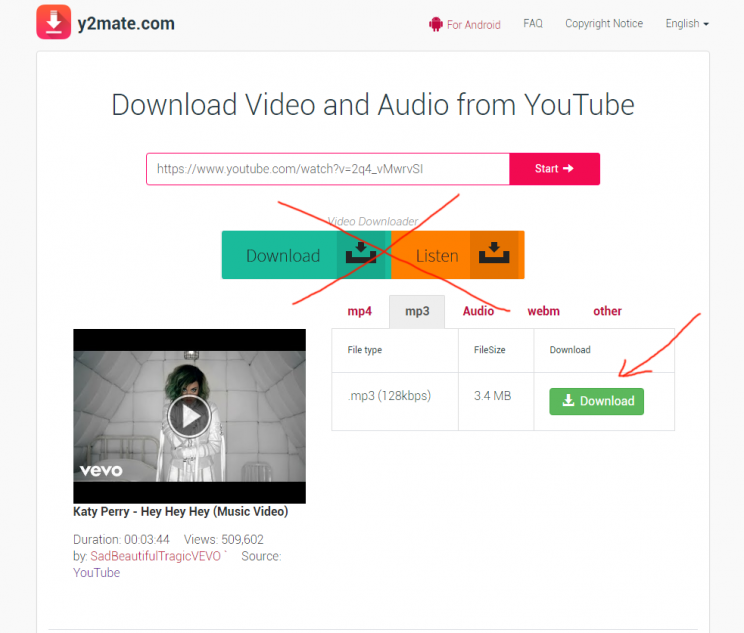 Step 4. Downloading & converting youtube video to mp3…
And here's my ranting.. This process took 5 minutes and only because i stopped it being tired of waiting.. The download counter is 100% complete. But not the conversion one.. That indicator was stuck at 14% for 3 minutes, then started jumping to 50% then to 0%, then back to 14%…. And i kept waiting… Although i do know sites like theyoump3 or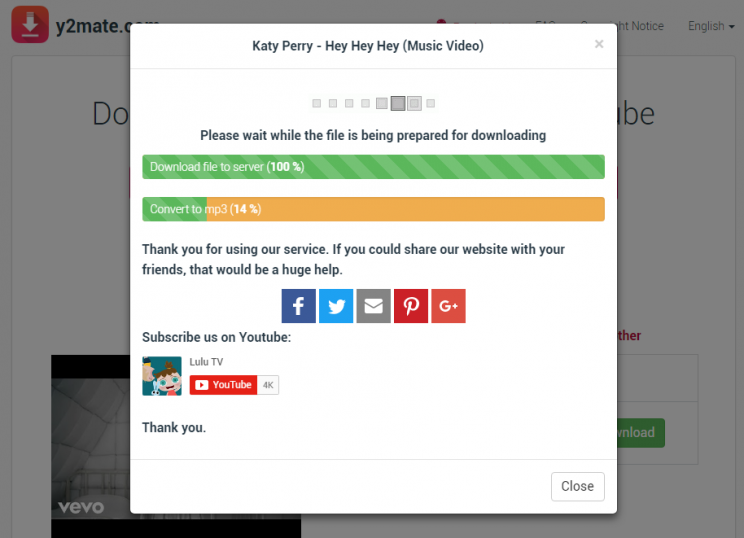 Step 5. Click CLOSE & download mp3 again if it gets stuck
so it seemed that my conversion got stuck, so i clicked CLOSE, then went and clicked Download again on the mp3 download tab.. And what do you know… Download Mp3 link is there.. So something got stuck for no reason. But this glitch did take 1 star off the final editor's rating…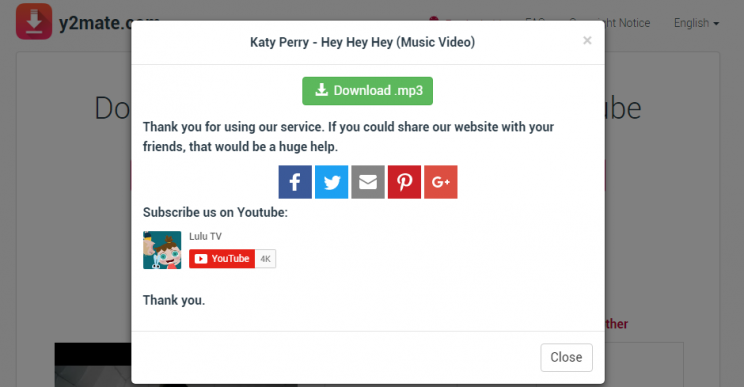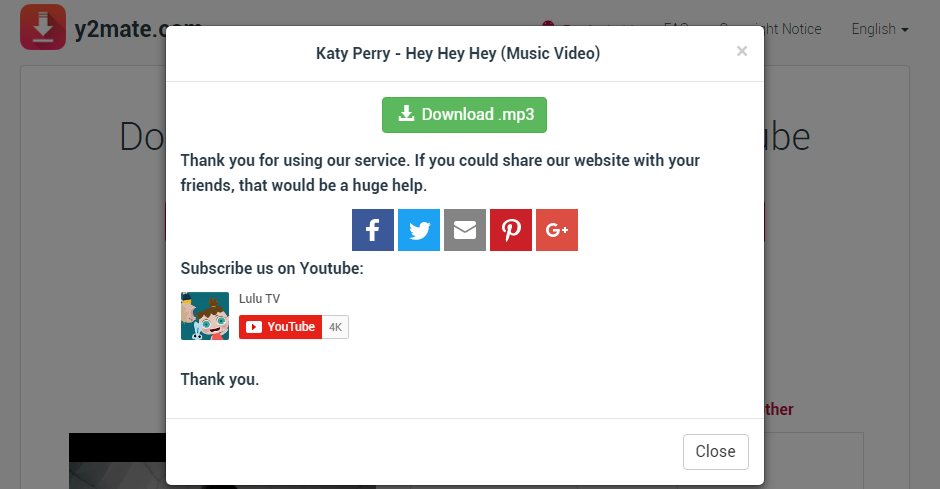 Step 6. Proof of video and mp3 download
As i've mentioned, video was downloaded directly from youtube servers. Audio on the other hand was converted on y2mate's infrastructure and downloaded from their servers, slower, but still there. Here's the proof…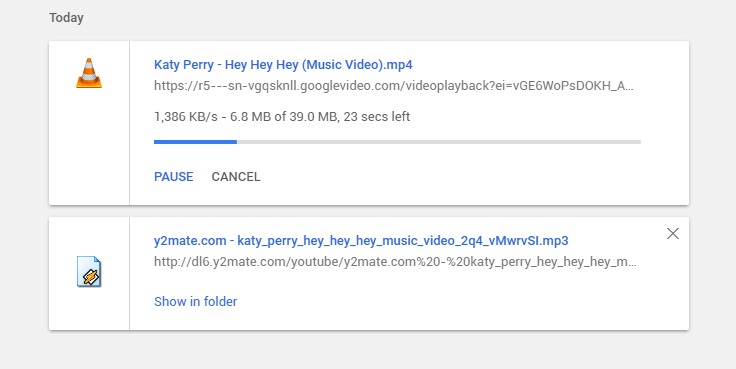 Y2Mate.com Review
And so let us do a quick review. Which also can serve as conclusion below… But here's what I'd like to say about y2mate… It's a good service. It does what it promises to do, it only goes for 128kbps mp3 – honest and data transfer aware..
Site has mobile version that looks good on a smartphone.. Why those apps then? Truly i don't get it, why some people would use apps, when using a website is so much easier and faster? Yes, desktop software is a different thing, it's so much easier to use (as for example Airy is).
With desktop, you can set a dozen videos to be downloaded and converted, leave it overnight, have it done when you are not around.. Conversion happens so much faster, because your desktop (or good laptop) is way more powerful than your smartphone or tablet, it has way bigger screen, normal mouse… Well, it's it just so much nicer to use..
And here are those apps… Where it's not even clear how to copy-paste video URL.. Anyways, let's return back to y2mate's review… Although i hardly have anything else here to say… y2mate works and delivers results, it's an honest website with a little bit of sneaky app pushing, but oh well who cares…
4 out of 5 start from the editor. would have been 5 stars, if 1080p download was there OR there was no glitch with yt mp3 converter. Either one would have made it 5 stars…
Conclusion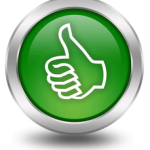 Y2Mate.com is a nice site without ads or popups, no advertising whatsoever, at least now end of 2017… Site is safe, does its own youtube to mp3 conversion. So – it's a great resource with lots to give. It also advertises 2 android apps which savetube doesn't vouch for (at least yet).