Hello and welcome back to Savetube. Today we'll have a quick discussion and how-to step by step instructions on How to download videos from Tiktok. And our object of admiration today will be https://ttdown.org/ – the site where actual tiktok-transforming magic happens. Check it out, it's a short read.
But first please take a moment to realize, that Tiktok is NOT tryint to stop you from downloading videos from their platform. Thus it is quite easy to do video download right in your browser. The app won't let you download video, but if you open that video in a browser, doesn't matter mobile or desktop version, it will actually allow to download video by right-click + save video as or tap-and-hole + Download Link on mobile Android devices.
We here talk about websites, so I will continue talking about TTDown as if it's the only way to download Tiktok videos, but both me and you know it's not the only way… But it's the easy way, no need to mess with Inspect tab and copy video stream URL, etc… And so let's go right ahead and see how to go about downloading tiktok video and audio.
Step 0. Copy Tiktok video URL
I simple go onto Tiktok website and open trending videos. There I right-click on any video and copy its link address, – as simple as that.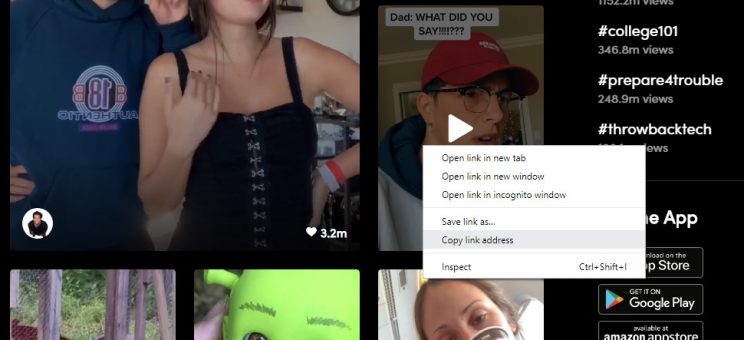 Now with video URL copied to clipboard, we head over to ttdown.org and paste video into the search box there.
Step 2. Paste video URL into search box
To do that, simply right-click (tap-and-hold on mobile devices) in the search box and select Paste, this way URL is inserted into the box and we can hit the GO button on the right.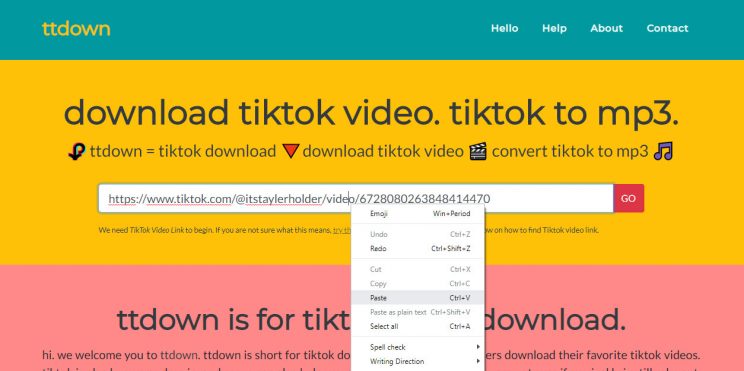 With URL being in the box, hit GO and see the first level of download info appear. It's the video download link.
Step 3. Download Tiktok Video file
Right-click on the red Download Video button, select Download Link or Save Link as, depending on your OS and browser selection. Now video will download to your device. Easy!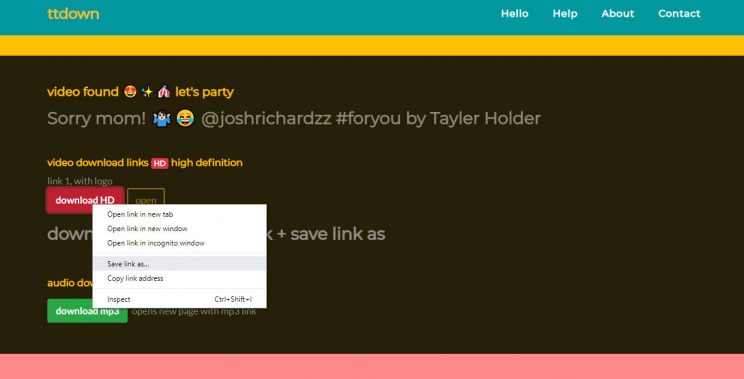 ttdown org step 2 download tiktok videoIf you "normal" click or tap on the Download HD button, you will probably have video open up and start streaming, playing for you. To avoid that normal browser behavior, simply use the Right-Click or Tap-And-Hold technique I've described above for link copy and paste. This is same stuff, only for video file download.
Step 4. Download Tiktok audio as mp3
Now the final step, if you look closer, you can see there's also Download Mp3 button below the video download link. All you do here is click on it and see new red download button, now with MP3 on it. Same method right-click to download, or click to start playing.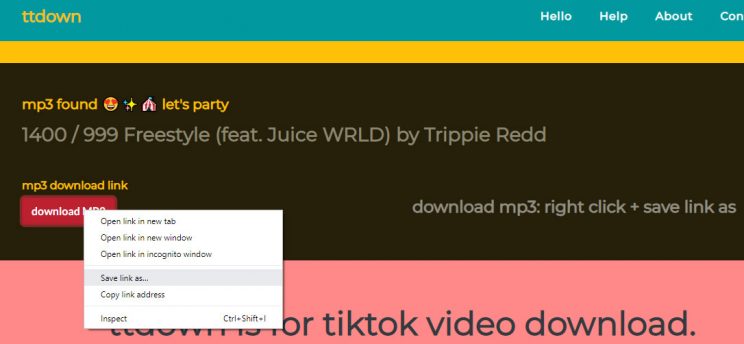 This way you can easily download Tiktok music as mp3 to your device, directly from Tiktok infrastructure at high speeds and stuff like that. You can also use that short 10-15 second audio as your new smartphone ringtone. Why not, they have very nice muisic on tiktok, all the fresh songs are there, all the great beats can be added to the video. Well, if added – then extracted too! So here ttdown.org comes in to help.
Conclusion
TTDown.org is one of a kind Tiktok downloader, it can both procure audio and video file for you, without any additional online converters or any software or apps install, no registration, all https secure.. Just check it out, it'll be your goto site for Tiktok video downloads.