Talk about mp3 converters, – I just can't have enough of them. The matter is, this whole youtube to mp3 conversion thing is quite dangerous.. Like for example recently they shut down convert2mp3.net, just days ago. I guess, need to write an extra article just about that. I suppose it's coming next after this one.. Internet needs to know where to convert youtube to mp3 now.. LOL.. =)
And so here's the new one https://youtubemp3.cloud/ – a website that's so new, it barely has made it into top 5 million websites.. It is fresh, it has vibrant colors, it provides multiple redundant download options – what else does one need from a good youtubemp3 tool? Privacy! And privacy is included with https enabled (check out first screenshot below).
Youtube search included!
I love when a site allows you to drop all that side hustle with the copy-paste of the video link… And this site does it well! ❤❤❤ Check it out, you will love the process. Click (or tap, if you're mobile) in the white box on top of the page. And start typing what song or artist you want to see the videos from. youtubemp3.cloud has auto-complete that suggests some locally trending queries for you, pick one or finish typing your personal search (and hit enter).
Instantly there's a dozen of videos that match your search (or youtube thinks they satisfy it) appear in front of you. Pick one or do another search, whatever you feel like. If you click on any video, – new screen opens up with download options shown.. Don't you just love this cool feature? I know I do. Saves lots of time.
How to use youtubemp3?
Here's a few screenshots I've taken during the test run I've given this site. First we see the front page and the interesting coloring scheme. Pay attention to the browser address – it includes https, the best option for shady internet activities.. 😂😂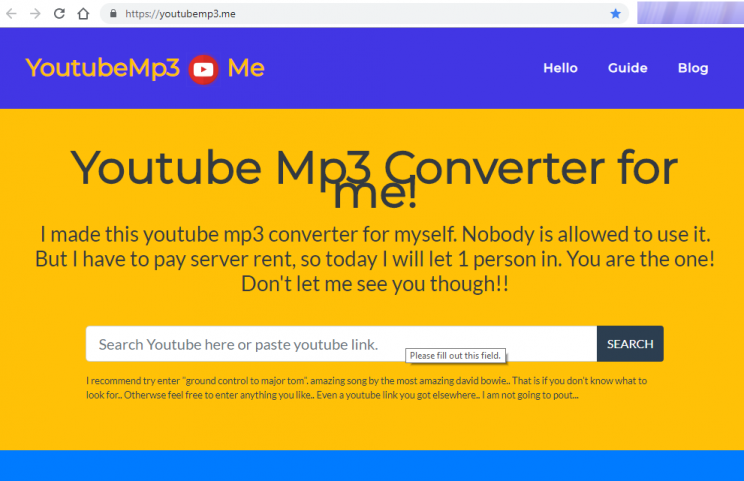 Search youtube from the white search box
Very easy now type in what you want. And hit Search button. Or you can also copy video URL from youtube website or their app and paste it into the white box. I went with search, only had to type in "ar" and selected "Ariana Grande". Dunno why this little almost dwarfish singer is always easily found in youtube search..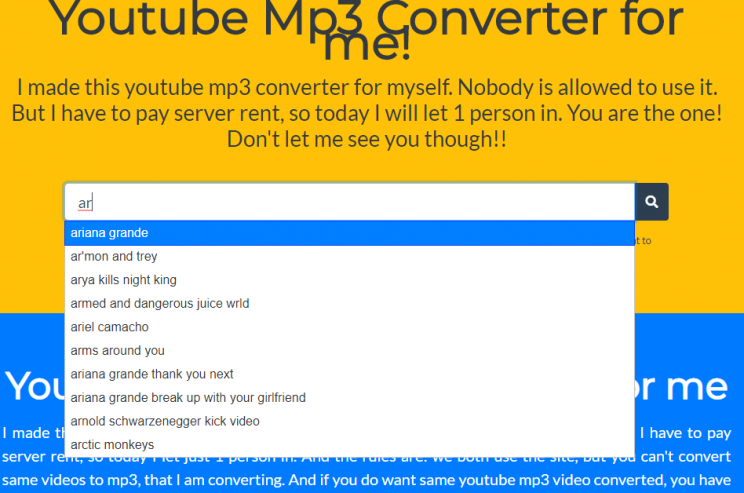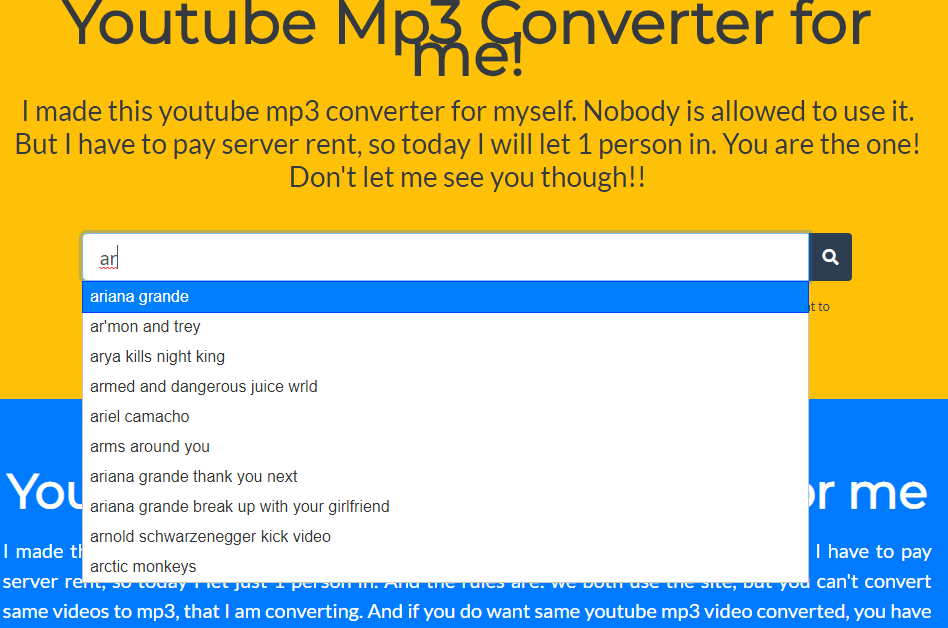 Now select video from the search results. Usually a dozen videos is returned for every search, unless it is very specific, then less could be shown. Click or tap on any video to continue.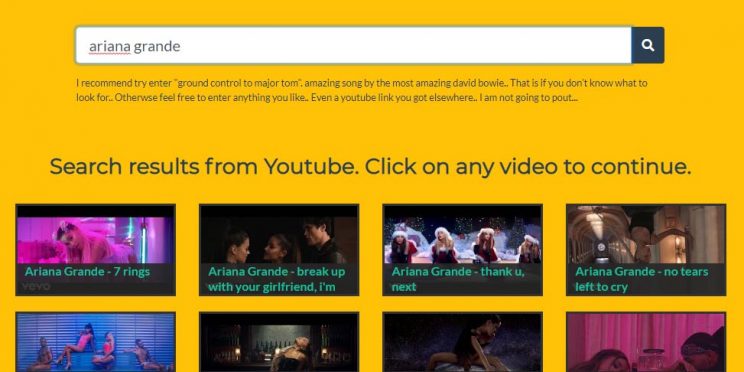 Now download youtube song as mp3
Finally we see 2 download options, and I just went ahead and downloaded the mp3, you can see green button indicating that mp3 in in my downloads folder. It was all so fast, maybe took 3 seconds total. Some longer videos you can see indicator that it's being downloaded and converted somewhere.. But usually it all goes by so fast, that download seems almost instant.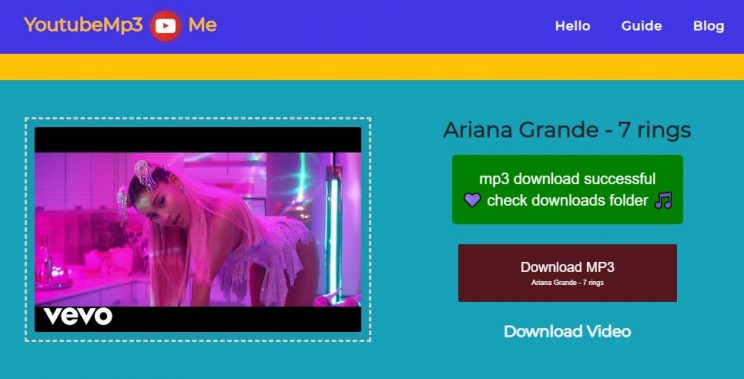 Now check your browser downloads folder with CTRL+J or go to the menu and find Downloads option. And enjoy new music any time you want now!
Youtube playlist downloader included
That all said, this site also has cool playlist downloader feature built in. If you have a playlist, simply copy its link from youtube and bring it here, paste into the box and hit the button to the right. Instantly you'll see the list of up to 250 videos from this playlist. All with easy to download links included right there. Have to download each mp3 one by one, but i doubt you'll do more than 3-4 anyway, so this playlist tool is awesome even with 1 by 1 downloads. Youtube search doesn't work for playlists though, could be better in this relation..
Conclusion
Here we see a new amazing youtube mp3 converter that could easily replace convert2mp3.net for a few hundred users who find themselves lost now that their favorite site is gone.. youtubemp3.cloud is very fast, it has no ads, no popups, no malware or any software installs, none of those ever present browser notifications requrests, just plain nothing nast. it's very safe, it's secure and reliable so far I've used it a few weeks. Check it out.