The world of youtube mp3 converter is a tricky one. Today you see these sites up and running and getting all the traffic possible, and tomorrow they are gone, and new sites have come to help you convert youtube to mp3.. That is why some of my review are long since obsolete.. I keep them still. I birthed them! =)
In any case, i've come across someone else's review of some methods of mp3 converter mechanics, and in that review (OMG I'M LUCKY) i've found 5 different sites that i've never reviewed before. And so here comes the first of the fire – VDYOUTUBE.com. These days if some site has .com domain extension, then it is most likely an old site… Let's check it out.. See how to use it.. maybe it works as youtube to mp3 converter?
VDYoutube.com Tutorial
today we're going to satisfy hunger of millions of people trying to download the most famous track by the late AVICII – Wake me up. This is going to be a savetube tribute to the life and work of this great DJ and producer. Very sad to lose such a talent only 28 years old… In any case, we're going to see if VDYoutube will work as both mp3 converter and youtube downloader, or just for the video… so let's get on it!
Step 1. Open VDyoutube.com and see what's up there
click here to open the site. check out list of supported website, half of them are supposedly not working.. i mean, their support isn't working, i guess.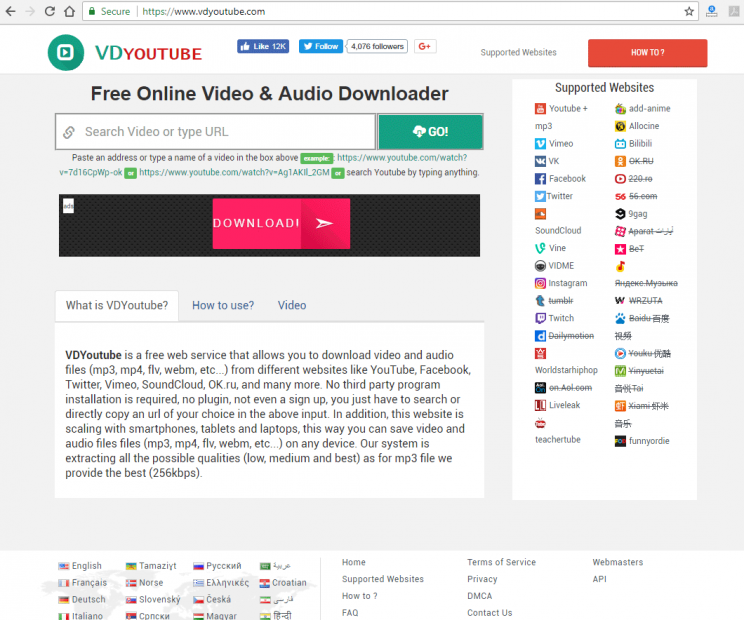 step 2. Let's try a search – AVICII
so now i search for AVICII wanting to find that video maybe… And first i find lots of stupid opinions about his passing, but then Wake me up comes up and i click on it..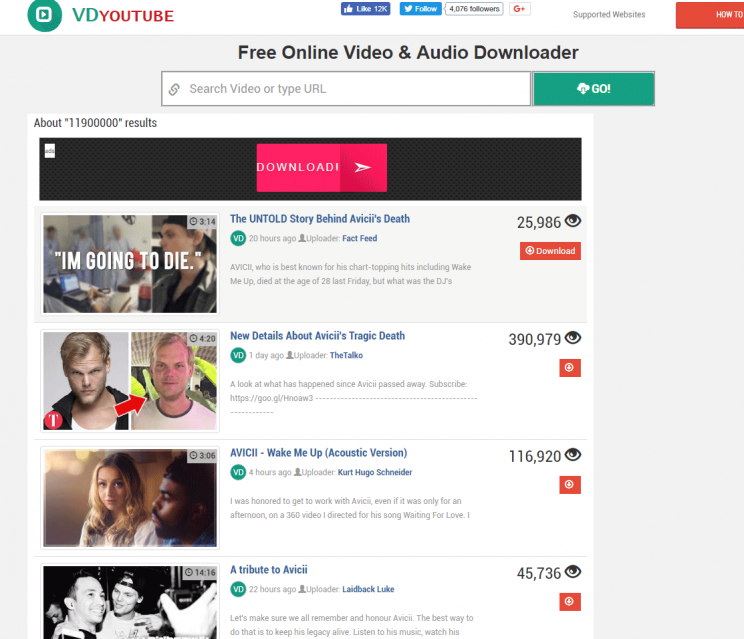 Step 3. Select Download options top part
so now this video come up, and watch out, this screenshot doesn't even contain the download button. it's on the second part, below the fold, have to scroll down… now and there.. hehe…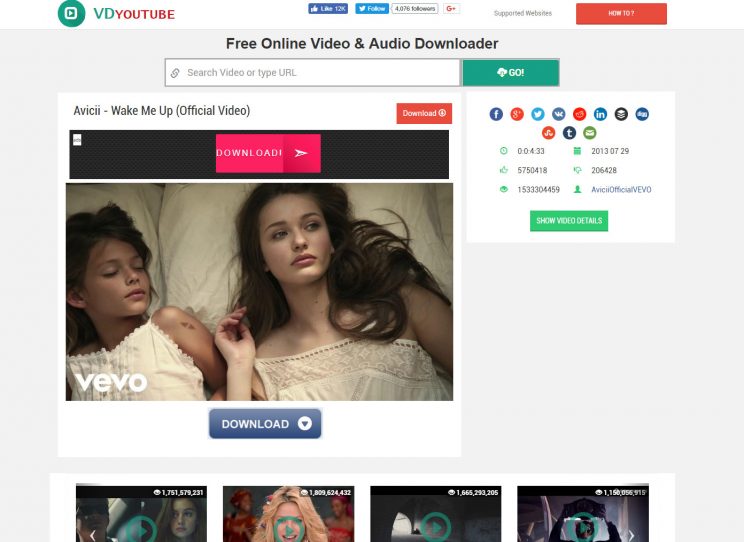 step 3.1 Select download options bottom part
and so now you can see the download options.. there are 720p HD and 1080p HD (no sound) options, there is not proper 1080p HD with sound download. There's mp3 download link below.. I try 720p HD and it downloads well, places website name into filename, how lame… But then i go for mp3 download…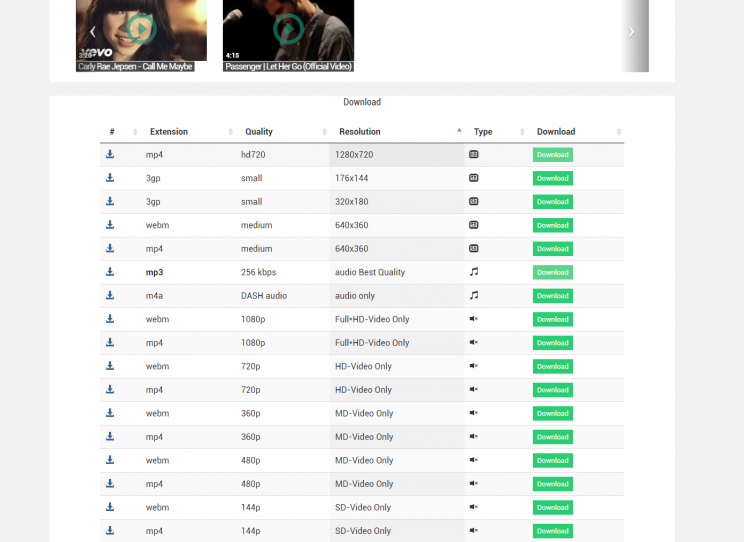 Step 4. No mp3 converter on premises…
and now vdyoutube shows kinda silly message saying my video is longer than 15 minutes.. it's barely 5 minutes, i think.. but not acceptable to convert… aka mp3 converter is broken on this site. sucks.. minus 1 point for this: promised and not delivered youtube to mp3.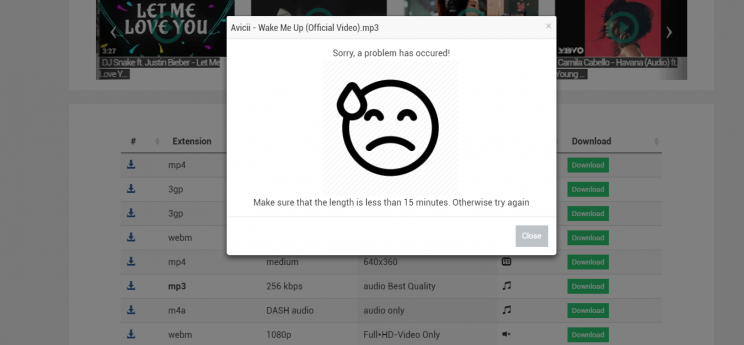 Step 5. Proof of download
this got me so upset i didn't do proof of download screenshot, but download did happen and
VDYoutube.com Review
VdYoutube.com didn't get any boost from google when youtube mp3 org went down in October, although it's been on the rise somewhere starting mid summer 2017… Not a meteoric rise, just a steady growth. I guess, this site does do what it promises.
Site allows for youtube search. And while other sites that also do so seem to offer in-box search using youtube API, which suggests videos to click, this one actually seems to scan youtube search page and present results from that page.. Takes a few seconds, screenshot is there too in tutorial. The search page is very heavy, not good for mobile..
VdYoutube has a few localized pages in different languages. I've checked a few languages that i know and i can clearly see that most of them were translated using online translator tools. Very sloppy text, very inconsistent with the message that is being sent out there…
Popups are on every corner. Click here or there, and popup.. too many. Not a good trait, very heavily commercialized website.. In screenshot 3 you can see fake download button right below the image for the video.. Well, clicking on that one actually produces a popup and your video page changes into what would have been a 2nd popup. this is truly a ridiculous user experience. After clicking that button i had to do another dozen "close" clicks and 'browser back button" clicks just to get back to the video conversion page…
This youtube downloader does provide https secure connection, so using it is quite safe and no trace can be performed this way. Feel safe! But still, safe feeling and video downloading is not enough to get good review.. That silly message about video being over 15 minutes long so it couldn't be converted to mp3…. nonsense.. that's another star removed from final "score"…
Conclusion
VDYoutube.com is not a nice site, it will produce a popup every 2nd or 3rd click that you'll do… It does convert youtube to mp3, but does so with too many distractions.. so no, this site will not end up in the list of Best Youtube to mp3 Converters, it is not even reaching anything more than 2 stars from the editor. And if you're still looking after reading this article, check out this opus on youtube mp3 converting tactics & morals…