Hello my dear friends and readers of savetube! Today we'll be trying 1 new method to download videos and music from youtube – it's website called 10convert.com. the website seems rather fresh, it got to stardom in june 2017, and then later stayed at the same level.
it seems to me this website has been a redirect (new name) for some older site.. too much of popularity for a new video download site too soon… like keepvid – took a month for it to get 1000s of visitors coming in…
In any case, today we'll present this review and a few steps and words on the usage of this website. 10convert.com here we go!!
10convert.com review
quite smart to start site name with 10, not many sites have 1 as first letter in their name, so this should ensure easy access by simply going "1+enter" in your browser's address window.. 1 will most likely pull this 10convert as auto-suggestion.. quick access is a bonus.
Site tries to stick you with its notifications. Watch out! do not accept. usually push notifications from such sites are nasty ads, nothing else.. what news or whatever useful stuff can such site notify you about? They do them because they want to doop you into thinking these notifications are essential for the website to work.. do not bother!
next thing i didn't like was the search function… I did maybe 10 times the search for "kurt" before realized it was loading below… out of sight.. below ads, below everything… So then i realized i should have closed that ridiculous animated gif that shows how to use this site…
dammit… i hate simple sites with animation… youtube mp3 converter shouldn't be so complex… youtube to mp3 process does not involve watching videos and making animations… but then after closing that gif and trying to use the site i noticed that nothing changed. UX on this site is awful.. ads show up where content should be, so it is hard to even understand that links were displayed, are displayed below, down the page..
Well, back to review.. 10convert.com does not do https, which is a big "no-no" these days… Mp3 converter sites must be secured with https to obfuscate possible overwatchers… that's a minus on the final rating from savetube..
When conversion page shows up, video is auto loaded and starts streaming and auto-playing… OMG… how much of my data to you want to waste??? What if someone is trying to download some porn flic or maybe something they are trying to surprise others with? why would you make it autoplay???
and finally, converted youtube video is downloaded via 10convert.com, i.e. instead of letting you download video at full speed from google, this site downloads it first, and then sends it to you, making download extremely slow!! mp3 download happens from some other random server and is quite fast. but video at 100kb/s, while google server will send it to you at 20Mb/s… stupid… i know it'll help with vimeo or dailymotion, but for youtube this is a really wasteful and ignorant way to go…
10Convert.com Usage Tutorial
for the tutorial we'll be downloading suggested on page http://www.youtube.com/watch?v=hTWKbfoikeg – Kurt Cobain's Nirvana "Smells Like Teen Spirit". Now we'll be checking if this site can be used both as youtube to mp3 converter and as youtube downloader in itself. SO we'll be downloading a video and converting it to mp3.
Step 1. Open 10convert.com and see the front page.
as mentioned before, click red close button to remove annoying gif… although it doesn't help UX..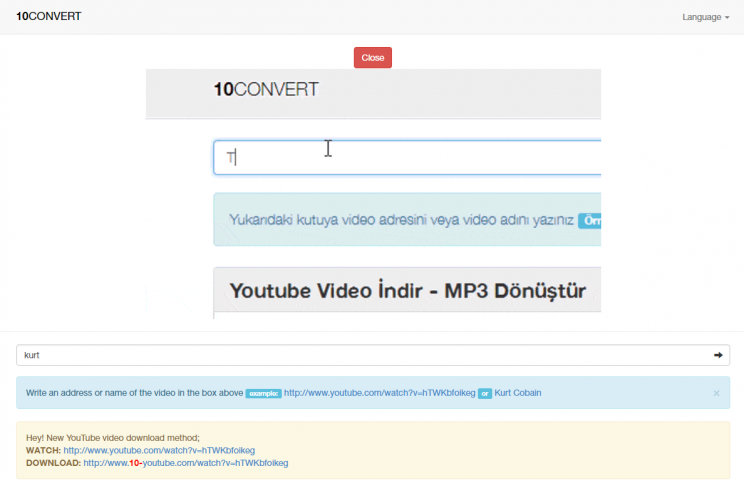 Step 2. Enter "kurt" as search and select video
don't forget to scroll below all the ads to see the search results.. what a mess… page looks exactly as front page without video..

Step 3. Video download selection, mp3 too
click on links now to download

Step 4. Announcement of started downloads
very useful… thanks for letting me know!

Step 5. Proof of download.
Please note where video is downloading from, it will have .com extension, very useful, and it is going at an amazing speed of 160kb/s download.. OMG!!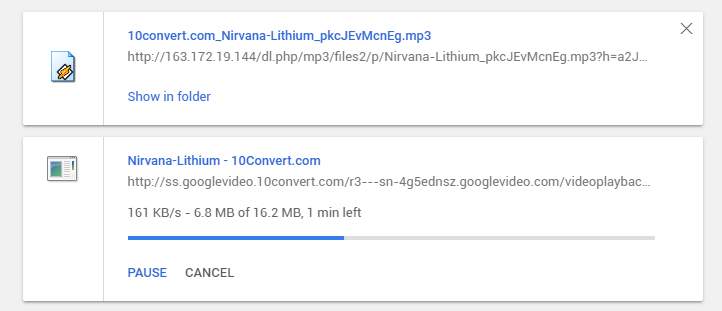 Conclusion
10convert is not a good site. it has very very poor UX. it works as mp3 converter, it even works as facebook video downloader, if you want it to.. but very slow downloads, bad design, very unattractive design, too many ads in the way… well… barely 2 stars for this site.. only cause it kinda works… thumbs down… hehe… too lazy to insert the thumbs down image.. thanks for reading!