Today's agenda has 2 articles from me, and this is the first of the two. And we're going to talk about save-video.com, a website in top 10k that i've come across just recently. isn't it surprising? and it looks like i've seen it before.. Maybe just a remake of some other site? Or do they all essentially look the same?
Are all mp3 converter sites kinda the same? I think so.. After seeing so many.. And this article actually is a milestone, well, first after the milestone – 100 reviews and blog posts about youtube to mp3 scene, where you can listentoyoutube. And youtube video downloader resources in general. Plus recently it's also been soundcloud to mp3 involvement..
Save-Video.com Review
But today we talk about save-video.com, from first look this site is ok, no ads so far, but who knows.. Usually popups come after video conversion.. Or on the moment of.. Below is the alexa look for this site.. Seems like it's also benefited from youtube-mp3 shutdown earlier (last year)..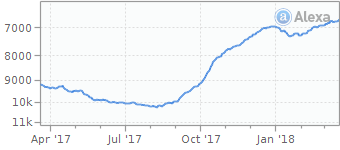 After running a video through this system i've experienced about 8 popups, 5 on the video 720p download, and another 3 on mp3 audio download. so all together 8 popups. Tutorial has 9 steps and images, which don't even mention repeating steps 4 through 7 for the mp3 file. So, in one word – how resilient do you think users are?? They probably break down after 3 popups.. I know i almost did..
Very very heavily monetized, very unusual for such a site to thrown so many popups.. Are they in dire need of money? I don't know.. But this really yields for 2 stars removal. Otherwise this site seems OK, ads are not dangerous, just popups.. Chrome can handle those..
Save-Video.com Tutorial
Today we're trying to download free and none-copyrighted video from youtube channel that also posts download links for mp3 on their videos. I am so cautious cause been getting some reports on my content promoting dishonesty… basterds.. They are right, but not really so.. Anyways, we're going after Lemon Fight – Stronger (feat. Jessica Reynoso) [NCS Release] and this tutorial will show how to get this video and its mp3, if possible.
Also please notice my 3 arrows. One indicates that there's secure browsing with https. Another one shows where to put the video URL. and third one points to where it all begins – first click on first download button.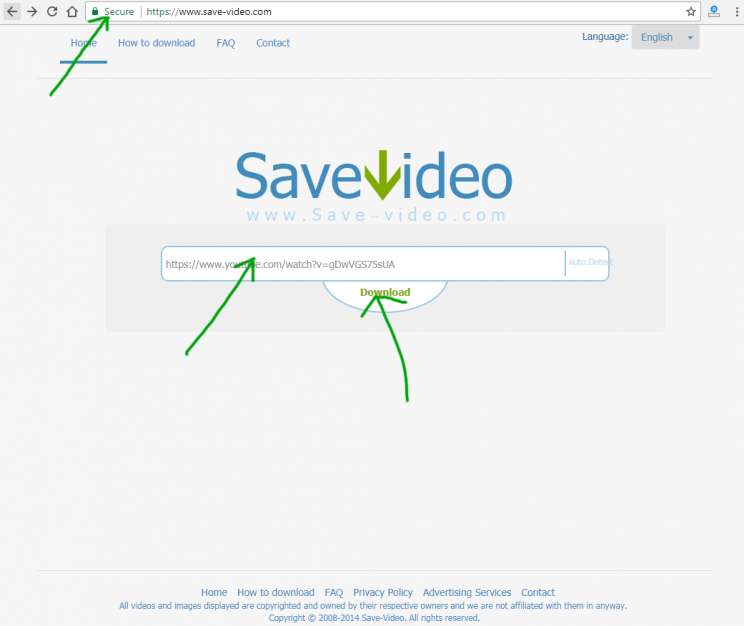 Step 2. Enter video URL & Submit
here's what you're see. screen number 2.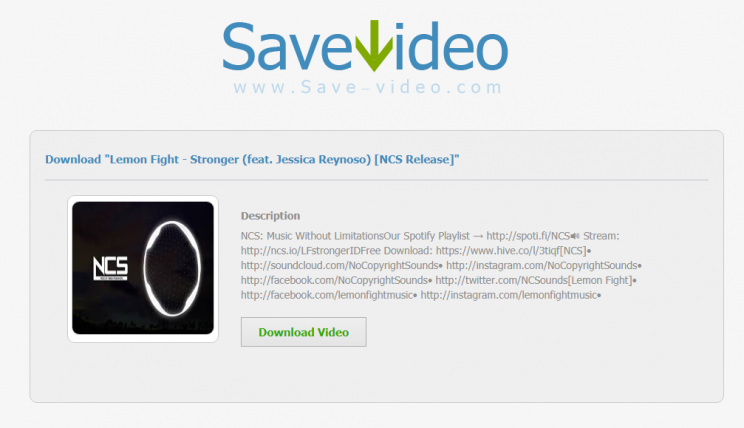 Step 3. After seeing the info, click Download Video
working indicator shows, as depicted here below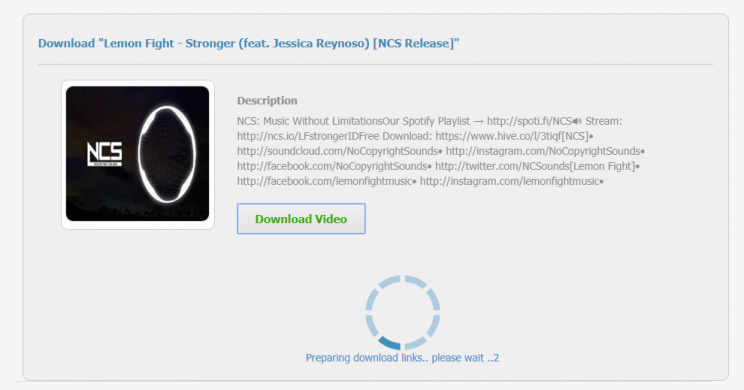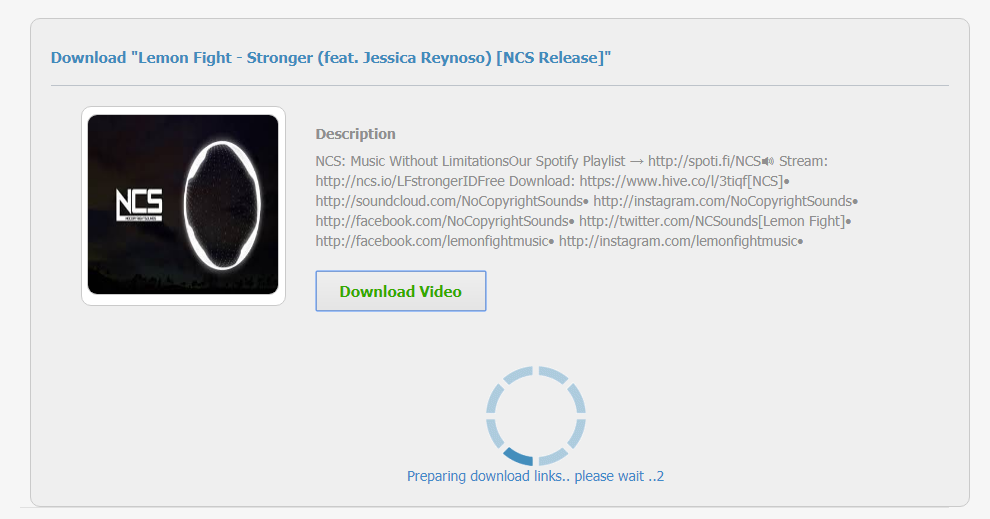 Step 4. Download options are here
Notice, there's no 1080p HD download, which so far only possible with software or Peggo.tv if online. Then there's also Mp3 download possible, feature marked as "new".

Step 5. Go for 720p and click on the link

Step 6. Now we see it's getting that link.. wait..

Step 7. Finally download link is here!!

Step 8. Get the mp3, by going 5 steps back and 5 more forward
yeah, 5 steps back and 3 screens you'll get to step 3 and can select the format again. And again go over several popups and get to step 7-like screen that shows final download link. After clicking it, here's what you'll see.. Download and conversion indicator. But then download starts..

Step 9. Confirmation of 2 downloads – HD video and mp3
After all, here's what my browser received. HD video download happened from google, so very good, from the source of the video… Mp3 came from save-video.com, which is understandable, and says that they use their own tools to convert youtube to mp3..

Conclusion
You can use this site, but you don't have to, and there are better sites, like Savefrom or Youtube to mp4. For mp3 there are way better sites, like Ytmp3.cc or maybe even y2mate. This site is very heavily monetized, so popups, at first no mention of them, will come and will ruin your visit on this site..