And so we continue the story of famous youtube mp3 sites going down… Sad news, the site I've been admiring so much recently – TheYouMp3 doesn't work anymore. These news come just few months after Offliberty stopped working and later youtube-mp3.org has gone down.
In the months since youtube-mp3.org has disappeared, TheYouMp3 has become one of the prominent players in the mp3 converters scene. And no wonder why: it did instant conversion, as opposed to most services. You see, usually audio or video is downloaded from youtube and then converted to mp3 by the server. After that you start your download. Thus the delay.
Theyoump3 on the other hand did this seemingly instant download, which basically was the process of downloading a bit of the audio, converting it, and sending it to the user. Then more and more… This way for the user this looked like instant process. Well not anymore it isn't…
Following on the report we received from Brian a few days ago, quick investigation of TheYouMp3.com was conducted and report was confirmed: TheYouMP3 doesn't work anymore. It shows "we cannot process this link" message on any attempt we did, was it brand new youtube video, vimeo or dailymotion. Below there are several screenshots of our process..
But first, let's announce some of the….
TheYouMp3 working alternatives (Top 5)
now that we've recommended the best in our opinion replacements for TheYouMp3, we can finally go on to more talking about how theyoump3 is not working anymore…
Screenshot 0: drop in traffic according to Alexa
But before we begin, check out Alexa's traffic report for theyoump3.com, see how it peaked recently due to all that free traffic after youtube-mp3.org went off the radar, hit the amazing heights of being top 2000 most used websites in the world… WOW! and just recently – drop in traffic, you can see it going down… Why? Maybe, because it doesn't work anymore?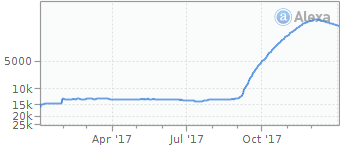 Screenshot 1: TheYouMp3 front page looks ok
if you don't know that it doesn't work anymore – all looks good and fine…

some random 2 weeks old video to ensure that it wasn't blocked by owner or something… After submitting in in the screenshot 1, we see this screen… It's processing…

Screenshot 3: We can't process this URL, FAIL
after waiting a bit, here's what we see.. TheYouMp3 gave up. and cannot process this URL. Damnit… Sad times for the scene…

Screenshot 4: TheYouMP3 is "Dangerous" (by Chrome)
It was saying to me, site is "deceptive" after I've tried steps 2 and 3, and decided to actually try download video instead of mp3. SO chrome went off the rails and started with its warnings of bad times ahead. But here is that, denoted with arrows… TheYouMp3 is now dangerous according to Google Chrome..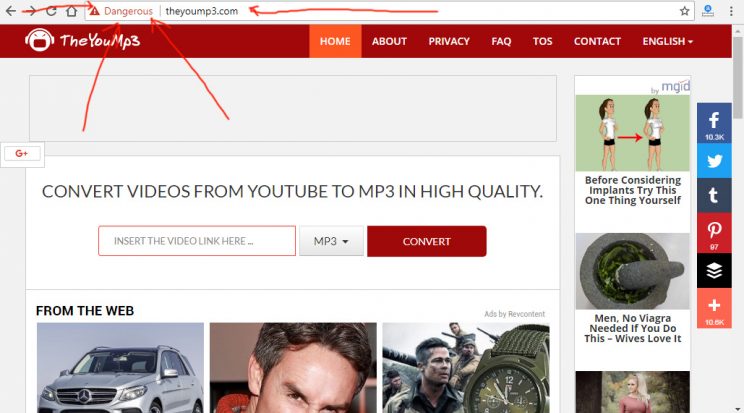 I am thinking some pissed off users didn't get their mp3, so they went on and reported the site as deceptive (in reality they are correct, mp3 was promised and wasn't delivered, but it's not a reason to report the site)…
I mean, it does have nasty popups that show up even when you switch conversion from mp3 to video, very insisting on a click. Well, this is all that's left from theyoump3 – banners and popups and popunders…
Screenshot 5: also tried Vimeo and Dailymotion
in our thorough investigation we forgot at first to check other sites, not just youtube video.. But after a few attempts we realized, that theyoump3 doesn't work completely…. None of the sources can produce video or audio download. Theyoump3 broke down.. 🙁

Conclusion
Well… this is quite a nasty blow, maybe this site will come back, cause you know, many of them go down and come back up… but in the mean time – look for alternatives to replace TheYouMp3….