Omg, another loss for youtube mp3 converter scene. One of the oldest players – FILSH.NET – has existed since 2008 – closed its doors a couple of months ago. Quietly went down. Site originated in Germany, or so it seems like, and that famous system operator of mp3 juices was also from Germany. So I am speculating here, but I think the shutdown of youtube-mp3.org could have been the reason Filsh.net closed as well.
There is a chance that both youtube-mp3.org and Filsh.net were operated by the same person. And under court orders he had to shut off all other services resembling youtube-mp3.org. Or having similar features to youtube-mp3.org. We here at savetube honestly have no idea why this happened and what is to be expected.
Filsh.net quietly goes dark…
without any special announcement, nothing on their Facebook page or Twitter feed. Last facebook post is from summer 2016, and last tweet is in summer 2017. Neither one shows any worry or any indications as of WHY FILSH NET IS CLOSING DOWN….
Website was mostly used for youtube mp3 converting, over the course of 2017 it hasn't really had too much traffic, probably mostly dedicated users, Germans for the most part, i think. Below is the Alexa traffic chart, you can see the dip started october-november 2017. This is when Youtube-mp3.org was shut down, and all those people would have come to filsh.net.. But no, it went under as well…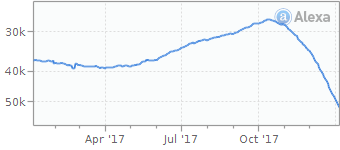 How many sites will we lose? Some due to technical problems, or reasons made look like those. That is of course offliberty that doesn't work properly anymore. TheYouMp3 has also stopped working, hopefully, temporary… It is sad. Not only the biggest players go down, but somehow smaller ones get affected too.. Here's what Filsh.net shows now if you logon…

Filsh.net Working Alternatives
For those of you who really liked Filsh.net, below we have a list of top 5 working alternatives, all those sites are checked by savetube, all we vouch for, if not in user experience, than at least we guarantee those sites do work and deliver the converted mp3s. So here we go:
and if you do not agree with our top 5 filsh.net alternatives choice, please, check out our Best Youtube Mp3 Converters list, it has 15 more tested working services. Good luck finding one to replace filsh. And if you used it for facebook downloads, try this facebook video downloader instead.