SaveVideo.me is a little nice looking site to download online video. From the start i must mention, SaveVideo.me does not support youtube. It is a surprise, but it is understandable. Youtube is the biggest, they have more lawyers and youtube links are watched by many other groups and lawyers.
So eventually when your site goes over the others to world domination, those watchers notice it and try to intimidate you.. They send threats of calling you up with court orders to seize and desist, and say they'll sue you, and other nasty promises. I've had my fair share of those, i know. So when youtube to Mp3 tells you to stop servicing their site, you will most likely stop and be happy they didn't sue you right away.
So i think happened to savevideo.me. It was seemingly way more popular 2-3 years ago, hanging our in the top 5k world's most popular sites (according to alexa). And these days end of 2017 it is barely scratching the 10k number.. It has lost maybe 3/4 of its visitors and users.. But better something than nothing at all, right? top 10k is still a formidable website…
Even that it doesn't do youtube, it still boasts getting video out of the following sites and services: facebook, vimeo, ustream, twitter, vine, aol, break.tv, liveleak, rutube, etc. So let us proceed with the tutorial, it's a fast one, but still need to point out some things.
SaveVideo.me Step by Step tutorial
Let's check out savevideo.com and open up their front page (click). for the tutorial i will be working with a video from vimeo that i've uploaded recently, it's a tutorial as well, but for ytmp3.cc. You can check it out here https://vimeo.com/240033352.
Step 1. Visit savevideo.me and look around.
Open their front page (link above), and see how it looks like. Nicely, only one ad and it can be hidden from the view. Site looks light and nice. The screenshot below indicates how it looked like late December 2017…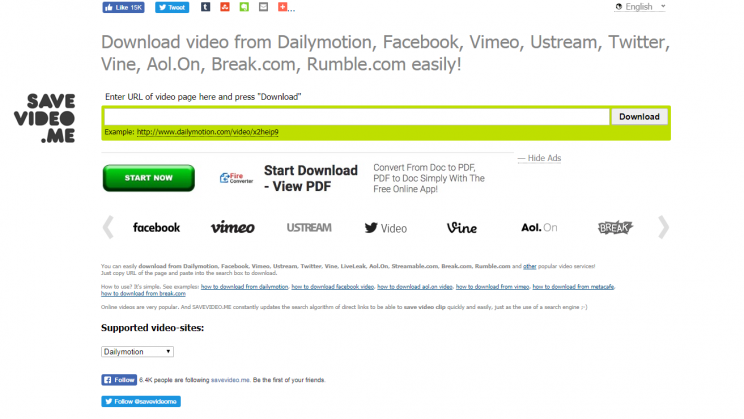 Step 2. Try youtube link with Savevideo.me
Just to show you that this site doesn't work with youtube, check out the screenshot below what it says when youtube link is supplied (see the grey message below green box):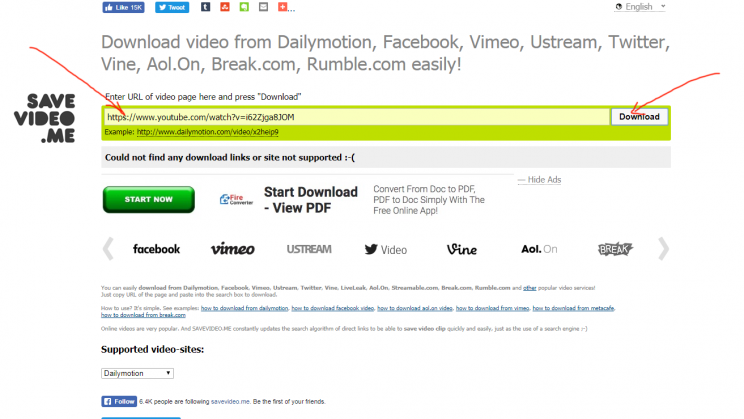 Step 3. Now trying vimeo link on savevideo.me
all good with vimeo, easy selection of 3 video formats in front of me after clicking submit button, pick the 720p one and click on it. If download doesn't start – right click on it and pick "save file as" from the menu..

Step 4. Proof of download from SAVEVIDEO.ME
in the screenshot below you can see my download of this video has just finished, went on at 2.5mb/s download speed. Nice!

SaveVideo Review
for a good keyword, this site's operator doesn't seem to care much, i think this site could have more traffic. It doesn't work with youtube, but then again, there's not a single mentioning of youtube on this site, so… Truthful? Hehe, gotta give them that. Not deceiving, rather, if not truthful.. What about ads? Just in 1 spot, and you can close that ad, hide it. Very nice, I am thankful for that.
The process of file download happens very fast, cause file comes directly from the video service, no need to download it first to savevideo and then to you. This has a caveat, – file name is usually screwed up, i mean, – not readable, gibberish, – is the better way to say it.. Just keep in mind to rename such files right after you try the download, cause they may sometimes come as making no sense, and later you may forget what that file really was about…
Conclusion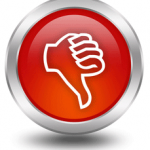 Well, what can I say having written this not very favorable review? Ghm… I am not really sure if i should recommend you not to use this site.. First of all, it doesn't support youtube. Second, it doesn't help rename video files, doesn't name them as they should be named. Downloads are fast, i give them that, but … No audio mp3 downloads, only video. Probably follows from website name, but i like to see audio downloads too, not necessarily mp3, but at least aac or m4a…
Yah… After all – do not use this website. There are dozens way better. If you're looking for video downloads without youtube – try Offliberty (it's been for a few months that offliberty's unable to process youtube links). If you want a normal fast youtube video downloader – check out keepvid or savefrom. Heck, even new guy ytmp4 will do the trick better than savevideo.me does. 3 stars from the editor. Do not use this site, really…