Here comes the review on one of the 10 top results as google sees fit to undertake the youtube to mp3 converter (please, be aware, we have our own top 10 youtube to mp3 converter list, and it's different from what google thinks about it).. I am talking, of course, about Converto.io. Please, do not mistake this site for convertmp3.io, it is a completely different website.
Converto.io quick look and feel (review)
before diving into the usage tutorial, I would like to say my word on how this site feels and looks. Basically do the review.
Converto.io is kinda nice, slick, not overcrowded, just one ad segment with "promoted content". The site does show popups when you click links, so nothing is different from majority of youtube mp3 converter sites in general.. ads, ads, ads.. popups.. Another site in the array of "you gotta click my ads"-sites.. But this site is one of the group that received huge traffic injections recently since youtube-mp3.org was shut down by music labels..
And to prove that this site has obtained much new traffic lately, check out the Alexa's view on the situation of late October 2017… The spike to the right indicates that this site was one of the lucky vultures to sweep in and pick on on the free-agent traffic after many youtube-mp3.org users needed a new place to convert youtube to mp3.
And so without further adieu, let us try and convert this Katy Perry video… Here comes the tutorial on how to use converto.io
Converto.io: convert youtube to mp3 tutorial
Now we enter convert.io website and see its front page. Here's how it looks like:
Step 1. Converto.io front page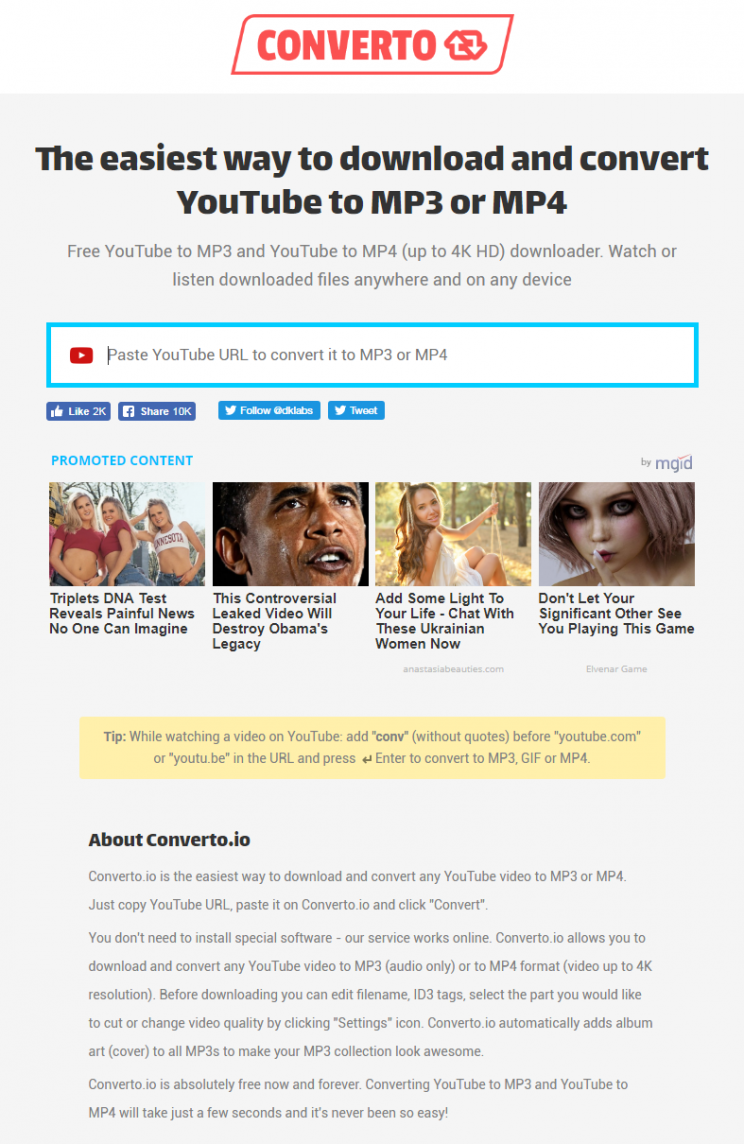 This site has its own do on why youtube to mp3 conversion is legal (for personal use). Read what converto.io has to say about it. So now more educated on the legal subject, we can enter the video URL in the blue-bordered box there.
Step 2. Convert youtube to mp3 with converto.io
Not the best website name, i have to say.. I keep making mistakes while typing the name.. I constantly want to type "convertio", "conver.io" or "convert.io", which are not the right names.. Well, it's not my place to judge website name selection… So now step 2 we enter the video URL in the box, and system quickly displays the youtube video info. Here's how it looks like: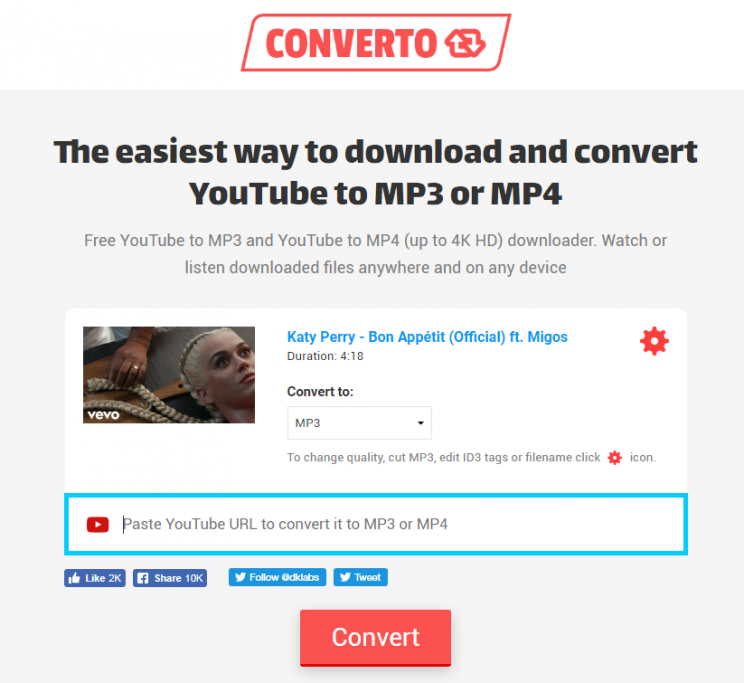 The only thing left now is to click the BIG RED CONVERT button and video gets quickly converted to mp3. This site has actually shown one of the quickest conversion times. I don't know whether they store mp3s, but if they don't from feat of extra lawsuits, – then conversion time is pretty quick. Surprisingly so, i would add..
Step 3. Download converto.io converted mp3
Now after conversion is over, it is very easy to download the mp3. Just click on the little tiny link that shows up and download will start. This will also cause a popup with nasty ads. Be ready and close it off quickly. Or enable adblocker, but again, do not use ad blockers, they take revenue away from sites that you'll visit after this site with nasty ads, but your blocker will still be on… Oh well… anyways, here's how the final page looks like, the download link is marked with red arrows: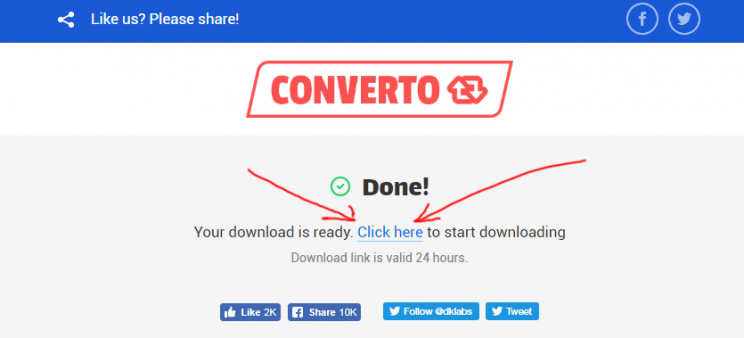 Bravely go for the click here link. Download will start then or maybe after 1 more click, if popup takes over the first click. Download is kinda slow.. Maybe they need to add more servers to their array…
Quickly convert youtube to mp3 with CONV+youtube_URL trick
Converto.io boasts a cool feature (like savefrom.net has its ssyoutube quick downloader access).. Its quick access via CONV. So basically you need to edit youtube URL to add CONV before the "youtube" word, to make it "convyoutube". This way you'll be quickly sent to a site (associated with converto.io) that will offer youtube to mp3 conversion, youtube to mp3 and youtube to gif convert.
After your selection and click to convert, this "other site" sends you back to converto.io, which then processes the conversion and gives the download link. Generally speaking, this is a much longer way to conver youtube to mp3. It involves at least 4 keystrokes, if you're lucky to place cursor right where it needs to be in the browser URL box, then ENTER, then select format and another click, and then you're back to converto.io to continue with steps 2 and 3.
This is probably quite useful on mobile though, where it is a pain in the butt to copy/paste URLs, so editing URL to add conv in front of youtube.com link (it also works for short links conv+youtu.be) could actually save you lots of time. But on desktop it is really a waste of effort. It's much easier to save the bookmarklet into your bookmarks, and then click on it every time you want some video converted, while on the page with that video.
If you're interested to try converto.io bookmarklet, click here.
Converto.io bot for Telegram
Converto also has a bot for Telegram.com. If you're into Telegram or have some group chat there or whatever else you like telegram or use it for, there's a way to install converto.io bot into your telegram environment, and the bot will allow you to convert youtube to mp3 by simply entering commands like "mp3 youtube_URL". The bot returns the download links.
Check more here for converto Telegram bot installation and usage instructions.
This is actually good news, because it shows that there's a way to use converto.io as an API service for youtube to mp3 conversion. When you tell some other site to do the conversion for you, and you just redirect the download link to the final user, which allows for responsibility shift, in a way…
Well, forget about it… it's my stuff.. Good for my project of youtubeMP3.today, now it uses 2 different sources to procure the converted mp3.. More APIs will not hurt..
Conclusion
Slow download speed. Yeah… Then again, it does show youtube to gif opportunity, but it's only possible if you do the "conv+" trick, and that sends you to a different site, no less.. So no youtube to gif on this site.. 4 stars is what we go with here. Ads and popups have removed 1 star, cause otherwise this service is pretty nice..