here we wanted to start reviewing free websites that allow one download youtube videos. when one would use free websites for youtube video downloads? well, it depends.. i see this person being a very casual video downloader, thus needing this 'function' only once a few months, and as a conclusion, someone who doesn't need some special software installed which he or she will use only twice a year. yes, i know, all of us have such software, games, etc, – programs we don't return to for years… anyways, this is that. on one hand, using some other website to connect to youtube and do the poking around, while you only connect to take the video. i do not know, whether they are tracing such things or not, probably not, probably due to so many embeds and such.. on the other hand, websites cannot just do things for you, they send you doing it seamlessly, so is downloading – your browser has to specially allow things to happen when you agree or disagree to the dialog window above, or at least that's how you should keep your browser – secure and suspicious/reporting of new developments.. usually websites trying to involve packages other than just bare browser, are bound on you having such software, so in the end you might end up installing some windows packages that are 100 times bigger than your standalone free software to download youtube videos. no matter, people are often afraid of commitment, i.e. installing some software, or don't want over-ad-ed free versions, so they just resort to these websites that do this – get videos off youtube for them.
KeepVid.com – download streaming videos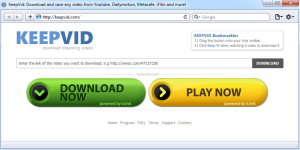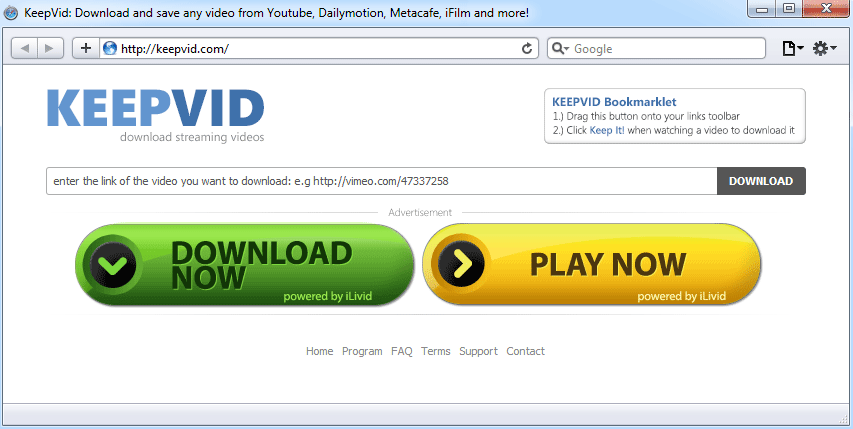 little nifty site, simple one text-box where user puts the video URL, and then clicks download button on the right. please, do not mistake the black button with white word "Download" to the right of the textbox with huge green and yellow buttons of the ad that site shows for me. your ad might be different, but the point is one: if you think keepvid  is a great site, well, banners are there to support the creators of the resource.
what happens next is a matter of the browser that you use. i like Chrome, well, no matter, i tried using this site first in Safari, cause it has that little 'reset Safari' button that erases all new things and returns the browser to its after-install state. very useful sometimes. but Safari said 'no', motivating with my outdated Java.. yeah, this site needs you to have Java installed to work, and that is like 150mb downloads, although chances are – you have it already installed.. anyways, i switch back to Chrome and go ahead, search for Justin Bieber, seeing this warning on the screenshot to the right. applet needs to download and run, i suppose. i allow. it scans youtube video the URL to which i posted in the box, and yeah, next screen below shows what was returned to me, i.e. several options of the download, including image quality options, different formats, etc. saving video to mp3 is also available. all you need to do from this screen is to right-click on any of the links provided, and click save to start the download. voila, you have the video. it is being saved with a small window size, the reason to this i wasn't able to find. Clipgrab software we reviewed earlier saved bigger picture size and bigger file size for the same video. anyways, check out how the final screen looks below: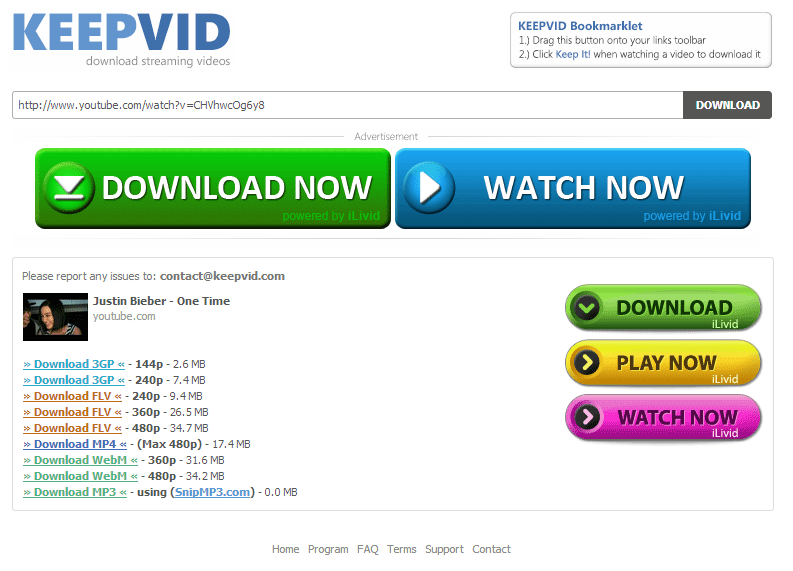 obviously, Multi Platform. in the future i will not be listing this 'feature'..
Bookmarklet – a little javascript snippet you place with your bookmarks, and later watching a video you press on the bookmark(let) when you want to invoke the site to download a video for you.
supports most video streaming websites, including Dailymotion, 4shared, AlterVideo.net, blip.tv, Clipfish.de, Clipser, Clip.vn, CollegeHumor, DivxStage.eu, eHow, Facebook, Flickr, MySpace, Photobucket, RuTube, SoundCloud, VBOX7, videobb, Vimeo, etc.
download different qualities and even save video as mp3. very useful, i must say.
its own software program to download youtube videos, which requires subscription to be used, so we don't get into it…
seems to download videos without ads and commercials
that's it, generally speaking… free websites don't and can't provide wide functionality of software and plugins. but they are good and useful in some situations, as we discussed above.