EDIT: it seems that savedeo.com is down or something is wrong with it.. hehe.. i always figure out something is wrong with a site when i notice increased traffic on one of my articles. that was the case with keep-tube, same with savevid, and some other sites. So now Savedeo.com is also down and who knows when it comes back. In the meantime, i would recommend everyone who misses savedeo to try out one of these youtube mp3 converters offliberty.com, savefrom.net or keepvid.com. (edited 19-sep-2017)

savedeo download online video audio official logo
Well, here i come to light up the dark shadow that befell savedeo.com and to lift this curtain and explain some things, i guess. but first things first. Savedeo.com is another free website that allows one download online video/audio content and save it for future enjoyment. Again, generally speaking, we're all here doing this for our personal usage, for later viewing, not for sharing, or, god forbid, selling or renting or whatnot.. anyways, let's talk about Savedeo. Site is pretty neat and has quite intuitive UI. there's really only 1 box where we are going to put the Youtube URL we want to download. Yes, it's Justin Bieber again. what??? wuzup??? =) lol.. someone commented on another post with Bib's link in it, said to quit this nonsense.. it is not nonsense i sense!! i like  linking to bieb's resources!! And so the image below – Step 1 – shows the initial screen with nothing entered, menu on top and recent/popular videos on the bottom.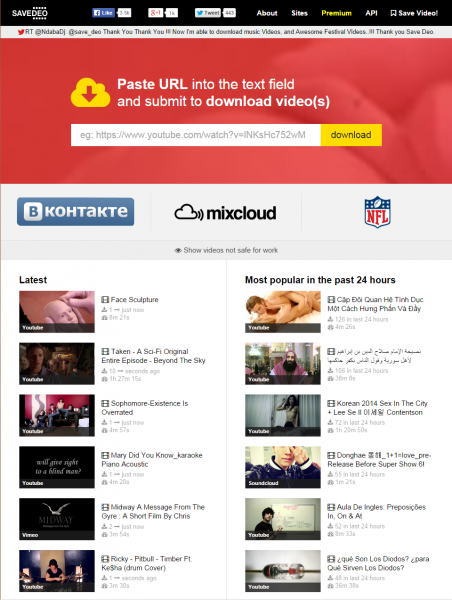 But please, notice, even with workplace-unsafe videos turned off, or rather not shown, there are a few right there in the 24hrs list that are quite revealing and erotic and such. so be careful going onto this site. At first i was really thinking and contemplating if i should mention the situation with Pron in my Savedeo.com Review, but then i decided that i better lay out the whole truth about the site, instead of accidentally getting someone into trouble by not knowing where they are going.. right? right! and i am not worried that google will consider this bad for SEO, i am ready.
But that is left for later, and right now we got 2 more steps before we get the video. 2nd step and the first of the 2 real ones, – is entering the Video URL. Savedeo supports and helps download videos from following websites: Youtube, Vimeo, Facebook, TED, Instagram, flickr, VEVO, Vine, Twitch, Blip TV, College Humor, Apple Trailers, Adobe TV, Soundcloud, Metacafe, Mixcloud, NFL, VKontakte. It also helps download videos from YouPorn, Xhamster, Xvideos, Xtube, Redtube. Basically owners at some point have noticed that porn flics were prevailing, so they did a 'safe for work' version of the feed of videos, where they probably do some filtering on well known sex words in maybe even several languages, but it's not enough and naked people get into the Most Watched in past 24 hours showcase because the video is named in Vietnamese! or Tajikistan tongue! who can filter all languages of the world? noone.. anyways, so here we got it.. let's then put the video url into the box and click download: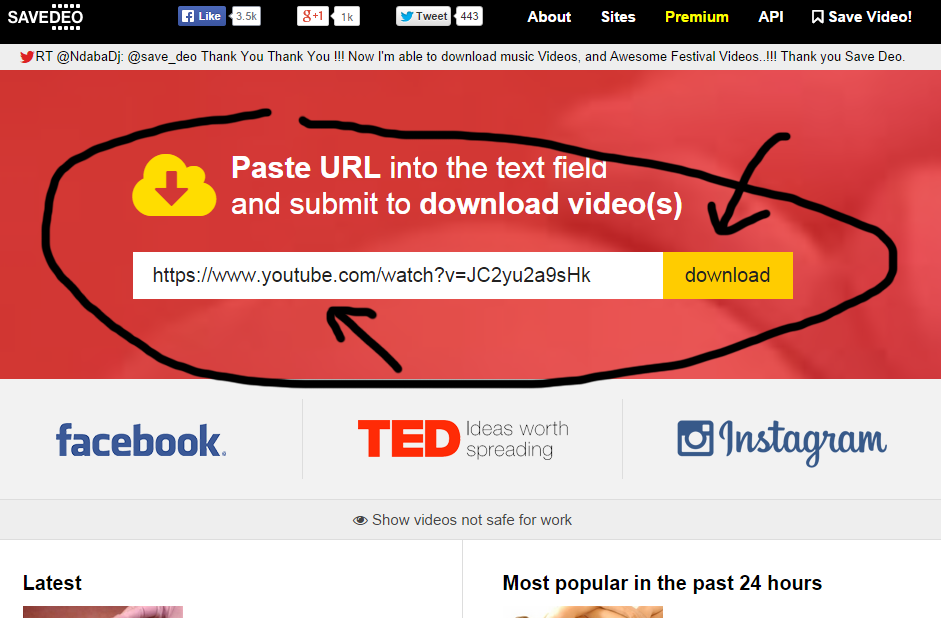 and below we can now see how this triggers a list of different options to download the video.. each option shows the video size, format (mp4, flv, webm, 3gp, m4a, etc) and also dash or no dash. What is "dash audio" and "dash video"? Dynamic Adaptive Streaming over HTTP is supposedly done after Apple's HLS, it is actually not continuous streaming as we know it, with DASH the stream is broken into pieces of 5-15 seconds, that are downloaded consecutively and formed into a continuous stream for you by your own browser, or rather Adobe Flash player in most cases.. And sometimes, like in this case, soundless DASH Video files are accompanied by videoless DASH Audio files.. so watch out not to download just VIDEO. for just audio, it's ok, i'd do that sometimes myself! but for example SaveFrom will notify users that this video will not have audio.. i got burned before.. anyways, here's the image of what i've seen, and rejoyced: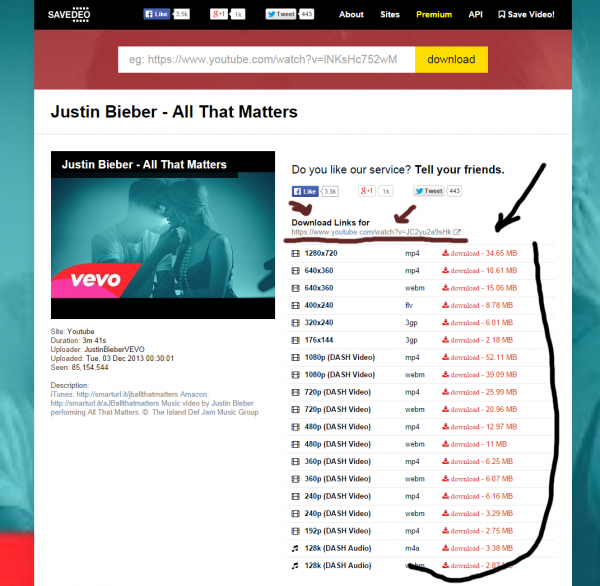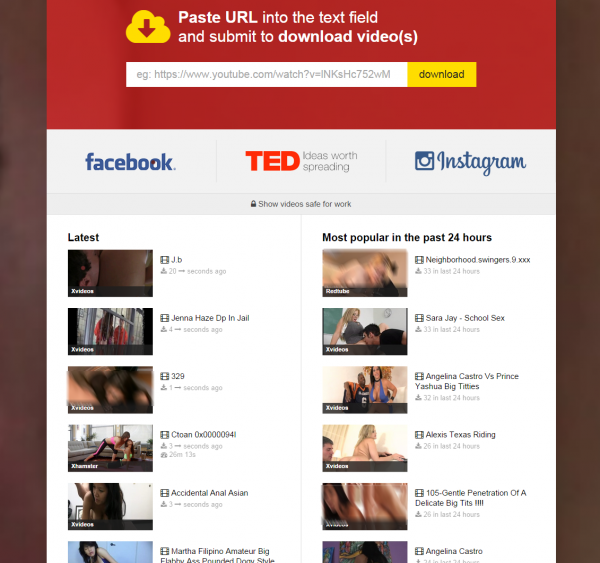 and obviously, next to the screenshot of the page with all links, to the right there's a screenshot of the savedeo site's current page that is not safe for work, i blurred some of the most revealing stuff, but you can see the point.. for some reason i don't want to steal too much space, so decided to combine two images. All in all the site is nice, it has tutorials how to use it, the site, on all the listen sites that they "support".. no in your face ads, like here, for example… am i right? but then they also promising premium support, where they are going to charge you money to download youtube videos for you… ghm… sounds a bit against youtube's terms of service. doing things like that may very well guarantee disappearance from google search results, and that's just to start… and google is everything, no site can really make it without google.. so better don't do this premium service, guys.. gonna get in trouble. and they have an API, i didn't really look in there, but probably something about users doing this video downloading thing automated-ly.. Savedeo also provides its own bookmark snippet, which will allow for faster communications with the site when wanting to download some video. in general it's not a bad site, it's how the users are perusing it mostly says that admins also don't care or accept this as something that's inevitable.. or they want this to happen, – sick bastards!! =) well, site is safe, and even google is advertising there still, which is interesting in itself.. hehe.. use this resource, but watch out: do it alone, cause porn parts of the site will stick out and get you in trouble.. otherwise there are no viruses (virii is the right way to say it), site is spyware free and downloaded videos are downloaded from youtube or source in general directly avoiding this site, which is different from, for example, ClipConverter, that will download the video to its own hdd first, then process it and give it to you from its own server.. and so in this case you get the power of youtube, not savedeo's own bandwidth..