Hello again. I must tell you this little secret from reddit threads.. What, you don't know what reddit is? It maybe mostly for english-speaking people, and it must be the last truly old-school social forum-like site which survived facebook and even got stronger..
Well, I have a long theory on this. I think with facebook, twitter and other social networks, the old way of being social – forums – have been pretty much eradicated. People started deserting these places where you'd have to actually work to make a good post, they started leaning towards like-thing with facebook. So all the forums died out pretty much. But that actually helped the stronger ones to get even stronger, as people flocked to those yet standing, and reddit was one of them. Now this site is in top 10 world's most visited sites..
How to download Reddit video?
It is very easy to do, reddit doesn't hide their video too much. But they do have one quirk –  they store video separately from audio. That would be ok, but audio is stored as mp4, so.. no mp3s there.. And here's where viddit.red comes in. The site allows one to download reddit videos with audio, a feature that is not common among other reddit video downloaders. It actually requires website to download both audio and video tracks and let user download muxed version of the 2, where both are together, like a normal video (family).
Here's a few words on this site's operations…
Download reddit video step 1
First we can open viddit.red and check it out, very nice clean site without any ads or malware. All we need to do is paste that reddit video link in the white box. There's an example link, so let's use it to see what the process looks like…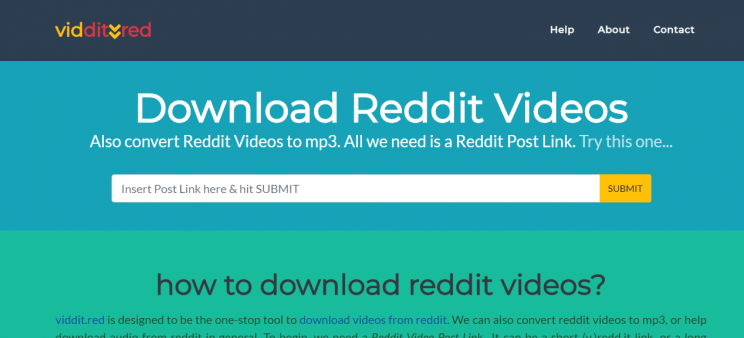 Download Reddit video step 2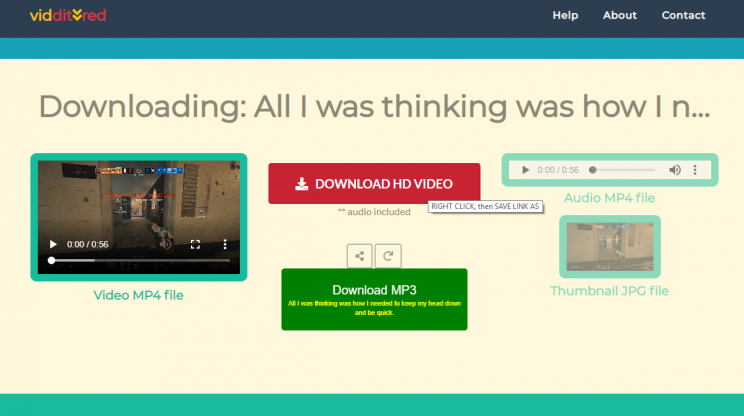 And so we put the link in the box, hit the yellow submit button and see this next screen, where we can either download HD video with audio included, or we can convert reddit video to mp3, which is a button replaced by the green button on the image.. Checked both downloads, one was mp3, another was mp4 with audio. Confirmed – works!
Also this site provides more download options, as the ones on the left and right. Those are video without audio, audio without video, and jpeg thumbnail, if available. I've also downloaded a few videos I've wanted for a while from reddit, funny cats mostly. But I do feel obligated to mention: viddit.red actually downloads many non-reddit videos from reddit, such as embeds from giffy, imgur animated gifs and stuff like that. Check it out, I am definitely using it in the days to come.. Reddit isn't going anywhere…
Conclusion
Viddit.red is a nice clean site, safe to use, with https included for all to enjoy the site in safety. If you're interested, I've found a trail of the sites by same creators, they have such gems as TikTok video downloader, Instagram Video Downloader, Facebook to mp4 converter, and many others.