Hi. Today I want to show you a small piece of other type of mp3 converter. This one is called IGmp3.Download (almost like some kind of android package) and it does one simple thing – download instagram videos and convert them to mp3. Or rather in the reverse order, if you believe it.. This site brands as ig mp3 converter first, and instagram video downloader – second. What a bold move to occupy an empty, as it seems, niche.
This will be a short review. The website is solid, fast, it uses bootstrap 4, so it'll be awesome on mobile devices as well as desktop. Minimal javascript, almost all pure html. There are no ads, no popups, very nice explanations on how to use the site.. Even feels like I'm not squeezing out words just to make this article different from what it says on that site.. Hehe.. In any case, this is a sudden commercial request, so it will be a short review.
I will also try to step away from my usual format of "review" and "tutorial". I am doing the review, and a few screenshots of how it works. No tutorial per-say, but still can be used to do the same steps to achieve similar results.. 😜
Did you know, and apparently creators of ig mp3 insist, that Instagram is full of good music? Supposedly all artists and their agent constantly push load of video and audio content upon their followers. Is that true? Being old school, I still haven;t gotten into Instagram, just have an account there to reserve my nickname/…
In any case, let's take a look at Yt Mp3 Converter… It does remind me of this Reddit Video Downloader.. And if you look closer, it is much alike this site to Download Twitch Videos… Maybe it's all same creator? Like this nice site to convert youtube to mp3.. Also looks similar.. These days I think people try to cover more distance..
Front Page of IGmp3.Download
Here's the link IGmp3.Download, hit it, and you will see nicely designed and properly color balanced website with one single white box there ready to accept input.. Here's how it looked like when I opened it: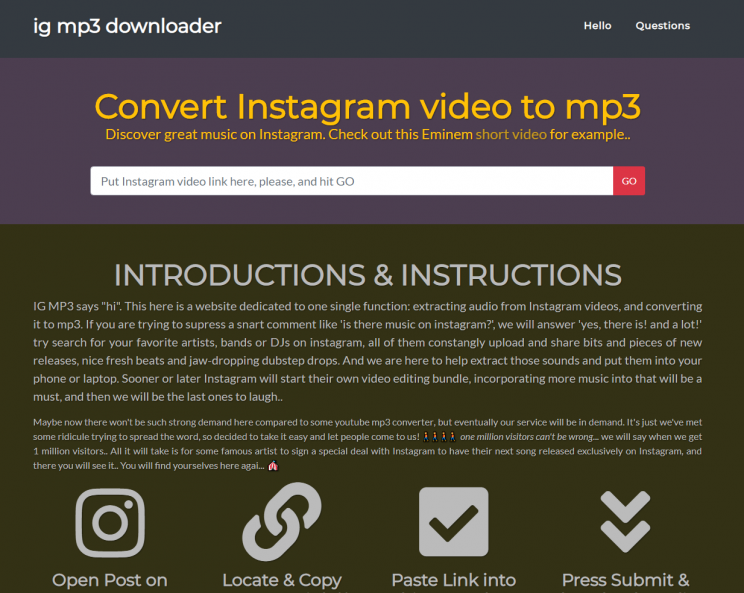 Submit Instagram Link and see options
I just used the link they suggest there for Eminem's 10sec video. Nice sound, old song, but sounds sweet, can be quickly converted to mp3 and saved as your phone ringtone. Sounds nice? So I hit the Red Go Button, and here's what I see: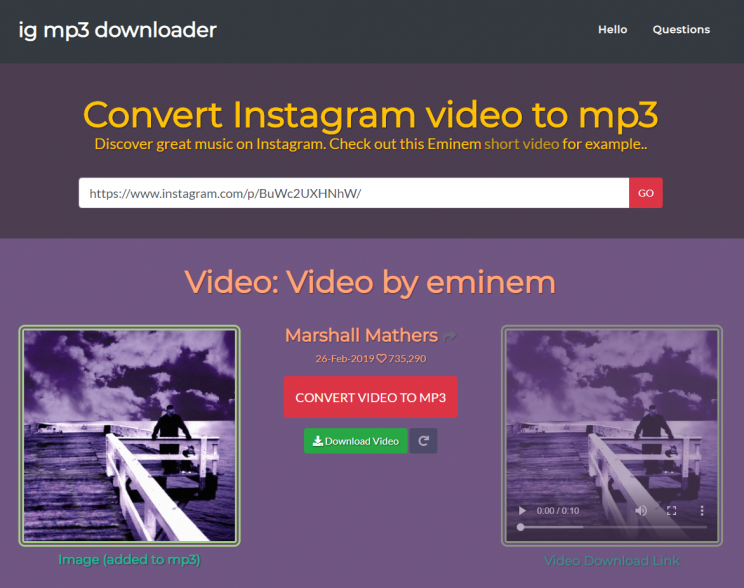 Convert Instagram Video to mp3
Very easy, hit the Red Button, a different button shows up (what a process), then you hit that button, and the process starts. Here i've managed to screenshot it while downloading the media from instagram. Sometimes you can see the mp3 conversion progress, usually not, since insta videos are very short.. To download ig mp3 here, simply hit the green button and wait…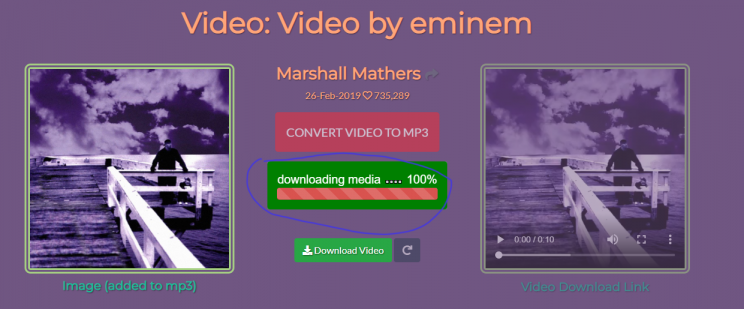 Download Instagram Video with IgMp3
As they state on their website, you can also download ig videos with this service. Simply look below the red button there's a green one – Download Video. Hit that with right mouse button, in the menu select Save Link As. Or use the download button i circled on the right – it's the native video download button.

That's all, folks. No conclusion either. I will just say, this is a nice service to download instgaram videos and convert instagram videos to mp3. Check it out, you'll love it! If a post has multiple videos, they are all displayed. Very nice, works for instagram multi-video posts aka "playlists".. 5 stars for sure!!