for good things will come per 3.. or something like that.. this is my third article in a row for the "(x)Video" series, where (x) equals "Get", "Pick", and finally "Catch". Making it into great articles about GetVideo.org, PickVideo.net, and for today – CatchVideo.net.
The site is not new, judging by its alexa rating, it's been around for quite some time, and is hovering up there in 15-20k top sites. not a bad job. Lets get into the review then. Or rather tutorial, cause lots of review stuff comes from tutorial… The ranting about features…
CatchVideo.net Tutorial
In this tutorial we're going to show how to download Camila Cabello – Havana (Audio) ft. Young Thug off youtube, and if possible, get its mp3 version. But oh well, step 3 shows this was a total bust. Now lets try Drake's God's Plan – another bust. It says video contains copyright materials..
Ok one more.. Fail.. Now another one – not available from your country.. ANother one, another one.. 10 videos in a row, and still cannot find one that this system would download… Finally i try on from the channel i know doesn't copyright their sound.. And still fail.. Ghmm.. making me think, this article is a waste of time really.. Can't even find out if this site works as youtube mp3 converter or not?
or is it just not a youtube downloader? Let me try a video from vimeo that i uploaded myself.. Finally, a success… Rather medium success though.. It confirms that CatchVideo doesn't work with youtube, it does not do youtube to mp3 conversions, it won't even do soundcloud to mp3…
sadly, this article is a waste of time… these days, youtube gets 90%+ of all video downloads, and not working with it is a waste of webspace… Anyways, let's proceed to tutorial screenshots then..
Step 1. Open Catchvideo.net front page
click here to be redirected to Catchvideo.net.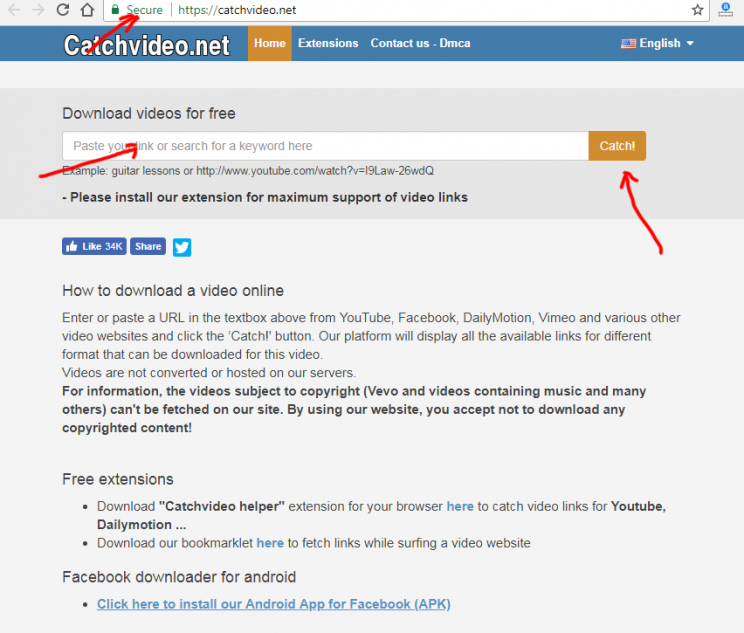 Step 2. Enter video URL and press submit
working progress indicator shows up.. big expectations are there!! =)

Step 3. And a Fail.. And 10 more fails..
youtube is not supported. total fail..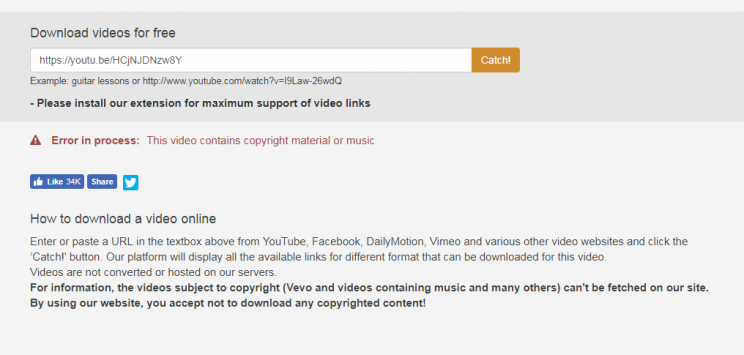 Step 4. Finally vimeo link works
after many attempts i find a link that works – vimeo..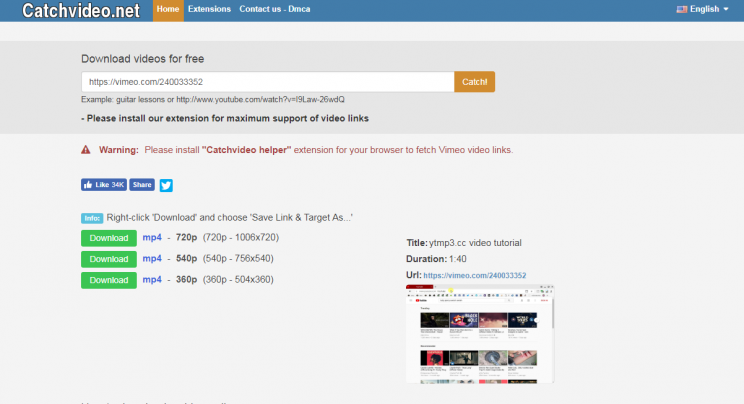 Step 5. Download only this way notificaiton…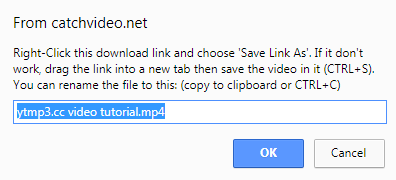 Step 6. Finally, downloading… Something…
yeah, not a good experience…

CatchVideo.net Review
The site has https access, secure and safe, for the most part. That's a plus. And that's it for pluses, for the pros.. The rest is basically all cons.. Site doesn't work with youtube. No matter copyrighted or downloadable, videos cannot be downloaded. Not an mp3 converter, no audio downloads whatsoever in general.. only video. If you were planning to listen to youtube, you cannot do it on CatchVideo.net..
Then again, old and shabby design. Finally when vimeo link works and downloads buttons are shown, left click won't work, and shows this ridiculous message, which doubles with the same message from previous reviews (i didn't mention them there, but they were).. Download only right click, also rename video file on your own.. Ghm… Gag…
Consclusion
Don't visit CatchVideo if you're looking for a youtube to mp3 converter.. Better visit savemedia, it offers both youtube video and mp3 downloads.. All shows that this site has been built years ago and the fact that it still exists proves that site owner probably forgot about it, or gave up on updating it.. 1 star..