Before reading this review, which is now obsolete, just 4 months after being written, please, check out the following blog post about SaveMedia.com closing down. Yes, it's true, the horrible-user-experience site is gone, it now shows a parked domain page. Has been so for a few months. RIP Savemedia.com
I was checking old resources and articles and found out that Keep-Tube.com is not with us anymore. Hats off.. It wasn't a nice resource, but it was one of the stronger ones 5-6 years ago. And now it's gone. And if you do insist on going there, try to enter the name in your browser – you will be redirected to Savemedia.com.
The site that has inherited Keep-Tube domain's traffic. It is same individual or group of people who ran Keep-tube that is now running Savemedia. Although google doesn't show savemedia on the keep-tube search query. Google knows what is what… =)
I did go to savemedia.com and poked around there.. This review will talk about savemedia and how i truly dislike it. I do not recommend using this website. It's deceiving, it's full of malicious advertising, it has strong popups that cannot be blocked by built-in Chrome ad-blocker… It's really not nice.
Plus I'm always on the lookout for real youtube HD downloaders. Yes, I must insist, – real ones. Sites like Offliberty or Savefrom claim they do HD, but the most they come up with is 720p (which is technically HD, but where's 1080p?). While software like youtube-dl doesn't claim anything and easily download HD if present, 1080p or 4k or VR360, or whatever you throw at it. Well, enough about others, let's get back to Savemedia.
Since I've already mentioned I didn't recommend using this site, let's first talk about that.
Don't use Savemedia.com (full of popups, deceiving of what it can do, etc)
No, No, No. Don't use this site. There are others, way better. Why shouldn't you use it? Here are a few reasons:
Literally every mouse click will produce a nasty popup with sound and video. I do not like this. Ads – well, ok, ads i understand. But popups? We here at savetube do not approve of pop up ads. Especially with sound. What if sitting at work you're going to attract tons of unwanted attention with this popup sounding nasty ad about some celebrity or something…
If you do use it and decide to download something, before you manage it – the screen will be covered with a huge modal ad for some all-in-1 software that even reads pdf files. Why would i care for that? I'm here to download HD video from youtube, and you're trying to stick me with some software…
1080p download will tell you that it's impossible to do online (same like Savefrom tells you), and will try to push a very sneaky software called VDownloader. Funny thing, this Vdownloader review was the first ever article on Savetube.org, and it wasn't anything favorable, only unpleasant thoughts there. And now I come across new resource with old intentions – push this Vdownloader, full of malware, to the end user.
Popups.. Did I mention them above already. I did. Well, it is so bad, that all i think about now is how i hate popups coming from shady ad-companies like the one savemedia uses…
Savemedia is built on youtube-dl. Only to offer 1 tiny function of youtube-dl, – downloads of all formats but HD. While youtube-dl does HD without problems. Why would they limit users like that? Cause they want to push their software.. And software says free, but then inside you get overwhelmed with satellite installs, ads and search bars… No… No.. No!!!
Enough reasons not to use savemedia.com? Well, hopefully you won't. But if you will, here's a quick tutorial how to download youtube using savemedia.com… 
Using Savemedia.com on Youtube (Step by Step tutorial)
as usual, i go for my favorite J Bieber and this amazing video full of beautiful women – https://www.youtube.com/watch?v=RqcjBLMaWCg – Lipsyncing J's song. Very nice, very cute.. So let's try to download it, cause we wanna watch it over and over… Here's how…
1. Open Savemedia.com in your browser.
Open it up, nice looking site. Would never have thought that it's ridden with hidden popups and nasty sounding ads. Just try to click anywhere but the box below… You'll see what i mean. Here's how it's going to look like: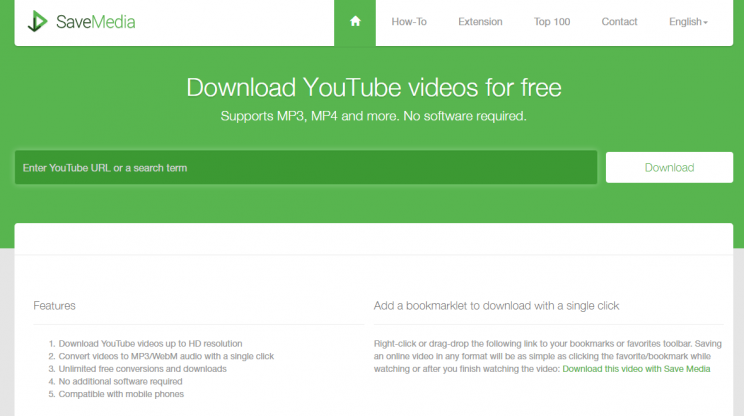 Dark green box gets the video URL, in my case it;s https://www.youtube.com/watch?v=RqcjBLMaWCg. afterwards we simply click Download button to the right and wait, and see what happens. Now to the next step.
2. Chose the video download format, avoid 1080p
Yes, as mentioned before, selecting 1080p download doesn't do anything but offers Vdownloader software.. So we go for 720p. Click green Download Video button to the right. Or if you want audio – click the other button. Don't be surprised when downloaded audio is in m4a or webm format though… As i said, Savemedia.com is not a nice site, it doesn't convert anything from youtube..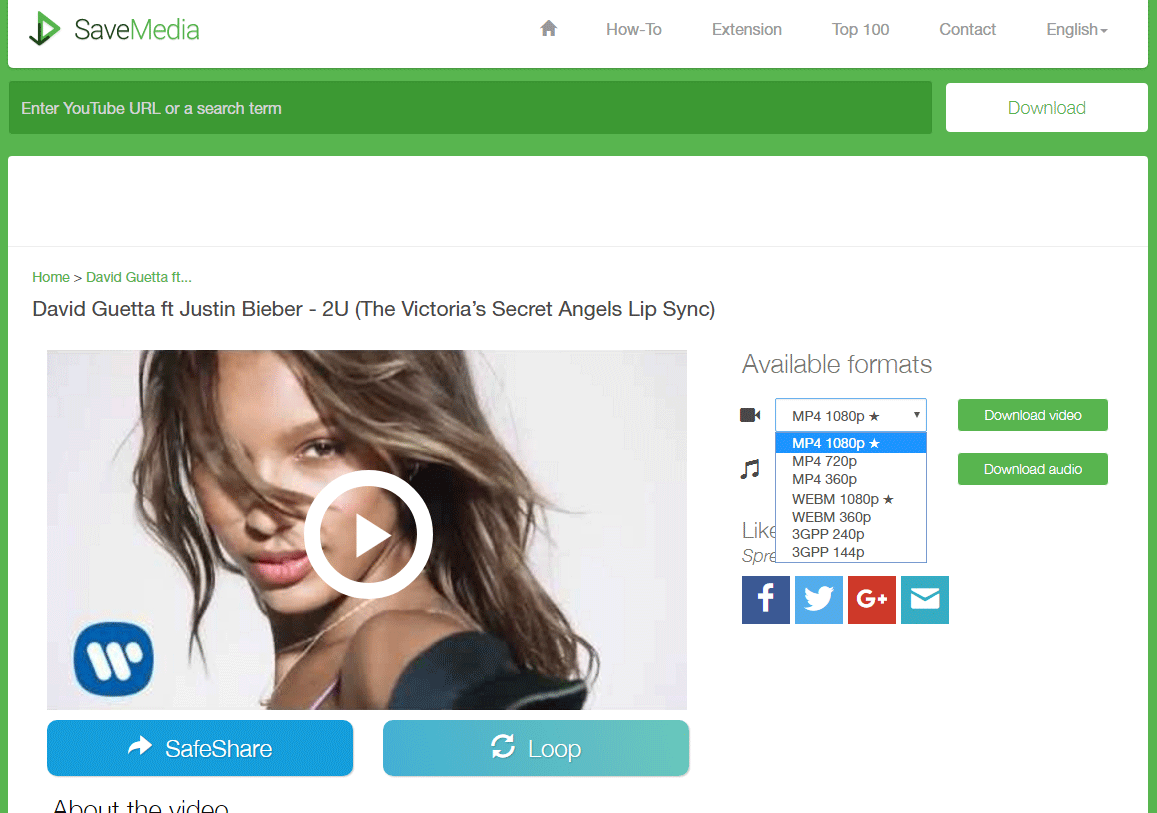 3. No 1080p Download, only a Modal popup..
Here's what shows if you try 1080p download. If you're looking for nice 1080p video with sound – do it elsewhere, Savemedia doesn't do 1080p..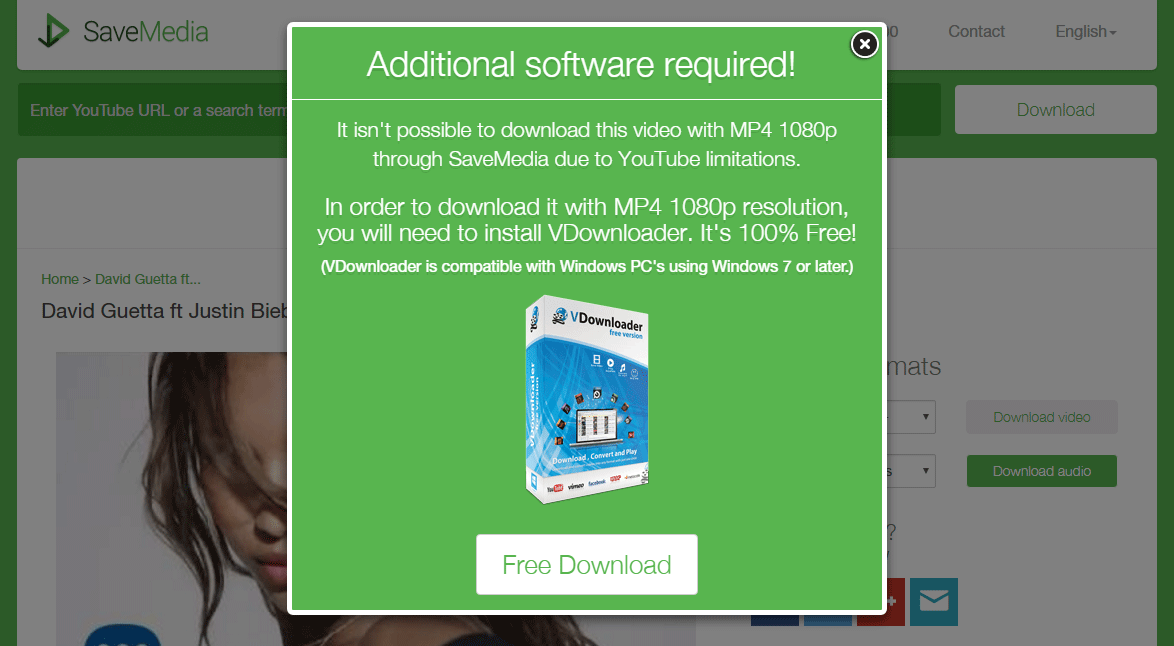 There was one nice moment – download happened very fast. And only because savemedia doesn't mess with downloading date first to them, no. The simply let you download it by yourself from youtube directly. They only tell you where it is hidden.. The video, I mean. In the end it substitutes download as if from them, but it ends up being youtube that performs it for you. But otherwise, it's a very dissatisfying experience.
Conclusion
do not, i repeat, do not use Savemedia.com, there is a plenty resources that do the same without ads and popups and software pushing… If you do want to use it though, click this link