Hello! With this article I am opening a new section on savetube – the actual blog. Yeas, I know, this whole site is a big blog, but this section is going to be where I rant and just write random stuff. Enjoy the first article about Snipmp3! =)
 SnipMP3.com is no more
Yes, there was a site called SnipMp3 long time ago.. 5 years ago at least it still existed. And now it's gone.. Another great youtube converter lost for the populace!! Entering a search in google, here is what i get:
Search Results for SnipMP3.com
snipmp3.com/
A description for this result is not available because of this site's robots.txt
The site still exists as some kind of search… But it doesn't want google to index it. So what does it mean? It's very simple. It was snatched by bad guys as soon as the domain registration expired and the former domain owner forgot to renew it under their name. So domain became for sale, and at that point, or at least as i remember 5 years ago, this site was in top 10k sites in the world, which means it was getting a possible of 20-30k visitors per day. Imagine that.. and then it was stolen from by so called (in my head) "traffic pirates". I won't even be looking up if such term exists, this is my own name for this phenomenon…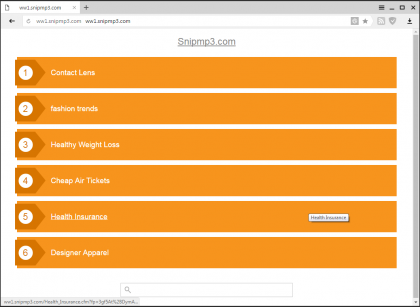 I too have lost a site and that one was important, and someone from Russia bought it, but it wasn't for traffic back then, it was out of spite… I was running a big community on a top 15k (in the world) site, and there were, of course, pissed people.. So one of them got me back, and i had to buy a similar domain to continue that project, it was an online radio.. I was really pissed back then.. Now with important sites I actually pay for the domains 10 years ahead.. I don't want to lose another project just because i forgot to renew the domain registration. But i did let go of a few domains, and all of them had some traffic to their names, and ALL those domain now below to pirates, with similar pages set up.. Why?
Traffic Pirates
Because traffic pirates, or maybe even traffic vultures, firstly buy domains with tiny hopes of getting some traffic from them. Because you know, people are still coming and will be coming for months, until all figure out that nothing is there anymore. Some will click the search or those links, so vultures get some kind of money from that… And secondly, they hope that you've honestly forgotten to renew the domain name and are not getting rid of it.. So yeah, they hope you'll want the domain back. Goddamn bastards,… They'll then try to charge you 100 times more than domain is worth… And that is how they live, live like Somalian pirates.. They steal people and then try to get ransoms for those people.. Right? Basterds..
Conclusion
Do not visit this site, please, no more going to snipmp3.com (i am not making a link against my customs to link to reviewed sites).. You will only have them pirates profit a little if you visit snipmp3.com as it is right now.
Conclusion
I at savetube.org will be monitoring this site and if in the future right owner comes back and somehow gets the site back, i will let you friend know, that it will be OK to use this site at that point. Until then, until better times, – DO NOT USE SNIPMP3.COM
If you don't any know alternatives, try google for "snipmp3" or even use Off liberty or Youtube-DL free command line software, or any other name from top 10 sites and methods that we've compiled for you. We also recommend check out one of the following: online video converter, theyoump3, flv2mp3, yttomp3, ytmp3, flvto, listen to youtube..
It's always sad to see popular resource lost to traffic vultures…. So go renew your domain, if you have one, or all of them, in case multiple domains. Renew them for 10 years ahead, it's always cheaper, domain prices never go down, just grow, so paying now for 10 years is cheaper than doing it every year, and safer! And good luck. Don't become vultures' prey.