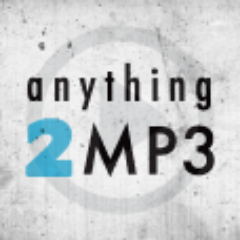 my next review is going to the slick and awesome resource i've come across recently – Anything2Mp3.com. i am planning to look into the works of this site, but i must admit from the start the huge size of the list of "supported sites", aka sites that Anything2Mp3.com can help you get the music out of. this is a very universal resource to convert video to mp3, or as we sometimes say – extract audio from online video. 
Anything 2 MP3 – anything2mp3.com
slow loading for me, maybe it will work faster for you, this is a nice resource for saving video and audio feeds from a vast array of websites for the future use when there's no internet, or it is limited, so to avoid overusing your monthly internet quota, plan, or whatever you call it – simply use anythign2mp3 or similar services to save the audio and enjoy it any time anywhere, even in the basement of your house.
where there might be no internet, or on top of a high-rise, sometimes outages happen high in the air as well. plus, you must remember, streaming a video generally takes 10 times the bandwidth of streaming the audio only.. and in this case you don't even stream it after 1 time – just play the mp3 on your phone and such.
Andy Samberg & Justin Timberlake – MotherLover
today i'm going to play with this video, and i am only starting to peruse these amazing videos because it doesn't make sense to just listen, in this case you must watch them, so i will obviously remove the mp3s when i get them using this method. check out the video to start with, it's freaking amazing and funny till you pee yourself, i promise that! and it's Justin Timberlake, son!! Susan Sarandon too, no less.. =)
here's how anything2mp3 main page looks like for me at this time.. note at least 5 ads, rigth? very commercialized, and maybe even successful. 100-150k daily visitors, – is good!! =)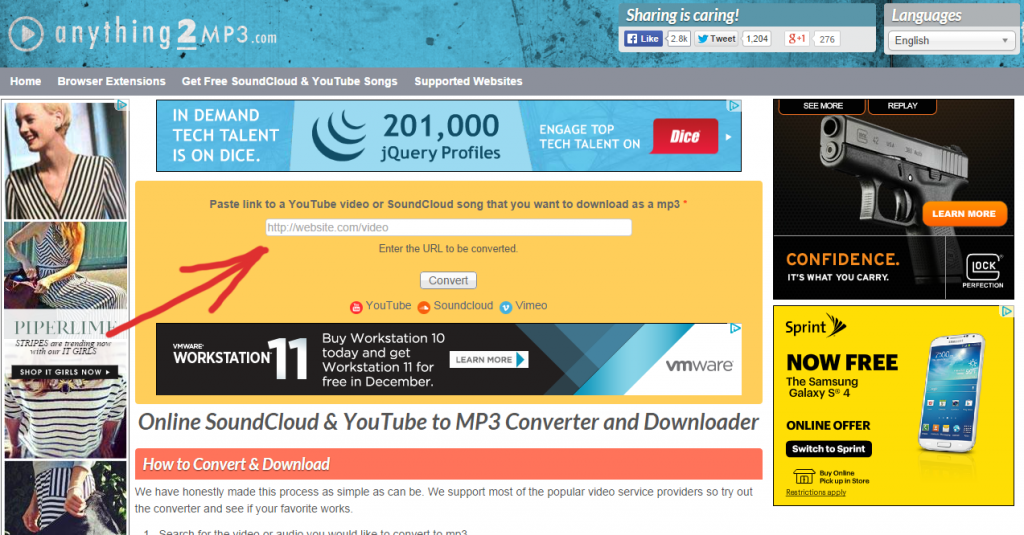 so let's try to use anything2mp3 for our method calls for it. i enter the video url into the box in the center of yellow box on anything2mp3.com, where the arrow shows right above, and here's what i get – a screen where there's some kind of spinning square to make me patiently wait for the completion of the video conversion.
and finally i see the screen where i can right-click on the image or link, to download the song or whatever music you're getting. select "save as" or similar option from the menu you get on right click. and enjoy! if video was rather short, or normal, 5-10 minutes, – you'll get a nice mp3 of good v0-v1 bitrate quality, download is quite instant, very fast, but it does fly,… here's a screenshot on me saving the file, about to save it, actually..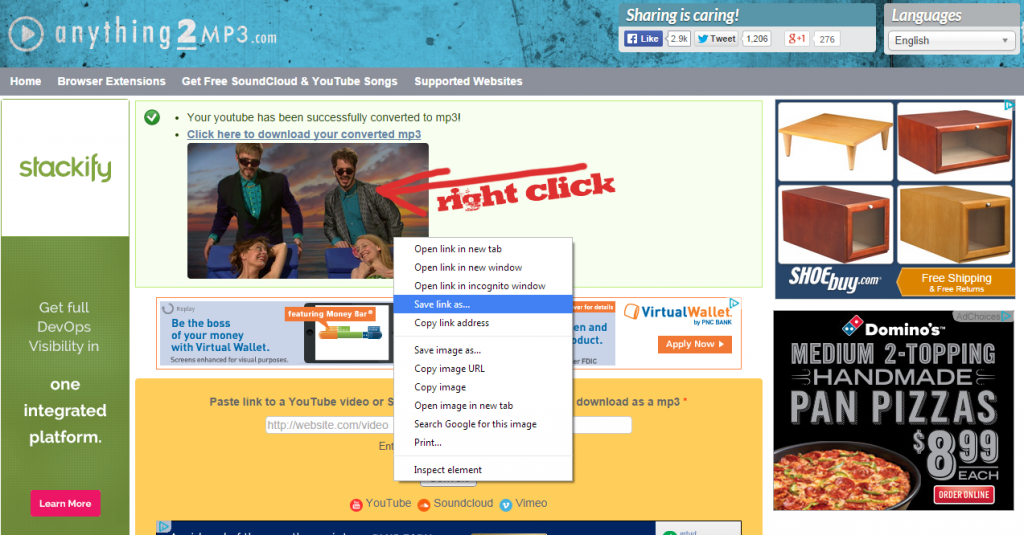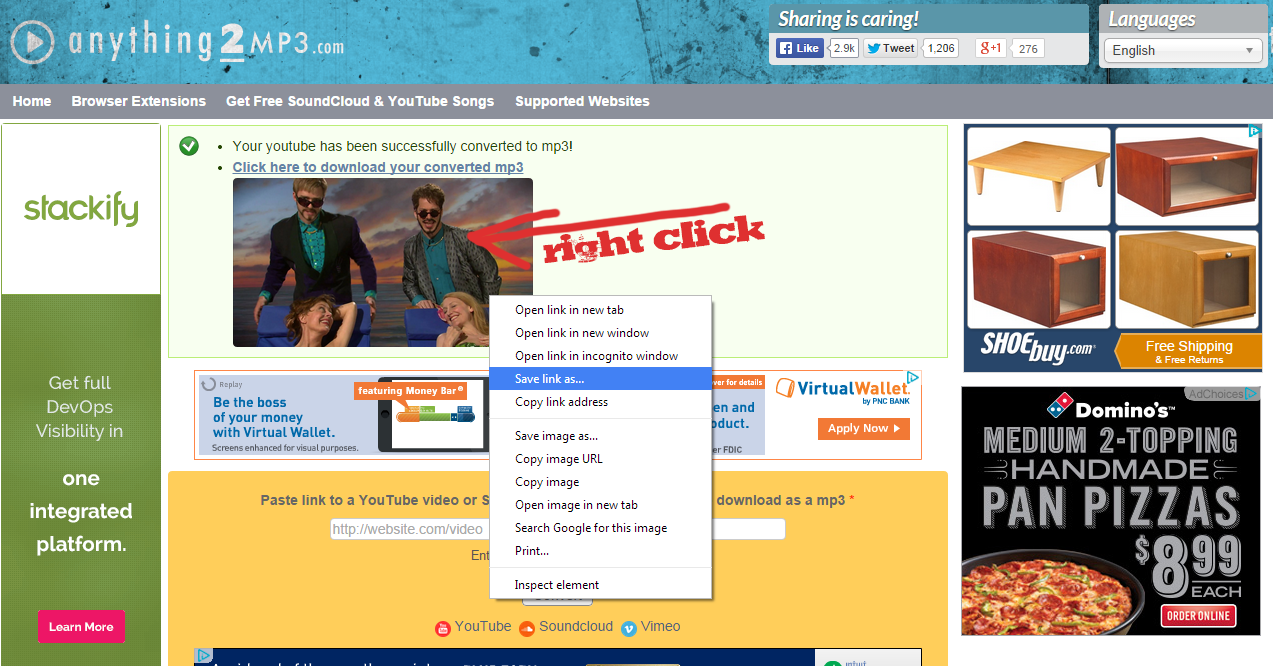 and without further waiting i get the 3.5mb mp3, good quality, good service and resource. it will only produce mp3s of certain birtates, so there's not much to choose from, and these days noone wants to see these heavy-hitter sites with many options and different their combinations, and all you get is same video or audio, just a tad different.. well i say this is the way – just give it the link, and hope it works for it fine.
Anything2mp3 Browser plugin
if you are really into saving videos as mp3s, if you want that playlist from multiple videos in your ipod. or maybe you're just downloading a playlist, so there's a bunch of links to get, or whatever else, – it's easy to tackle those with browser extension/plugin that Anything 2 Mp3 offers on bottom of any screen, – simply click the link given there on the page – http://anything2mp3.com/node/13 – and install the extension manually (obviously, this cannot be done via Google Play, cause it's breaking Google's terms of service by messing with youtube converter's videos). it works easy later, – all you need to do is click the extension icon on top right (usually), and it will automatically open anything2mp3.com page with video url already in the box, so all you'll need to do is press DOWNLOAD. =)
Random thoughts about Anything 2 mp3
the site is weirdly slow, maybe due to cloudflare they are using, on the other hand it's a slick idea, i see it's using youtube-dl, since author has  published the list of supported sites as if it was copied off the program's support pages, but anyways, this has opened my eyes, and i am ready for my own adventure in this field… =) thanks!!
also, try not to use this service for larger videos – it may end poorly for both you and the resource.. probably this is best to use for short 5-15 minute videos, and go to more stable resources for bigger videos. timeout delay here is too short, i think, not enough to copy the video in full.