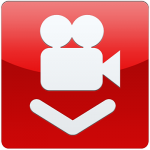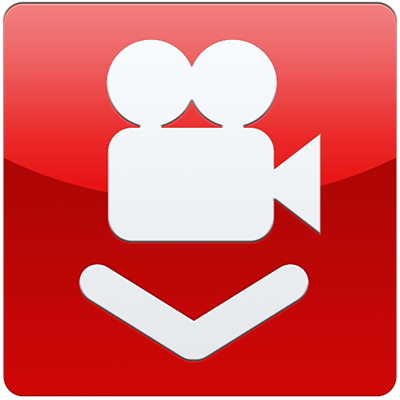 Today i want to talk about this new cool app i found, and i rather want to say application or program, or piece of software.. the word "app" – is nowadays kinda for smartphones, am i right? anyways, this software is somewhat interesting and comfortable, and it's topping the search results, so i would assume 20-30k daily visitors on their page http://www.youtubedownloaderhd.com/, and some of those will download and install the program,  and maybe 95% of those will be inexperienced first-time triers, who will get their computers infested with spyware, thanks to this product.. So before you do something with this program, please, read this guide carefully, watch where you need to avoid installing some of the satellite spyware included in the software package.. Well, ok, so we now know about the dangers, and it's time to go ahead and install Youtube Downloader HD. here's how the page (with Windows version) download link looks like: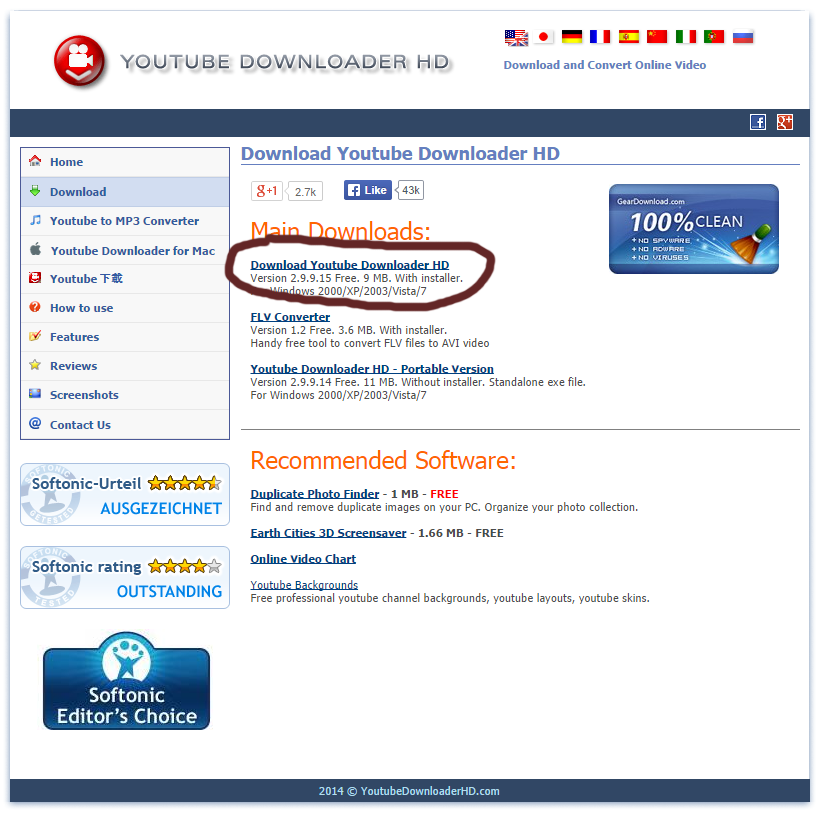 → → →  download Youtube Downloader HD installation package
After you click on this link above, it will temporarily open a new window and offer to download the .exe file, or maybe you have it automatically, so just check your downloads folder. When downloading, Chrome and its amazing community of people who report on downloaded stuff and later Chrome decides to recommend not to download something… well… yes.. that tool, the Chrome Community's opinion, is recommending not to download this, calls it malware, reminds not to blame them later, etc, etc. So think twice if you can contain this possible malware or you should just resort to using such online malware-free resources as Offliberty, Savefrom and ClipConverter. yes, after triggering the install process, i must agree, i see that this Youtube Downloader HD is ridden with spyware. for the fun of it, i tried downloading file with Firefox, Torch, Internet Explorer and Opera, and all 4 of these "other" major browsers did not flag this file as full of malware. it is an interesting fact, and tells us that Chrome is actually quite smart about it. use Chrome browser from Google! =)
Youtube Downloader HD: Avoid installing spyware
as we have discussed, the program is full of spyware. here's a detailed guide on how to avoid installing spyware programs and browser hijacking agents that come with Youtube Downloader HD. also, please, note: the version i'm reviewing is 2.9.9.15. it has 3 (or 4) malicious programs included, and all of them can and must be avoided during the installation process, or later it will be hard to get rid of them. the matter is, even that sotfware is trying to sneak those programs in – there is always a way to avoid installing any extra "features". always. in this program, in all other programs, maybe it's a part of licensing agreement or terms of service, but anyways, all these bad pieces of software can and must be skipped or refused during installation of Youtube Downloader HD.
follow this careful installation process to avoid installing the malware and spyware programs with YoutubeDownloaderHD:
Download it, Run it, accept the fact that it needs to make changes to your computer, nothing is actually done yet, just setup is starting up…
on the first Welcome screen, click first Next button.
then accept the License Agreement, read it carefully though first, to avoid any problems. i didn't read it… well, i so far am planning to remove the thing after reviewing.. such tools will get you eventually – if you follow this step-by-step and avoid installing spyware, the program will eventually try to get back somehow.. like installing it when you get new version and are required to accept the license again and go through the full install process, possibly forgetting about the steps which you need to SKIP to avoid spyware being stalled.
then it's accepting default installation folder, at least i did, click Next again
choose the Start Menu group name, click Next
and finally – Desktop Icon, if you want it or not, click Next
this next step is CRUCIAL!!!  here YoutubeDownloaderHD wants to stick malware into your computer, stuff that will overtake your browser(s), search engine(s), etc, usually it's hard to get rid of later, so make sure do not install it, see the image below..

DO NOT click Next this time

, you have to click the SKIP button on the left, i highlighted it with a circle for easy locating. This product was called "Entrusted Search Protect", – and i don't want it on my computer. if you accidentally install it, go into the Windows->Programs and uninstall it from there.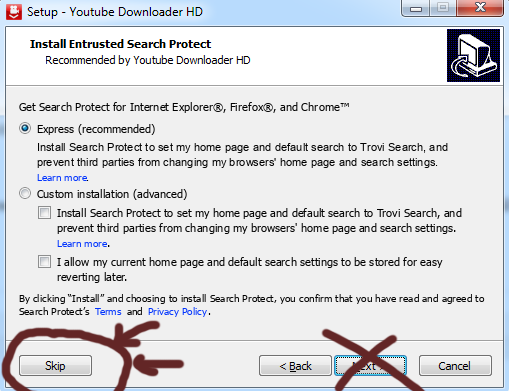 next step is again IMPORTANT!!! they tried once, you skipped it, they will try again… beware, they make software, it's free for use, but how will they get paid? by having their software install some spyware, and they get good money for that too, i presume… download networks that monetize your successful software, they don't joke around, they will try to overtake your computer, until you give up and agree to use THEIR OWN PRODUCT to remove all traces of their malicious software – the malware.. or until you reinstall your operating system, – Windows, usually. so be careful here again, DO NOT click Next here either! first select the Custom Installation option, that will show a hidden selected check-box, – click on it, remove the checkmark, and this will not install the next product (in my case – TuneUp Utilities 2014). click Next now.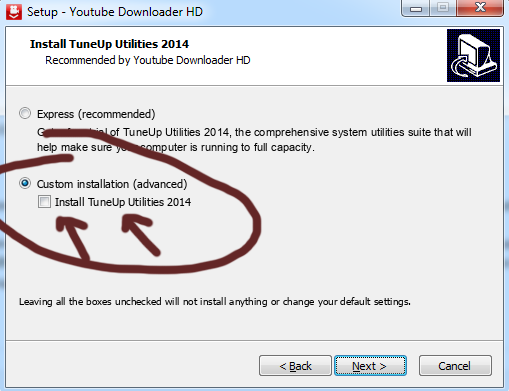 Watch Out once more!!

i think every step from here on out is a watch-out crucial step of utmost importance. we actually did finish all the settings of the main program, Youtube Downloader HD itself, and all after that – starting with step 7 – are satellite programs, the spyware, malware, games, etc. this step in my version i see invitation to join Dragons of Atlantis for Pokki, which i don't want, so i pick the 'I do not accept' option.

click Next after doing so.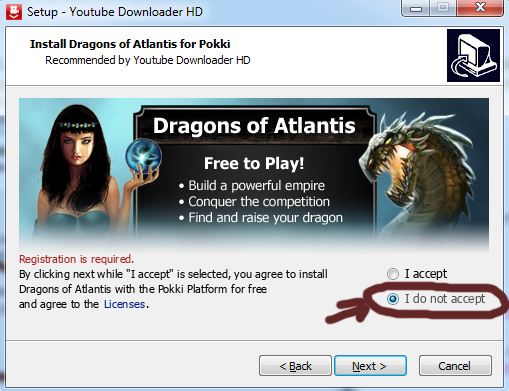 and oh my, we're at the final step, all we need to do is click INSTALL, after carefully looking over the list of things it's about to do. in my case i see 3 items: Destination, Menu Folder and Desktop Icon, if you see anything besides that – you've probably forgot to skip some step or did it incorrectly, so please, go back, click Back Button all the way back to step 6, or even cancel the installation to do it anew once more. anyways, i am at the final step properly, so i will click install, and be done with it. hooray, let's check out what's this fish…
ok, let's get to the actual review of Youtube Downloader HD. i am going for my favorite Bieber.. haha.. just kidding… this time, let's explore the 3-Way (The Golden Rule) video by Andy Samberg and Justin Timberlake, featuring Lady Gaga.. 60mil views, no less. after some consideration i decided to put it right in here.. deserves it. =)
and here i get at my first disappointment. YDHD (good abbreviation? =) says it cannot download the 1080p version, and i know there is one, i am watching it, but YoutubeDownloaderHD says it cannot get it, so goes for the next best thing – 720p. so i decided to check if other methods will yield 1080p version, and at first offliberty and savefrom offered only 720p, and then ClipConverter actually was the first to offer 1080p version for download. then i go back to YoutubeDownloaderHD to make a screenshot of it failing to get the highest bitrate, and what do i know – now it downloads the 1080p version without any questions. so maybe i twas just a matter of stream availability, maybe 1080 stream is only 1 per IP or something, who knows what limitations youtube will put out next.. anyways, the screenshot below actually shows where you will enter the Youtube URL link address of the video you want, and select the quality of video download, and click the DOWNLOAD button on the bottom, which will start the download immediately. on the pic below my download has already finished and i have a popup alert message there telling me about this fact.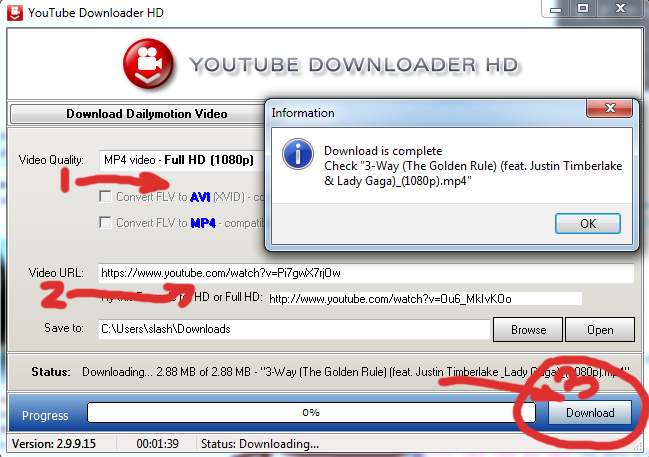 well, that's about it.. the program is not scary, it has some spyware/malware to install, but all of that is optional, if you don't want spyware, – do not install it, i didn't, after my careful installation was over, i didn't have any outsider programs in my windows. just to help out some people who cannot install anything, the creator of Youtube Downloader HD has also come up with a solution to skip the install and just get to downloading the videos right away. it's called standalone portable version, it has to include all the required libraries, so the actual filesize is 20% bigger than the installation package.
→ → →  download Portable Youtube Downloader HD here (no installation required, just unzip and use, the only thing here – make sure you DO NOT AGREE GET NEWER VERSION of the program on its start, because then it simply downloads the installation package, and you get to deal with avoiding the spyware supplied in there. This requires no setup and will work on its first start. it has full functionality of the installable version..
→ → →  download FLV converter (same publisher, i think) if you want to automatically convert your downloaded Youtube Videos from their original format (usually flv or mp4) to other formats. read more there, i am not reviewing that product. this one should seamlessly integrate into the downloader package.
otherwise my review is over, the tool is nice, of course it's only good to download youtube videos from youtube.com, it is not good for anything else, for any other websites or anything – this is a very limited piece of software, so if you're looking to mess with dozens of different video sites – do not get this program, but if youtube is all you want – this app will satisfy your needs.