Hello and welcome back. I have taken upon participating in 3 more blogs, so Savetube maybe sometimes gets left unattended. Well, this site is like 7 years old or so, – it can walk on its own. While others are 7 weeks old, – they need help.. So they take a lot of my time. But it helps that I get to find out new mp3 converter sites that otherwise I may have missed.
And here's the start of the current article – https://mp3converter.website/, it's a very nice simple youtube to mp3 converter, and brands itself as such. Site has zero distractions, no popups or ads anywhere, it even prevents mp3 download buttons from creating any popups by using sandbox with the iframe. Very nice user experience, in my humble opinion. So let's check it out then and see how to use this site.
How to use mp3converter.website
Here's a quick tutorial on the usage of this great mp3converter. We'll go with 3 steps and screenshots, pretty much as usual. This site doesn't have built-in Youtube search feature like many others do now, so there's where simplicity overruns the usability a bit.. I would love to search Youtube right from their search-input box..
Step 1. Front page of https://mp3converter.biz/
Here's how their index page looks like when you just open the site. As you see, nothing special. Very easy on the eyes, white, blank page. With some instructions and FAQ below the fold, not visible in the screenshot.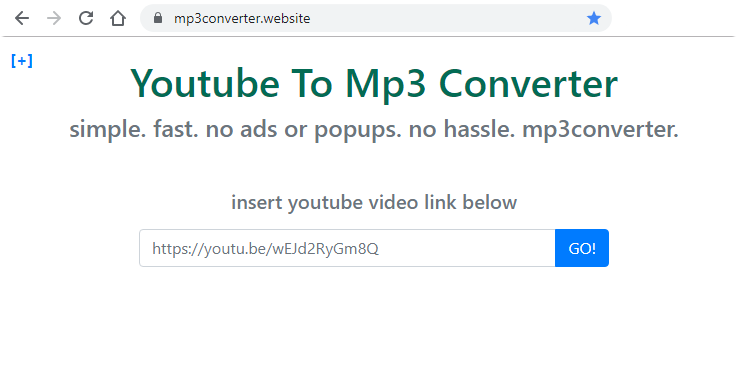 This is how it looks for me, maybe yours will be tiny bit different. You can see the https lock on the browser address, meaning this is a safe place where noone can see what you're into.. .
Step 2. Paste Youtube URL into the box
On desktop right-click in the box and select Paste to insert URL from clipboard into the white box. If you have problems with copying the link into clipboard, simply hit SHARE button on any Youtube video, there you'll see COPY LINK option, very useful on mobile devices.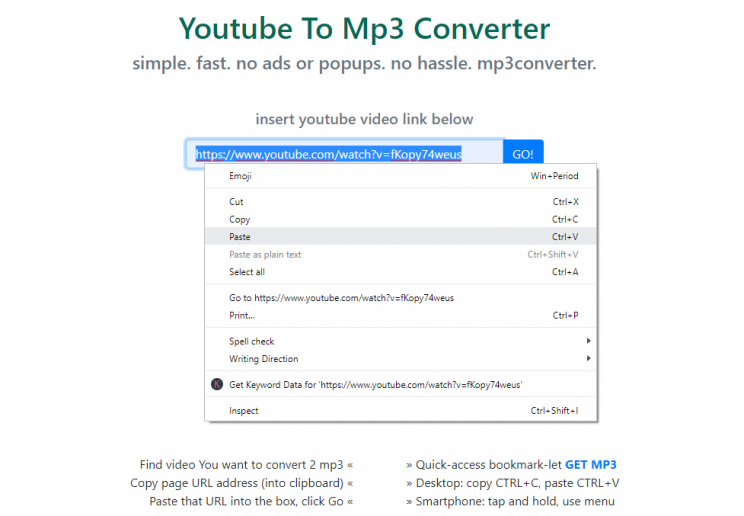 Having copied the link into device clipboard, and pasted it into the box next, – now we simply hit the blue GO button.
Step 3. Download mp3 (select from 2 options)
With Go button we see 2 mp3 download buttons show up and load in there. Red button and Green button. Both of them produce similar mp3, around 256-320kbps sound quality, HQ if you wanna call it that. To download mp3 simply click on any of the buttons and wait a bit. Video will be converted to mp3 right in front of your eyes. Usually 5 minute video takes 10-15 seconds to convert2mp3. Easy, fast, no hassle. Truly simple Youtube to mp3 converter!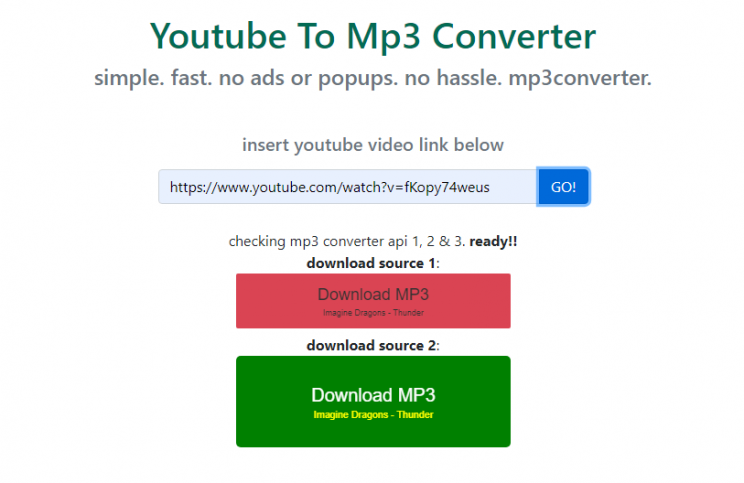 Conclusion
There are 100s of sites that can extract youtube mp3 and help save it to your device. I have personally described over a 100 of them during last few years, making it 130 posts in this blog. Some posts just talk about shut down sites, but others are talking about existing and reborn ones. So you can imagine – there a lots of them. That's why sites like this mp3converter.website are very rare, they care for the user, they don't try to earn off of every visitor.. Savetube recommends! 👍👍😍😍