Been a bit busy, but here I am back and ready to lay my rants about this site i've come across called mp3fiber.com. This site has come when searching for "convert to mp3" in google, and it's on the second page. It comes up on other keywords too, of course, otherwise it would not get up there into top 10k most popular sites, according to Alexa. Here's its recent pop-graph: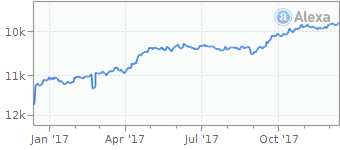 This growth rate chart shows, that mp3fiber.com didn't benefit greatly from the disappearance of youtube-mp3.org, but there is a little bump there, so yes, there was a bit of extra traffic on mp3 fiber. And what a name… Mp3 fiber… Kinda computer-estik, right? fiber-optics.. etc… You can see through this how scarce are the mp3+word domain names are now… People choose anything with mp3.. =)
Mp3Fiber.com Honest Review
I must admit, i do not grasp how this site has gained so much popularity. Yes, of course, if you play your keywords right, google and yahoo and others will send traffic, no matter what. So even if people come and spit and leave – you still got that visitor, so global rank grows.
Well, this is one of those that got up there for wrong reasons… I will tell you my experience with this site in one sentence…. I opened this website, a popup showed, i closed it, then i clicked anywhere on the page, another popup opened, which later trying to close it overtook the original parent browser window and thus i was not on mp3fiber.com anymore, but somewhere else…
How can site operator allow for such poor user experience, that user actually unwillingly leaves the website prior to even clicking on any feature??? I do not comprehend this, it's above and beyond my understanding..
mp3Fiber review continues… This site is not mobile friendly!! Something makes me think it was built quite a few years ago, when mobile was not a requirement. But knowing from my own projects how none-mobile sites get out of google's favor, i do not understand why this site keeps growing its traffic… WHY??? is it yahoo that sends so many people there?
The conversion happened OK, i must admit. But 3 more popups opened up, such nasty ones that google chrome's built-in popup blocker was not able to block those popups. And offered products were sub par.. Do not use this site, it's seriously over-commercialized!
mp3fiber uses all kinds of nastiest ads.. They try to overtake the browser, replace search bar, catch your mouse clicks for their reasons, play stupid video with loud sound, and even lead you away from mp3fiber.com.. This is simply ridiculous…
Mp3fiber.com careful usage tutorial
that's right, read it as i've written. If you do intend to use mp3fiber.com – do it very carefully, do not agree to any offers coming in those nasty popups, do not install anything. But, if you want something without ads or popups, or some nice experience, try offliberty, theyoump3 or ytmp3.net, listentoyoutube is also quite nice. How about youtubemp3.today? these are all very healthy options, compared to mp3 fiber..
But of course I am a hard head and will make this website do what i want, so here's my 3 step tutorial on how to use mp3fiber safely.
Step 1. Open mp3fiber.com and click somewhere to get rid of the first popup…
CLick here to open mp3fiber.com. Click anywhere, it doesn't matter where, first click is eaten by popup, which comes second in a row after site-opening popup. Generally speaking, there will be 7 total pop-ups with ads, i will not be mentioning them in the future. Simply remember – they are there, and if your browser or some adblocker doesn't stop that – you may get toast…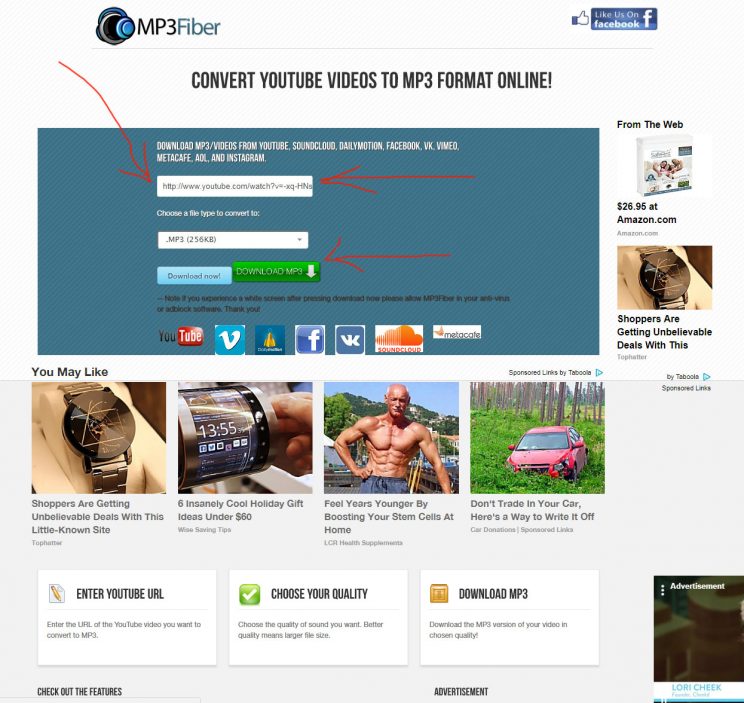 Please, pay attention to my arrows. The top 2 arrows show where to insert the Video URL. Then there's the audio quality drop-down box, where you can select bitrate. As I've talked numerously before, selecting anything higher than 192kbps is useless, because youtube doesn't provide audio more than m4a 146kbps average VBR, which still excessively compares to 192kbps flat bitrate.
Step 2. Click Big Green Download Mp3 Button
Now click the Download Button and see the conversion process take place before your eyes. Here's the screenshot of how it looks like. Conversion happens pretty fast.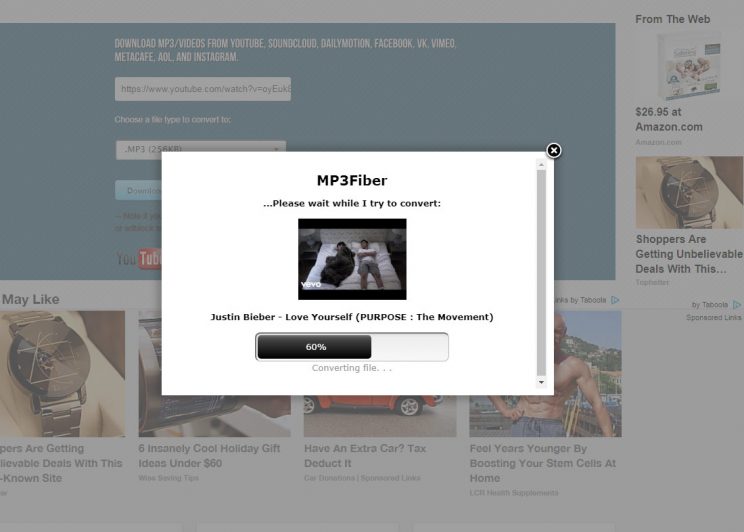 Step 3. Now click the Download Now link to download mp3
True, on the next page that shows you need to click the teal looking Download Now link, and do not click the identical green Download Mp3 button from step 1. That one will show a popup. But the link will not, or at least will convert it into the mp3 download.