I am not completely sure if this software fits our site's profile – the free software to download youtube videos, but oh well, i've spent so much time preparing this article, that it just makes sense to finish it up and tell the world what i think about the Internet Download Manager (ver 6.14 in this case)… so let's do it!! i think this article will roll pretty fast now.. first of all, download Internet Download Manager (ver 6.14) and install the trial version which can be obtained from Internet Download Manager website : http://www.internetdownloadmanager.com/
here's a little side-story.. why did i go ahead with the software even that it is not a free one? because it seems that it has its plugins in chrome and firefox repository absolutely for free.. i am not doing this for "a Fee", i just assumed that all the time i wasted researching this product has to be replenished with the article, if not under software, than at least under browser plugin category.
How to install Internet Download Manager
and so we're going in!! quick download, initial installation is just over 4MB file, it creates a few links, icons, installs itself into all the major browsers as plugin (and these guys have been developing this software since 1999, it was originally meant to speed up downloads by simultaneously doing several streams on the same file, it's all long gone now that we have such fast speeds, not really gone, but not so actual anymore, right? but being at it since 1999, and newest version i downloaded was built just 4 days ago, i would say the developers of the IDM are on top of their game and are adding features and keeping up with all new youtube tweaks and other crevasses even after 13 years: KUDOS)…  as advertised, there's no spyware or adware or any freeloaders with the install. it's a very good thing. but again it shows that this software gets enough user registrations and purchases to keep itself clean of all the added filth. going in deeper…

Download Youtube Videos with IDM Internet Download Manager
lets do what i always do – go online and onto youtube and do a search for Justin Bieber and try a download or two… and i continue talking about this software cause it could be a quick solution in case something needs to be downloaded from youtube this very instant, you know, when you can't wait and this one is right here, the program.. in a month either pay for it or uninstall it, it's all good, noone is going to stand over you with a stick and beat you up in case you don't buy… and very nice feature right there: on first initial page load IDM offers you to automatically download offered video. although if it is in low quality – it will start low quality download. check out how it looks:
just don't forget where you're saving it, it's not desktop by default, it's in your user-folder, depending on windows version it could be in different places, can be accessed via my documents route.. on the other hand, please, check out what it says there in the boxes – it actually offers me to download some short video by David Guetta, and nothing about Justin Bieber.. ghm.. this kinda sucks.. does it simply attack the first viable video url on the page? well, pages have advertising and stuff… youtube techs know about all these programs and close holes, they don't want videos downloaded, they want them watched online only, as far as i know…  nevertheless, if this first screen offer wrong download, and make sure to always check exactly what video is offered to be downloaded from youtube, you can still enjoy the video and download whatever quality you like by invoking the plugin, whose little grey box should be hovering somewhere next to the video window-box. here's a quick shot of what it looked like on my screen: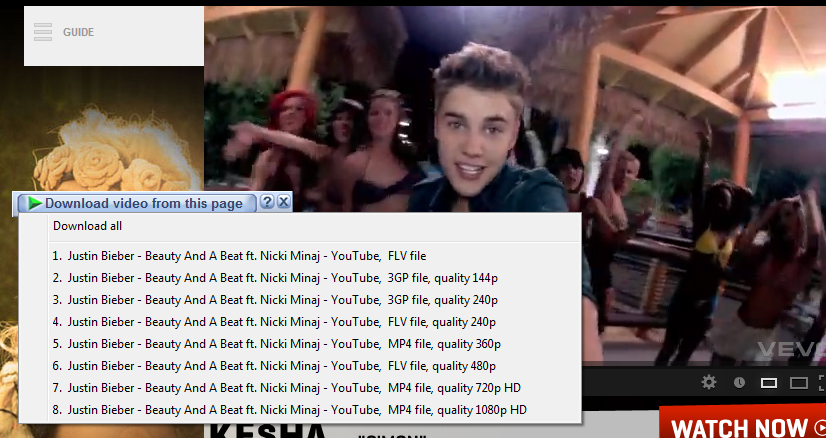 now you can see the video offered for download is the real one, the one that is being played, and all the options are there, all saves, all levels of higher definitions, everything. so this is how easily this happens with Internet Video Downloader. so now we can just do the usual list of pros and cons, and we'll be on our way…
Pros of using Internet Download Manager for youtube downloading
supports all popular browsers, applications and platforms, including windows, youtube, vimeo, etc, etc
one click downloads with IDM actually scanning pages for any links and offering them to you
easy soundcloud download and download youtube videos as mp3s
includes such nice features as: download all videos from the page, total site grabber to download all the pages of the current site and the graphics and resources attached, supports proxy servers for secure downloading, download accelerator, built-in scheduler, and even has a way to limit downloading speed if it becomes tooooooo faaaast!!
IDM is multilingual, it has over 2 dozen language translations included
advanced browser integration allows for on-the-fly video downloading
download categories, advanced fragmentation, quick paid customer support, and many many other features are included. all for a hefty one-time fee of $24.95 (at the moment of writing this article. price can change any time, we do not guarantee anything, right).. we don't even encourage buying this, we just checked it out and it looks all right, so we're including it onto our reviews board.
developing team has over 13 years behind this project, doing wonders, to be honest… great support is guaranteed.
Conclusion: Why you should NOT use IDM to download youtube videos
you have to pay for full unlimited version

it is not exactly offering proper videos for download
it is a universal program to download anything from anywhere, we prefer specialized little tools made only for video and audio downloads from youtube (and other sources).
and so out verdict comes below (and would have been 5 stars if not for the money they want for this program)…