this is the first review in a series of reviews of different methods (software, browser plugins or online services) to download youtube videos. to "preserve" them on your hard drive or ipod and watch later offline and such.
so lets start with the one software that shows up first on google search "download youtube videos"…

Where to download
Quick & easy download from vdownloader.com, filesize very small
Installation (avoid freeloaders in free version)
Does this software install free loaders: yes, a number of them… free loaders are the programs that come with this one you are installing. they have nothing to do with the original package. they are just paying the software authors to include them into the installation. so basically by installing them you generate some money for the creator of the software. that's the noble part. the nasty part is that it's usually hard to impossible to get rid of them. in general, the software has already been created to have these free loaders with it, if it makes it any popular. so don't be ashamed if you don't install the annoying toolbars and other little nasty things by disabling them and disagreeing to their installations. and here's how to do that:
welcome screen click NEXT
licence agreement – read and click next if you agree
installation type – Advanced Installation
uncheck all the boxes (3 in this version) to avoid installing BABYLON TOOLBAR or any other things it suggests (offers change sometimes..), click NEXT
uncheck 1 box to avoid installing DealCabby, click NEXT
WAJAM is promising to use my Facebook, google+ and twitter data… i am fully against such programs. i am also against search engines tailoring results for me, depending on my history, etc.. so i do not want WAJAM installed… click DECLINE (do not worry, just click it)
next screen it skips installing any of the additional dead weight programs, and there's FINISH button – click it.
Installing the actual VDownloader software
FINALLY we're at the beginning of installing the real software we're after – VDOWNLOADER
select language
later watch out – create desktop icon, if you want, but make sure to uncheck the "create recommended partner shortcuts…" box, if you don't want any more of their pushing…
next screen uncheck SENDORI box agreement – click NEXT
make sure uncheck the "install browser extensions" box at the very end, otherwise it will install BABYLON TOOLBAR.
yes, these guys will trick it out as much as they can. the program doesn't install any of its own extensions into your internet browser. what it does install is its sponsor's toolbar, the one you said "no" to earlier… if it still leaks through, simply go into browser options -> addons/extensions/plugins and find the BABYLON TOOLBAR there and disable or remove it. also go to your control panel -> programs and uninstall 2 things – babylon toolbar and babylon object installer to make sure they do not reappear in the browser. last thing is to restore your browser startup page, it is probably set to go to babylon.com, so put the proper one back on. to see if this BABYLON TOOLBAR has been removed – restart your browser..
it also asks for MS DOT NET framework 4.0, it told me, but then it works without it, or maybe i have it as a part of my windows vista.. who knows..
Download Youtube Videos with VDownloader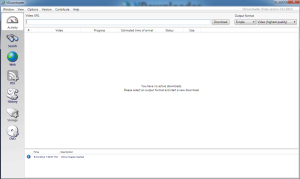 and here we go the initial look of the software…. only 3 of the 7 features on the left are enabled.. to be honest, i think with all the pre-installed free loaders, this should be a fully functioning program in its free version. but no, it is not. although it is very easy to use. with the limited features, there's barely anything to do really. one can search for videos as it's shown on the slide below.. but again, how hard is it to grab search results from youtube? oh yeah, i bet it can download youtube videos..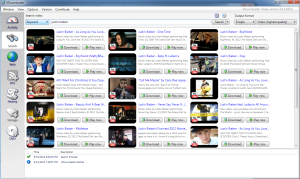 the free version also has a browser built in, those are good sometimes come in handy when software is being silly and cannot detect something from your normal browser. it helps to try and open the same page in the built-in software browser, and try the download or whatever you're doing. yes, it's a nice feature, as well as the search built-in, but that is where it ends. i did a quick search for Justin Bieber in the software, and this screenshot is actually the results of that search. and so i went ahead and clicked download on top 10 results. what do you know… the third image here shows exactly what happened: only 1 out of 10 videos have been downloaded successfully, and with 90% fail rating this VDownloader only receives 1 star. and that is only for the promised features…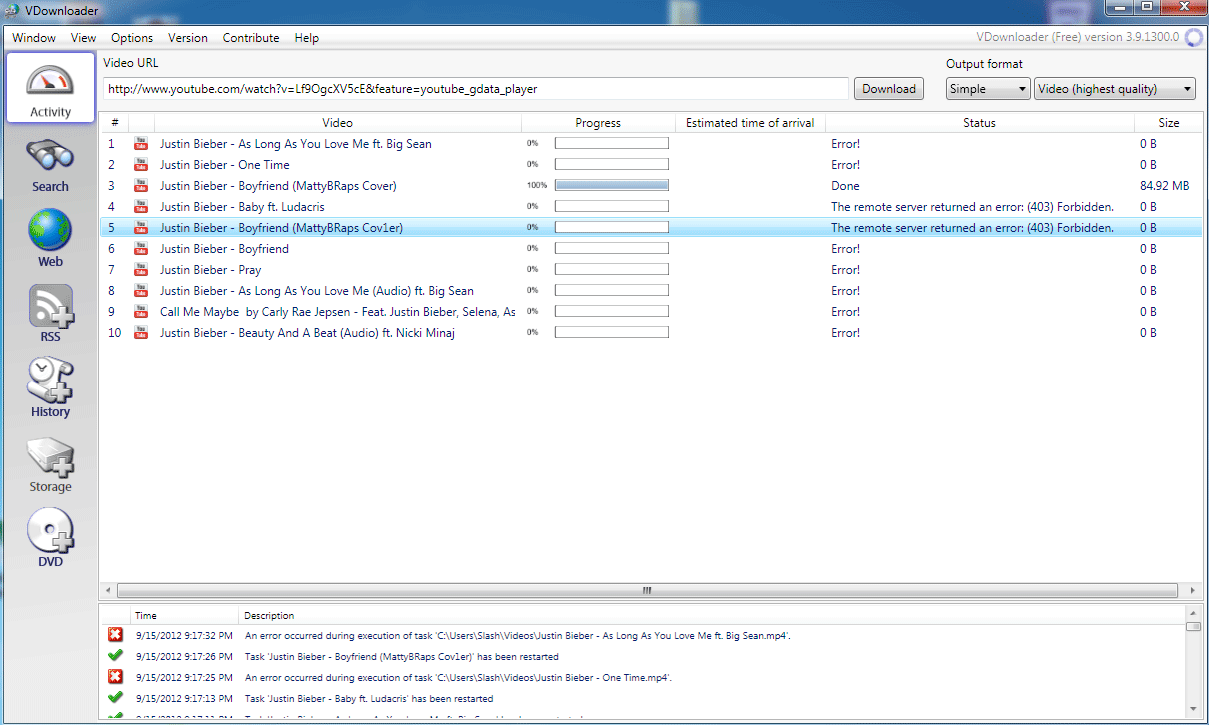 lets see then what this software really promised as a Free Version and as Premium (available regularly for a crazy 49  dollars or 39 euros):
features included with free version of VDownloader
Batch Download – download youtube videos in batches (several at once)
Multi Language support – comes free
Youtube untegration – it can log you into youtube to go over your saved/private videos
Proxy Downloading – in free version you can still set up a Proxy Server and download videos from youtube even if its blocked by your ISP, your net admins or even in your country.
Clipboard Monitoring – for videos to start downloading automagically if you copy a video URL into clipboard – look into options -> downloads…
Max concurrent downloads and conversion jobs can be set up there as well, for those whose computers are not powerful enough to convert several videos at once. some times it can even hurt downloads, make pauses, lags, buffering and such. so set your tasks to the sensible max amounts.
when downloading videos from youtube, you can convert them to other video formats on the fly. this also makes possible saving youtube videos as mp3, for audio extraction, that is..
features included with PLUS Version (paid features)
create custom profiles to download youtube videos and convert them automatically
video downloads are supposed to be accelerated somehow
video history becomes enabled to retrieve old stuff you watched, although in that case you have to watch all your videos via this program, which is simply stupid – thus this is a useless feature for a paid version
fully automated updates (just to stick you up with some more free loaders, no thanks!)
supposed to work as video converter, i.e. you can convert videos that you've downloaded before and from elsewhere. although settings there are not available, making this a poor video converter
HD and HQ downloads supposedly only available with the paid version… that is truly stupid, but oh well, probably people VDowbloader for that reason.. to get better quality videos, not that all ipods and androids have huge screens with amazing clarity of picture, so all of us want to get HD stuff now.. hehe..
Conclusion
I think You should not use VDownloader, or at least the version i did back then.. V3.1.9 or something.. Way too monetized. Too much third-party software to deal with during install, for so little free functionality. And again software is not the best choice in my opinion. Should video protocol change in one of "supported" sites, new version of VDownloader will have to be released and downloaded… On the other hand that is what I do with youtube-dl when youtube does change and current version of my favorite software doesn't work anymore. I go and update it.. So maybe generally software is not so bad, but again it's not multiplatform, nor it is easy to push updates on several supported platforms. While sites like off liberty and savefrom.nat are online and therefor multiplatform. And easy to update and no updates need to be pushed to possibly 100s of thousands of users…