Clipgrab: Where to download
just pop over to clipgrab.de – a very simple site with just 2 buttons, one to download the software (ClipGrab – download youtube videos), and another – to donate, which can be done later if you like this software and keep it. file size is about 15MB on current version.
Installation (avoid 1 freeloader – CG toolbar)
when installing this youtube converter there's only one fork on the way, it shows when the installer asks if you'd like to install the toolbar that comes with the program or not. i am testing this out, so i go ahead and install with the toolbar, so that i could tell you what that toolbar is all about, you know? in your shoes i'd never agree to any toolbar, but oh well, lets see what it does. well, at least this is a custom built toolbar included by the software creator. it is nasty, don't get me wrong, but again, at least it was only offered once and wasn't pushed upon me, i chose to install it. it is a collection of links for apps, plus your weather, and some other regular stuff.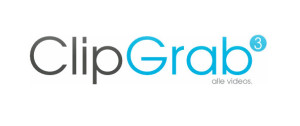 to get rid of CG toolbar simply go into Firefox Options -> manage addons -> disable it in the list or uninstall it.
this toolbar installation only affects Firefox, i am using all 5 major browsers, so i check. IE and Chrome are not affected, so if you're not using Firefox, don't even worry about the toolbar – it won't show. otherwise the installation is pretty quick and nice and doesn't require a separate section, like it was with VDownloader.
Download Youtube Videos with ClipGrab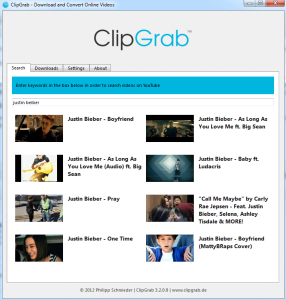 We start the software with a very simple screen, offering several most played videos and a way to search for more on Youtube, just enter your search keywords below the blue rectangle. search works with AJAX on keystrokes, so no <enter> button is there, don't be alarmed. i do my search for Justin Beiber and receive 8 possible results. still looking quite simple and nice. i click on the very first result. the program switches to its second tab – "Downloads" and already has the video URL in the proper box. all i need to do is:
select the format in which to save the video you download from youtube or vimeo – Original, Mpeg4, WMV are available for video saving, while MP3 and OGG are included to  allow you to save youtube videos as mp3 i.e. download audio from youtube.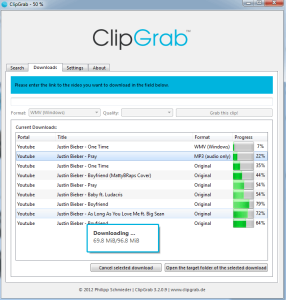 select the Quality (video size and resolution) in which to download youtube video and save it onto your computer. the quality options are set to start with the highest, so the highest option, the best video image quality will always be selected for you. in my case its HD 1080p.
finally, click Grab this clip! select where to save. and download begins!!
on the screen shot to the right you can clearly see 9 videos being downloaded, one of them with lower quality chosen, another saving youtube video as mp3. i've not done 10 videos for a rounded thorough check, but this is obvious here – 100% detection and downloading, very good piece of software for sure! as a continuation of the rule 3 screenshots per review, i am including the same screenshot at this one, only now it has all the videos completed and ready to be viewed. please, note, this program doesn't do any histories or libraries, it's simple in its nature and it leaves you the freedom of choosing where you want to save it, where to copy, what to do in general.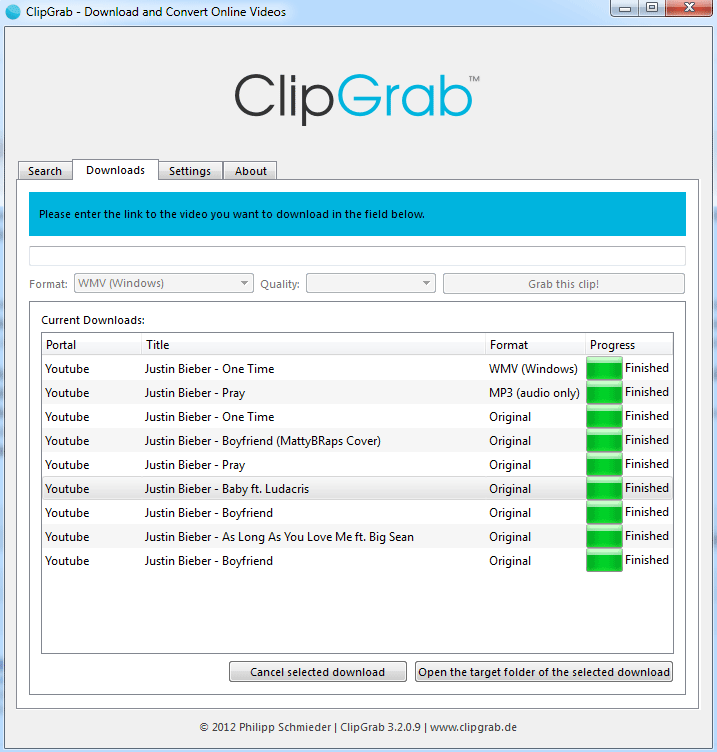 Features included with ClipGrab (win, free version)
now that we know ClipGrab is a nice and nifty tool, lets go over the features that are included with this program. mind, this software exists only in its free version, so features are scarce, but looks like they are quite enough to make this a very nice program to keep. i know it will definitely replace Vdownloader on my computer..
Multi Platform – this software exist on Windows, Linux and Mac Os, very few other youtube downloaders can boast about the same achievement. it is also GPL v3 licenced.
Multi Language support is included
Proxy downloading – just set up a proxy server and do your downloads undetectable. in case your access to youtube is blocked by ISP or your sneaky netadmin.
Clipboard monitoring – a nice feature that detects video URLs when you CTRL+C them into your clipboard, little window pops up next to the clock saying ClipGrab can take it from here.
Various sites support – ClipGrab works with Youtube, Vimeo,  Collegehumor, Dailymotion, and if it doesn't know about the site, it will still try to download the video by detecting the stream using the heuristic approach. so whatever the world throws at you – you're covered with ClipGrab. lolz..
Integrated Youtube Search, as we've mentioned before, makes it a bit easier to find your stuff. only it's limited to youtube, so i don't know…
ClipGrab was fully rewritten using C/C++ after it's popularity went a bit up and having it as the original slow PureBasic project became kinda shameful… thus now it's a very fast, little memory using tool.
Multi Threaded Downloads allow for fast downloading of videos from youtube and vimeo.
Ad-Free video download for you not to have that stupid add there hovering all the video, embedded into it…
Save youtube videos as MP3 is a standard feature, thanks!
HD video downloading is available standard, very sweet!
can be tweaked to download videos automagically by monitoring clipboard plus changing some other settings in program options.
Obviously useful features missing in ClipGrab
no stop, resume or pause of downloads
cannot download youtube videos that are embedded onto pages, will require one to copy the video URL before ClipGrab will detect such videos (right click on the video)
no batch download, well, it's not a biggie… batch downloads usually mean one had to copy-paste video URLs to create the batch list, so why not just allow ClipGrab detect them and start downloading instead of pasting them into some doc/text file.
Conclusion
great piece of software, really neat and powerful. Save tube org says OK to use!