Hello. Today I don't have any dark news, like the previous article was about saveclipbro recent disappearance. No, today we are going to talk a quick discussion of ytmp3.men website. It's a great new free youtube to mp3 converter online. It advertises as a place for men to convert youtube videos to mp3. The only difference from any other converter is that it has the cute face there, I think some famous actress?
How to use ytmp3?
It's very easy, if you ask me. All you need is the Youtube video URL in your device clipboard, and the rest is just peachy. How to copy Youtube video URL into clipboard? It is a very straightforward process if you use Share button under or on any Youtube video, embedded, in the app or on their website. Social aspect is the king now, so Share button will always be there. Click or tap it, and there it is – the option to Copy Link. Tap that and that's all. Now the link is in your device clipboard, and you can proceed to ytmp3.
I will not be giving an extensive tutorial this time, because site is very easy to use, has nice user interface, all is very crystal clear, you will not get lost there. Try it out, you will know. So you'd need to open the site, paste video URL into the white box in the center (desktop – right click + paste, mobile – tap and hold + paste), and hit the red GO button on the right.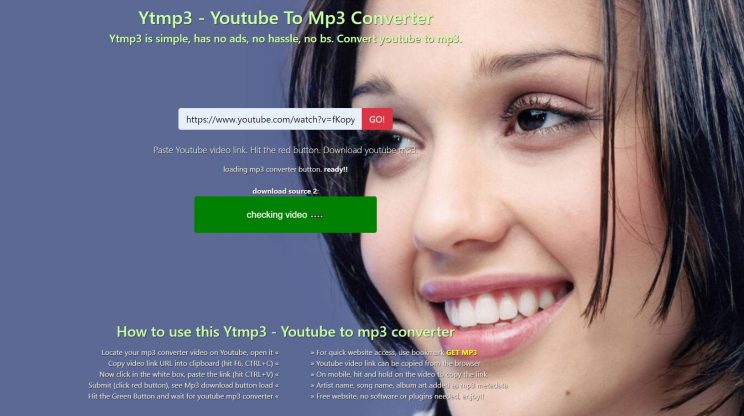 Very easy indeed. This screenshot depicts the moment when I've already stared the mp3 converter by pressing the green button to get the mp3. It took about 4 seconds and download was complete. Green button showed indicators of download must-have-happening and nudges to check the download folder. And of course mp3 is there! Awesome!
Conclusion
Very easy site, very fast loading and simple youtube to mp3 converter without any ads, popups or notification. Check it out, you'll definitely like it. Works great on mobile devices, can convert Youtube videos to mp3 up to 30 minute long.