Now here comes another benefactor of the long lost youtube-mp3.org. Just check out this graph below the chart of popularity.. opened up probably late summer, this site has grabbed some chunk of traffic with the speed everyone should aim for…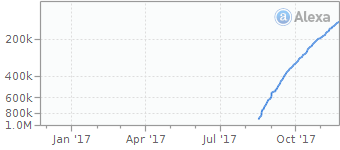 this data is for late november 2017.. Not bad, right? There's also ytbmp4.com, but it is in no way near this one's popularity… also do not mistake this site for the group of famous ytmp3 sites, that include ytmp3.net, ytmp3.cc & ytmp3.com. No this one is different, with one more letter in there b…
Let us start with a quick review. Thanks ytbmp3.com for not having popups, but then the replacement of those are the nasty looking ads to the right and to the left of main website functional area… those ads sometimes can get nasty too, so watch out..
Otherwise it was a quick conversion, as you see below – only 3 steps with my screenshots, very fast and efficient. almost as good as theyoump3 or savetomp3 which is a very good achievement.
But yet there are too many ads on the sides… 4 stars, cannot go any higher… Although i did enjoy using this site, despite the ads..
ytbmp3.com quick step by step tutorial
today we're going to download Luis Fonsi, Demi Lovato – Échame La Culpa – check out what music that is.. something popular from youtube..
step 1. Open ytbmp3.com front page
let's open front page and check it out.. here's how it looks now in november 2017.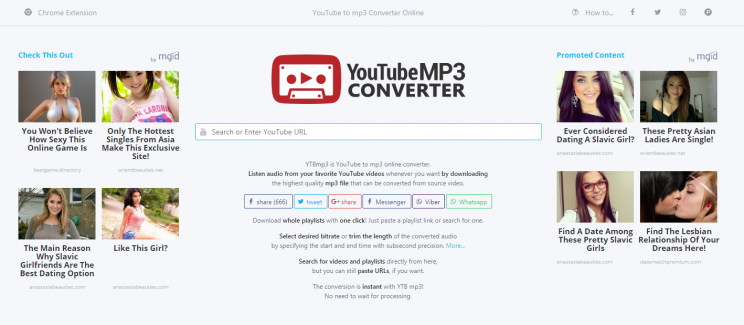 Step 2. Enter video URL into the box
after doing that, page with automagically refresh with the video info, as shown on the screenshot 2 below: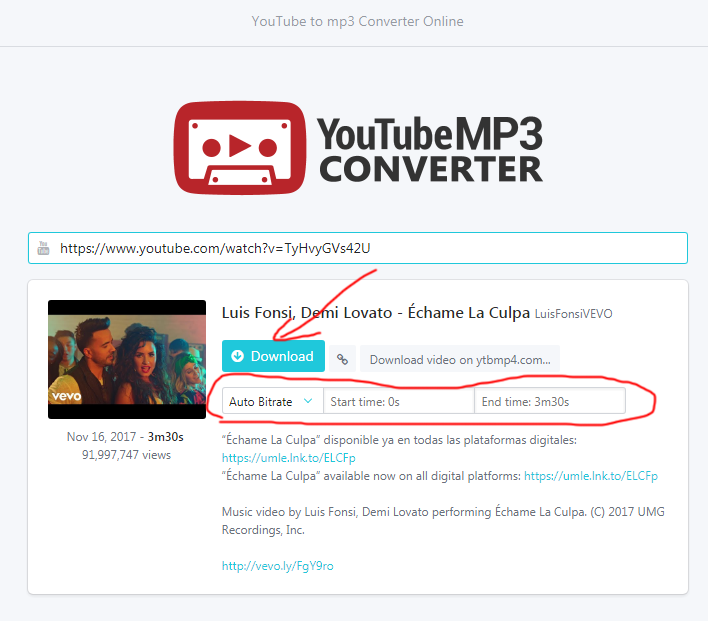 at this point all you need to do is select bitrate (that is if you want to adjust it, just remember, saving youtube audio as anything more than 140kbps is wasteful, audio is never better than 128kbps really) and start and end time, if you want to cut the mp3 shorter for ringtone or something, and go ahead click blue download button.
Step 3. Downloading process is in progress
now lay back and relax, while browser takes 2-3 seconds to download the mp3. good job!!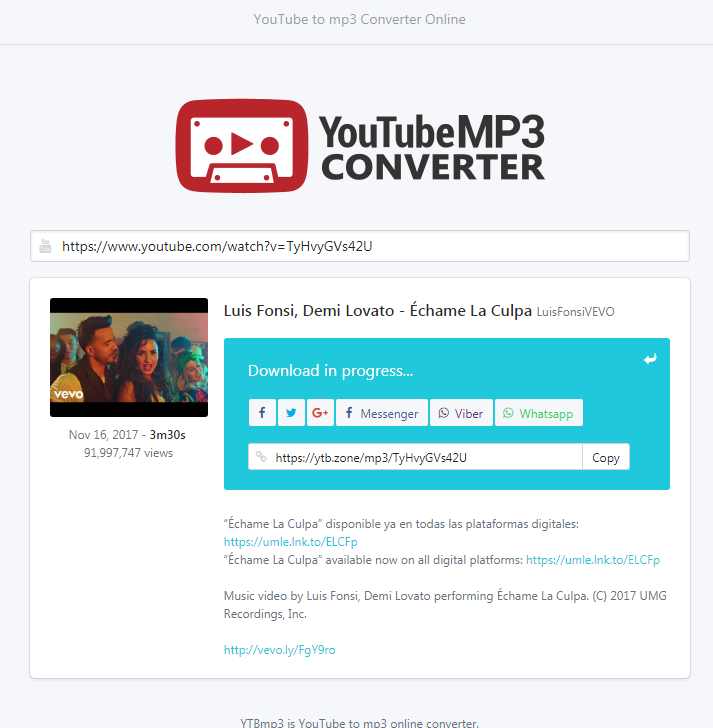 Now you can see some more links from the owner of this site, promoting their other projects, and a link to share the short link kinda but not really short… but it is a link to this page, to quickly convert the mp3 next time or for the friends… So generally this site works and is quite fast. Very good find. if now its only scratching top 150k sites, i think in half a year it will be top50k, and will progress even higher on that ladder…
Conclusion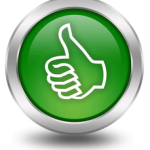 it's OK to use ytbmp3.com, just be careful about ads and watch out for possible future heavy monetization… they do have chrome extension too, check it out…