Hello, my fellow readers. Today I've stumbled upon this truly ridiculous imitation of OffLiberty. Well, if not imitation per say, then it's the second time i come across the idea of "limited internet" put into the website's doctrine.. I mean, the idea behind the site that sysop wants to be seen. And here it is the idea of helping those who have no internet, slow internet or cannot watch videos in general.
The first one was Offliberty, second site I've come across with this idea put in its foundation was youtubeinmp4's sister site called SaveItOffline. Here's what TubeOffline's operator says about it:
Not everyone has high-speed internet & modern browsers. Viewing an online video can be a struggle on slow internet or incompatible browsers. TubeOffline is a free media converter & downloader to help you convert any video to MP4/FLV/AVI format so you can view it offline on any device and enjoy a better viewing experience.
Well, maybe there is some sense in these words, but they are totally ripped off the offliberty.. This is my first ranting piece.. Can't you just come up with some new idea? At least SaveItOffline was kinda trying to touch up on Google's project of delivering internet to Africa and other hard-to-get-to (for the signal) places… Anyways, let's get to reviewing the site…
TubeOffline.com Review (Not a good one)
So let us look into this website.. It claims there are at least 5 reasons that users love about it. Let's just quickly go over those…
It's free, fast & easy to use…
FALSE, the site is ridiculously over-complicated… can't find anything… had to make at least 5 steps even to get to youtube downloader…
Convert videos to MP4/FLV/AVI format without any Signup or Software installation!
TRUE, but obviously we'd not be here if we had to install anything… why do these sites boast this "feature" of no install? It is the reason we come to these site, cause we don't want installs.
No more buffering due to slow internet connection. Convert & download online videos to view on any device, even without internet.
WHAT??? Your site used to buffer? or do you promise that WE will not have anymore buffering? i do not understand this.. And how can we download online videos … even without internet??? WHat kind of magic is this??
We add support for new popular video sites every weekend!
FALSE if you added that support every weekend, you'd have at least 400-500 sites supported and serviced.. I only see a few dozens…
24/7 free support… WHO CARES??? i am not even checking that…
And now let's get back to review…
Very Very bad user experience
As you can see in the step by step tutorial below, it took me at least 5-6 clicks before I was able to get to youtube mp4 downloader. There are currently 2 boxes to enter URL on the front page of this site. And both of them report that this youtube URL will not work.. Being a normal user, i would have closed the window with this site and went on to another one. But since i want to get to the truth, i need to keep clicking.. And oh well.. finally I am on that page…
Youtube Mp3 converter doesn't offer MP3 download link
so I thought let me try youtube to mp3 converter first. And what do i see?? In one of the steps below it's confirmed: there is no MP3 download link… Options selected for HD MP3 conversion, and the only download links are for the video… WHY???? 
Youtube Mp3 conversion taken from some other site
yes, amazing… sysop couldn't do this youtube mp3 conversion on their own, but it had to be done, since there are millions of people suffering without a tool to do it since youtube-mp3.org was shut down.. so they used an iframe with code from ytmp3 juices to do the job… what a loss…
funny part, you will actually get a nasty ad popup from ytmp3.cc while browsing tubeoffline.com… how can that be??? well, of course i know how that can be… I mean here, how is this humanely possible?? Have a ton of your own advertising just to support some other site???
One site per conversion page
This i too understand, it is done for SEO and to have google think this site has so many pages and features.. The problem is, all of those pages are almost identical.. Just a few words different site name and URL example.. Generally there are maybe 2-3 dozen words on every page. This really beats the purpose of making many pages.. To have them all rank something in google you need unique text on every page, otherwise they are just doubles of each other in google's eyes..
Plus this creates a real hassle for the user. I still cannot believe that I had to go looking for the youtube mp3 converter page on this site…
Tons of ads and popups
Any click you take,
any tap you make..
Any thing you do
you'll will not stop this
Just ad-block will do….
How do you like my song? I just made it up myself… =)
This is the reason people install ad-blocks… The nasty ads, that want to load up and block you from leaving the page and will not close off and keep coming back.. So eventually one needs to close all the browser window(s) just to stop those ads… Or install adblock. That will eventually stop normal sites and blogs from making those .000002 USD off your visit by showing you ads… Really really sad user experience on this site…
Youtube Video downloads all named "videoplayback.mp4"
I already mentioned this in my ytmp4.net review.. I understand why: because video is downloaded directly from youtube and google servers, and browsers won't let you rename such download…
But… It is quite easy to make browser download the file into cache first and then rename it on save… Or do something else… Otherwise if you download more than 1 youtube video – you'll have 2 identically named files on your device… Who knows what is what there…
Honestly, I don't even want to try this site on anything other than youtube… How will it react, what will it download, how will it name files… Don't even wanna know… Could be real mess, who knows… I don't even want to check. My editor's rating to this site is already so low, that it cannot be worse, so I am not looking for other reasons to get upset about wasting mine and your time with this review… Well, maybe it'll help you.. But these 2 hours are gone from my life that's for sure…
Very weird bookmark-let
Haha, this site even has a bookmarklet. I tried installing it into my bookmarks. This is the most bizarre experience I've ever had with bookmarklets… They are supposed to throw you to a site that does something… This one just shows a button to continue service… And then it throws you to a completely different website, ok that it has same name, but still.. You're redirected to TubeOffline.to, which is not the original .com site you were at…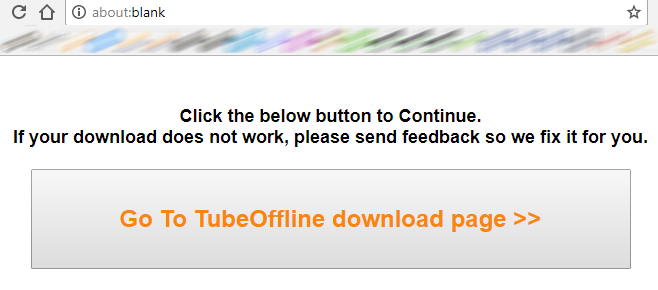 Btw, this other site actually has normal display of two boxes, one for audio conversion, one for video… Surprise, surprise… The owner does know a thing or two about making their site actually usable…
TubeOffline step by step tutorial
This time i want to show how to download Justin Bieber ft. Sia & Ed Sheeran – Near (Official Lyric Video)… Get back to the roots, back to Bieber (if you are not sure what i mean: i used to always do bieber videos in earlier reviews, so some users even started asking why)… =)
This tutorial is the longest I've ever had to do.. Honestly, I've started this review by ranting about user experience and all that related stuff on TubeOffline, and by the time I actually got to do the tutorial and downloaded/converted a video, I was feeling sorry for myself, cause this is such a sorry-a$$ service…
You see, I've actually never used bad words in my articles, or maybe did, but have no recollection of that.. And in this review – second time already… I don;t like TubeOffline.com, if you are still wondering my opinion… So let's get to more ranting..
Step 1. Open TubeOffline.com front page
Let's pull up front page and see what's up there… But to tell you the truth, this is one of the worst sites I've reviewed so far, and it took me 8 images, 8 screenshots .. Really sub par…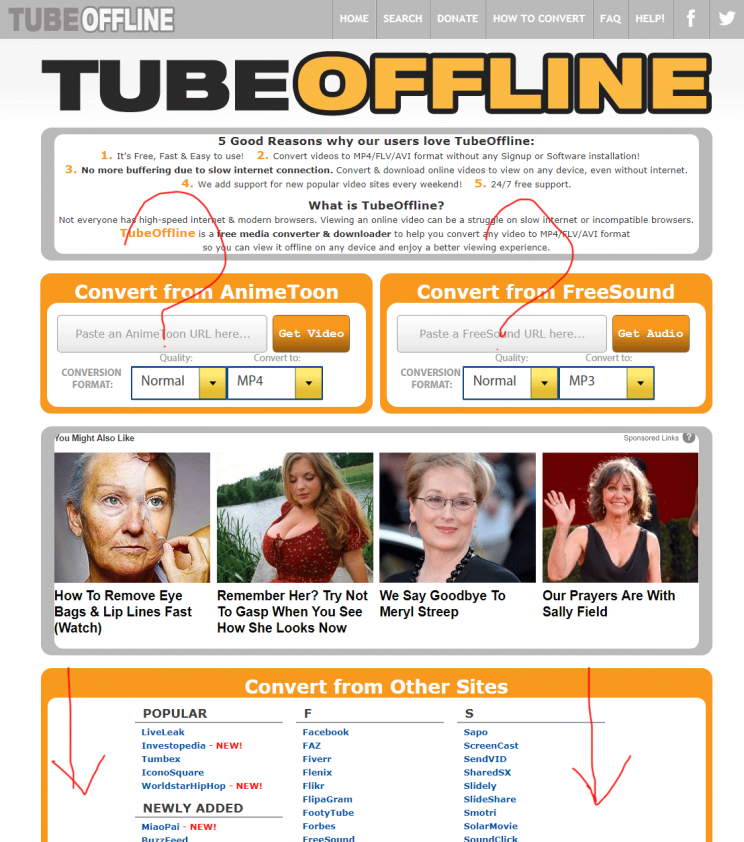 Step 2. Trying to find youtube mp3 conversion box
As I've mentioned above, now I am confused by 2 boxes right on front page. I am assuming those are for me and trying them. Both answer with negative modal popup with info. Apparently, those 2 boxes are specifically to convert 2 websites and nothing else… Normal user would have probably left after this… 2 attempts and nothing? no, sir!! But I persist…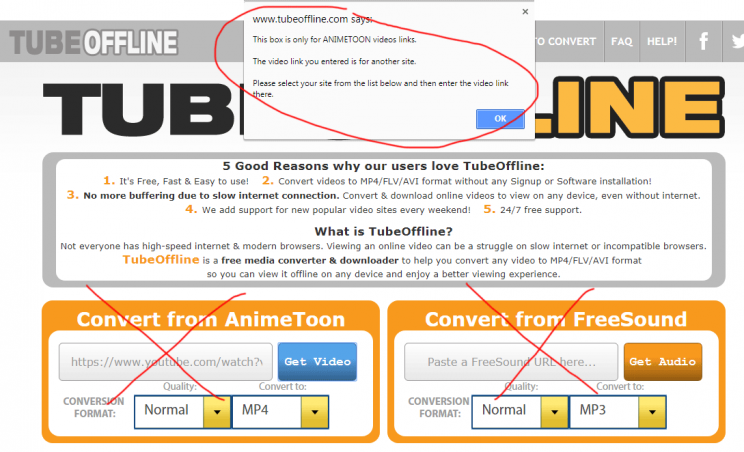 Step 3. Trying to find youtube mp3 converter… No luck yet
I finally figured out all services are listed below.. So I go… And oh my luck, i find the search box to locate youtube converter!!! YAY!! Let's do it… Enter "Youtube" in one of 2 boxes and go!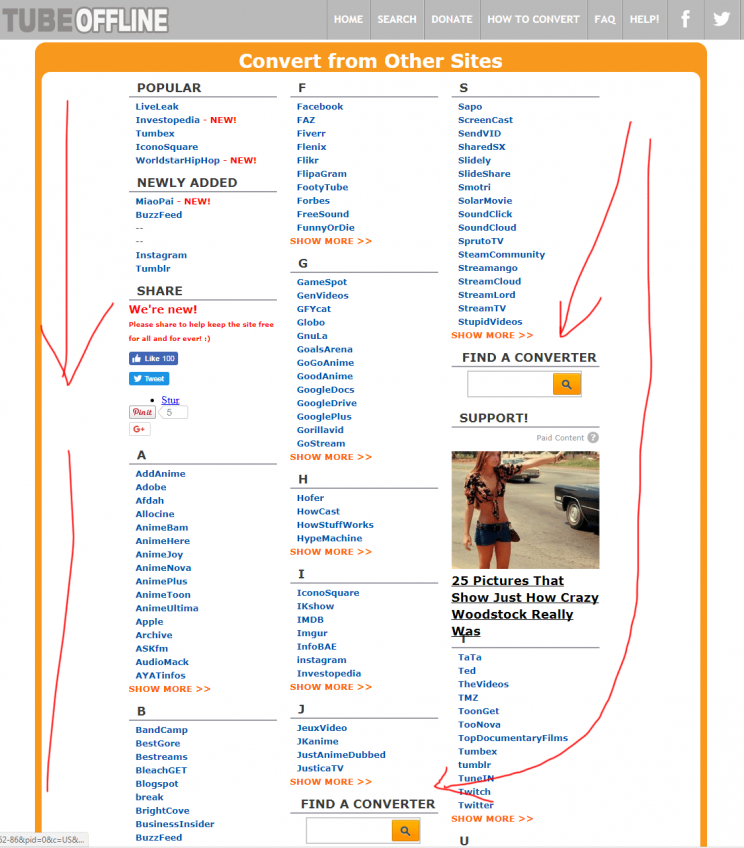 Step 4. Finally… Although user experience suffers…
Why still show letters after doing the search??? I do not get this.. Why people are intentionally cluttering their pages??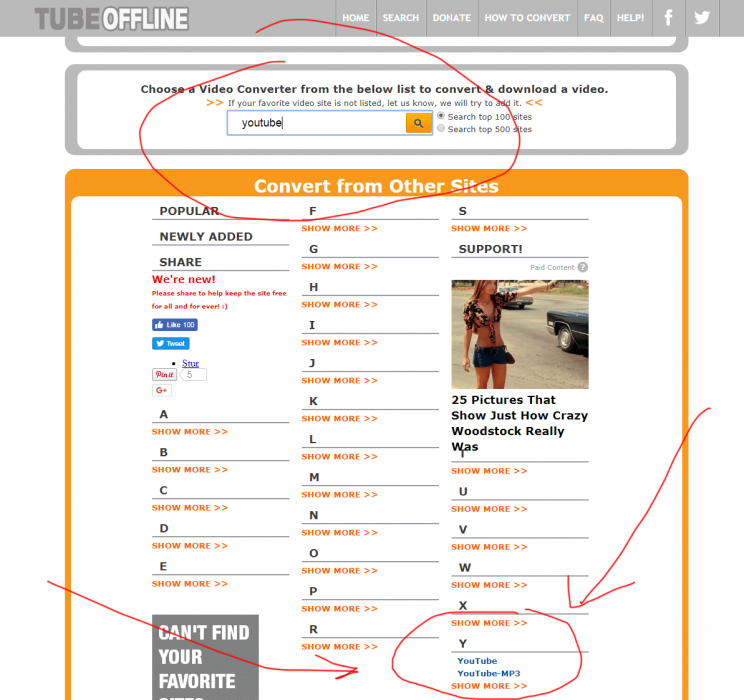 Step 5. Duh! Le't try youtube-mp3 converter… … … Fail!
Brought from ytmp3.cc this iframe is dangerous with ads from a different site! Visit one site to see ads from another one. Thank you!! Theyoump3 is way better even with so many ads… If you're interested how this goes, check out ytmp3.cc review…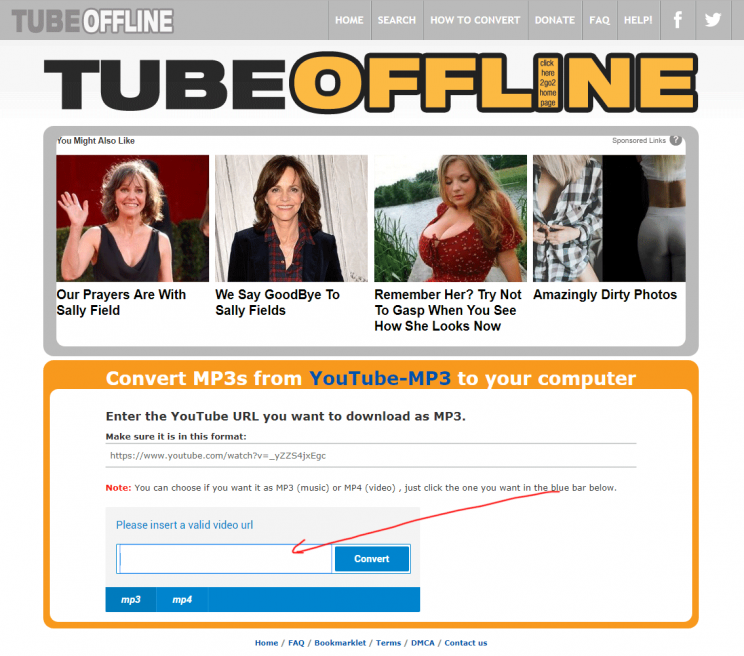 Step 6. Now try get video from youtube
here you can select format and quality.. I tried this for youtube-mp3 conversion, and it didn't care for mp3, only offered me video links. Visible on next screenshot…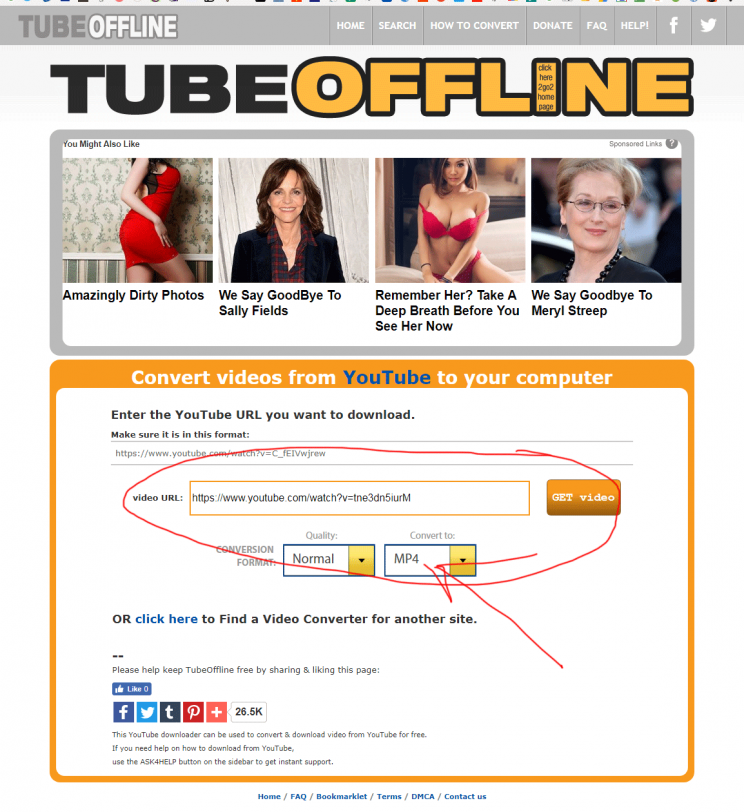 Step 7. Finally download links… Seriously, too long…
Heh.. If you look closer you can see one wonderful detail… It's the donations hat.. It was taken from offliberty. They have exact same hat there… Anyways, now you can click any of the download links to start the download. Why was there Quality selection option on the previous screen – i do not know… No matter what quality you choose, it will still show you all possible download links..
Why, tell me, why is there the option if the selection is not respected????? I do not understand this… Do you intent on me clicking many many times?? WHY???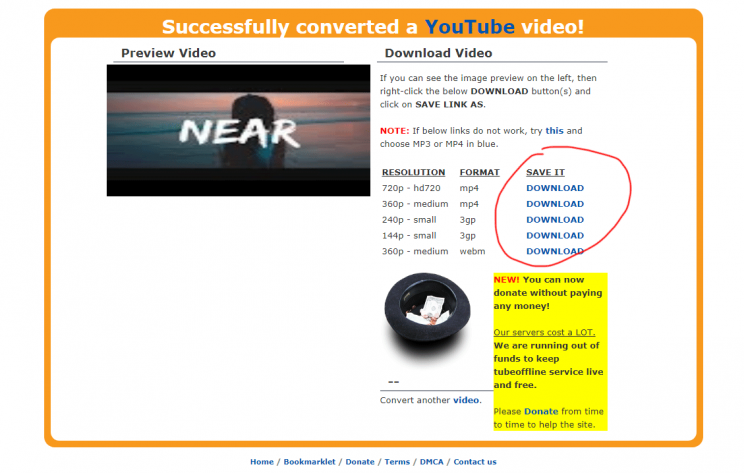 Step 8. Proof of Download
here you can see videoplayback.mp4 downloading…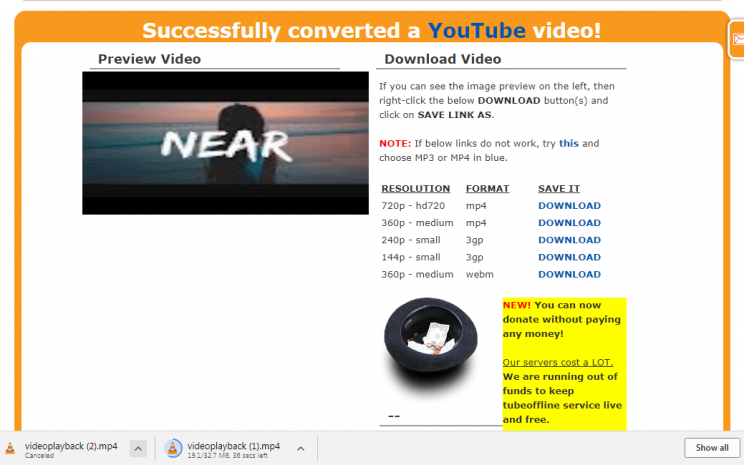 Conclusion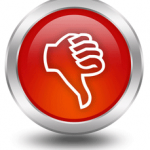 Tubeoffline is quite a sad place… Do not use it, if you are not ready to fight off a million popups just to find out you're on a wrong page which cannot convert the video you want… How hard was it to simply detect domain and redirect to the proper conversion page, if you do insist on keeping them separate?? Anyways, DO NOT USE THIS SITE. there are many others that will do a better job. Unless you want some site that only this one services, but still anything this site can do – can be done by youtube-dl. so think better many times before going here.. Ads, bad UI, really turns me off…