Today I would like to talk about another new, fresh, clean online video downloader website I found and have been using it for a while myself. These days there are tons of these websites, that's why I kinda even stopped writing about them. Not only there's literally 100s these sites that help you download online videos and convert them to mp3, but also main ones keep disappearing and sometimes reappearing weeks later or starting to redirect. I was gonna write about youtube-video-converter.xyz, but apparently right now it's redirecting to "new" qdownloader with io domain extension. See what I am saying? There's no way to know..
And so I want to write about a nice, (currently) safe website that calls itself New ClipConverter. Actually looking at that site I was able to pinpoint a few more like that one that are also clean and nice. And since the list of useful sites in my blog's sidebar here has quite expired, some were gone and others became quite user-not-friendly, I decided to rework that list and add a few nice tools which everyone can use safely. And so I will write about a few of those in my next few articles.
New Clip Converter Explained
Here's a diagram, a screenshot of the site's front  page in action, with a few of my famous pointer arrows. I do those by hand, so try not to judge my personality thru them.. 🤮🤮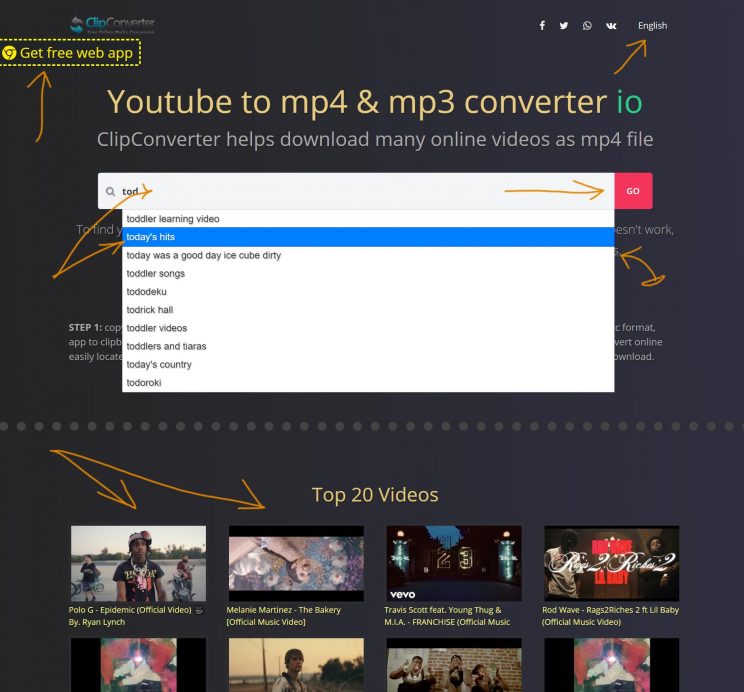 As you can see, this site has no visible ads, it's easy on the eyes and trying to follow original color scheme to some extent. From top to bottom, you can first of all use this website in many languages. Top right arrow points to the language selection menu.
Secondly, there's an app. If you want this website to work as a standalone app on windows or android devices, – click on the top left button with yellow border. It opens standard browser dialog that allows you to save this website as an app and access it same way you would Word, Chrome or Photoshop software on your PC. This app doesn't take any space on your device, it uses browser to load the site and present it as an app, so that's quite cool. To uninstall this app, simply check there's a menu on top right when you start the app. There's the link to uninstall it.
ClipConverter useful features
Besides that there's a few nice features that are quite expected from today's online video downloader website. These awesome capabilities include:
Built-in Youtube video search, just type something in the search bar and there will be suggestions. Received directly from Youtube, they represent a mixture of relevant results and videos trending in your area. Try searching in your native language if you like.
Search bar accepts normal URL input. Just past any URL you want converter to mp4 or mp3, and hit the GO button on the right to see if ClipConverter can help.
There's also a top 20 videos, and again it's geo-dependant, so if you're curious to see what's popular in other countries and languages, try change website language and hit top 20 link again. In the screenshot it is slightly peaking out from behind the list of suggestions, arrow on the middle right is there to show..
Top 20 has thumbnails, so it's easier to detect which video you like to download. Search does that thing too.
Site is free from adware, popups, redirects, notifications or any ads in general.. It boasts cleanness right on front page. But of course nobody really knows how long it'll stay clean, so get to using it now while you can!
Conclusion – approved by Savetube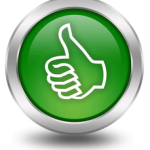 Try new Clip Converter for Youtube, Instagram, Facebook or any other site you'd like to back up your video library, all your lives and copied videos and cute kittens and all other stuff. Clip Converter can help and will help. This site has our approval seal. Check it out and use it freely. Just watch out, of course eventually it will become full of popups and redirects, – then come back here to find the next clean site!