Attention!! FBMp4.net has been down for a while. if you're looking for a good facebook video downloader – try keepvid!!
Let's talk more about specialized facebook video downloader sites, well, just one in particular. It's fbmp4.net. Recently I've reviewed fbdown.net – the major player on the facebook video downloading scene. Here we have another resource, up and coming yet, but it is a good find.
Why? It is created and operated in best traditions of ytmp4.net. Which also means that it is powered by youtube-dl. For those who follow my blog of revelations, this would say enough. Youtube-dl is an amazing product that almost guarantees easy download from over 1000 online sources. Usually any Youtube Downloader out there can also download videos from social platforms, such as Facebook, Twitter downloader, etc.
FBmp4.net Review
This is going to be a quick one. Site is designed and purposed for one simple action – download facebook video. And that is exactly what it does. In just 2-3 clicks (or taps, this site works perfectly on mobile too) you will have your video downloading. From facebook servers too, so the download will be as fast as it can be.
Facebook throttles video bandwidth, for them it'll look like you're just watching the video.  So download can sometimes be slow. You can agree with me by looking at the Tutorial step 3 screenshot below, it displays very slow download speed. Remember, this is in no way fbmp4's fault.
There's a section with static banner, which is just that – static. No popups on clicks in wrong spots, no searchbar installs, just a very modest banner there. I would recommend going with adsense advertising on this site, because adsense and google only care for youtube video downloads, and since this site deals only with facebook, it'll produce better revenue with adsense.
Secure browsing is enabled with https (Tutorial screenshot 1 arrow 1), so you're safe downloading those videos. Seemingly site runs no logs of your activity either. So it is quite ok to use this site.
The downloaded file name is obfuscated with random gibberish. oh well, it's more complex here. so filenames will always be like that. Just keep in mind rename the mp4 file as soon as download is complete. Facebook to mp3 functionality is not provided.
FBmp4.net Step By Step tutorial
For the learning part, we will download one of savetube's own videos on facebook – How to download youtube using SaveFrom.net. This will even comply with their terms of service – no download copyrighted stuff! =)
Step 1. Open fbmp4.net and check it out
click here to open up fbmp4.net and see how it looks like. Very easy design, good on mobile too. check out arrow 1 shows secure browsing, arrow 2 indicated where to put your video URL, and arrow 3 shows where to click to see the video download link.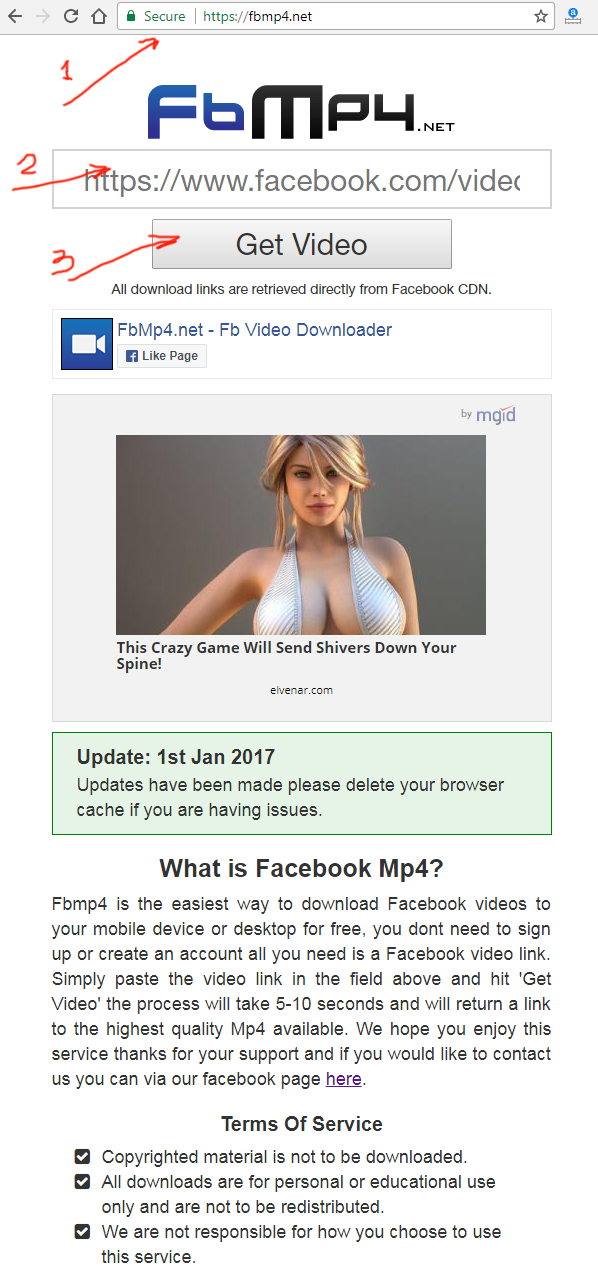 Step 2. Submit video link and click Download link
very easy again, after we submit video on previous page, this new one shows video download link, nothing else, just that, and name and thumbnail, but anyways… Make sure click Download link and now the Get Video button, cause only the first one starts mp4 video download from facebook. If it doesn't and just opens video in browser, right click on download link and pick save as option.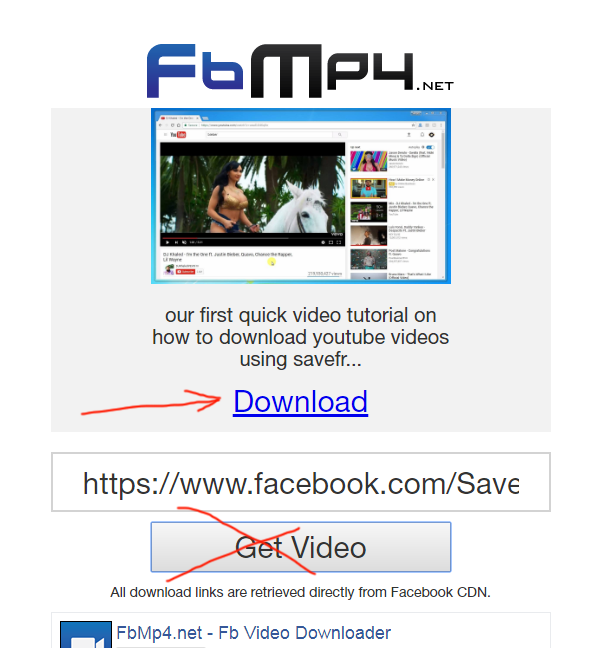 Step 3. Download Confirmation
here's the proof of download happening from facebook.

That's all pretty much. Short one here, but nevertheless useful resource. Maybe it'll get big in 3 months, who knows… Check it out.
Conclusion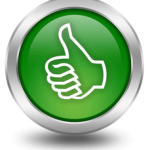 It is ok to use fbmp4.net, it's safe, secure and does what it promises – easy video downloads from facebook. By the way, 4 stars here from savetube editor. Could do without advertising for now, or at least adsense.. as you may see, ad displayed for me is not work-friendly… adsense wouldn't allow that..