Today I'd like to talk about this new site I came across looking for new horizons.. It's called HookTube.com and there's quite a bit to it, besides just downloading youtube videos. Let's discuss the features that HookTube offers, plus there will be a customary tutorial on how to use it to download videos from Youtube using Hooktube.
No Impact Video Watching
Do you want to watch some video and not award 1 extra view (or 100 extra views, if you like to loop stuff) to its youtube stats? Do you want to stay incognito and still browse youtube? Well, you're right, browser's CTRL+SHIFT+N – incognito mode – can help stay unnoticed. But video watching will be reported to youtube stats counters, can't avoid that.
So here comes hooktube.com, site that shadows your video streaming. It fetches up the page from youtube for you, it then extracts video stream and uses native HTML5 browser <video> tag to create a video viewer on that extracted stream. So you end up accessing a file online, thus youtube cannot track you (unless they have overly sophisticated procedures that track access to files, which is not really a manageable statistic).
Simplistic Minimal Design
hooktube is quite awesome in that direction. It has immensely simple, clean and clear design. Pr at least it is boasted that way. After you do the trick of replacing "you" with "hook" explained below, you will notice… hooktube barely differs from youtube. So generally speaking, youtube design is probably already quite minimalistic, so hooktube only needed to copy whole thing.. maybe even using youtube's genuine css stylesheets.. i wouldn't be surprised.
Bypass youtube geo-location and age restrictions
If you cannot see some video due to age block or geographical restriction, – do not worry, hooktube's got you covered. Any video that was removed or is being restricted somehow can be watched with hooktube. Again here we praise the way hooktube works and gives you direct video URL in the player, no Flash, no ways for youtube to check who and what and where. You simply access a file on youtube's servers (video file), so it's really harder to track your age and location.
View youtube's quarantined videos
another thing, when everyone has seen it, and you were too late, cause video got quarantined (hidden) for some reasons. Again hooktube's got ya. Come over and watch the video. All you need is that video's URL and the simple trick described next.
Now let's look into hooktube's features and outright tricks. I will use another J Bieber video, the Despacito one…
Easy open to hooktube by editing youtube's video URL in your browser
As in that trick with ss+youtube = savefrom, hooktube does exactly the same. All you need to do is open youtube video in your browser and edit its URL to remove you and replace it with hook. Press ENTER and see the magic of hooktube. Well, as I've mentioned above, – you'll barely see any changes when redirecting from youtube to hooktube.
Thinking of this "process" I personally realize right away that this actually beats the "no impact video watching" purpose.. Basically to switch to hooktube this way, one has to literally open the video in their browser and then edit its URL. Well… who cares, right? I do! I care when site's major purpose is beaten by the way it operates…
You can always just copy the video URL from elsewhere, not necessarily youtube.com. Then open new browser window, enter URL, edit it to replace "you" with "hook" and only then press ENTER. this way you actually won't open youtube's page with the video and go directly to hooktube.
Search, browsing, all proxied to hide you and your browsing actions from youtube
yes, supposedly a proxy was introduced a few weeks ago, so now all your actions, that actually are simply redirected to youtube (search, favorites, etc) are proxied. This means that first they go to hooktube, and then hooktube on its own sends requests to google and youtube's API, which then are sent back to them and come to you. Thus youtube doesn't know it was you who searched for stuff, it won't offer you later these embarrassing videos in your feed..
My wife is constantly on my computer watching Katy Perry videos on youtube.. All the yelling.. OMG.. Anyways, later youtube offers me to watch Katy's new video, sends push notifications to my android smartphone saying she's got new album and stuff.. Then google search is catered a bit to show more Katy… THIS IS NOT ME!!! So not I will have my wife use hooktube, and I will not be bothered with catered google and youtube search results full of Katy Perry. Thank you, hooktube!
No ads. Neither youtube's, Nor hooktube's.
This is a cool one. Thanks to the process – there are no ads in youtube's videos. Obviously, all of them are supplied by youtube's flash player.. Here with the help of html5, no ads are shown.
No annoying click here, subscribe, etc messages
besides, hooktube also hides any of those tricks and annoyances that youtube video owners do in their videos, inviting you to continue watching their videos, go here, like that, subscribe there… you know what i mean, right? those things usually show up closer to the end of the video.. I hate those! Thanks for hiding them, hooktube!
LOL, i'm sure hooktube's creator didn't need to put extra effor into this feature – it came as given thanks to the video URL extraction.. No flash player means no ads, no flash, no nothing there. And noone really puts that into the actual video, cause it won't be clickable. And so we benefit! =)
It's basically youtube-dl online
as the author and website creator tells himself in the FAQ, – hooktube is a simple interface for youtube-dl. I myself was thinking of creating something like that. But oh well.. I can write about it too.. Also hooktube doesn't need any servers for video/audio processing, since they simply give you youtube's links for the video and audio. This actually explains why there are no ads on hooktube – it's simply dirt cheap to run, and creator made it pretty much for himself and his friends to be able to watch videos hidden or geo-restricted by youtube. Hence he doesn't need profits.
Plus, profiteering from grey area video downloads is quite dangerous.. Well, in a way it is.. Nothing's gonna happen, really just youtube will cut you off from using their API, which is basically the way this site works.. If lost that access, hooktube will be a simple empty shell…
Now let us go over the process of downloading youtube videos with hooktube.
Download youtube using Hooktube.com (quick tutorial)
the process is quite simple. There are 2 ways to download video from youtube using hooktube's interface. Both of them produce
1. Simply use HTML5 video download feature
yes, as easy as it sounds, thanks to them using HTML5's video tag, – it by default enables video download. All you need to do is find the tiny download icon on the bottom right corner of the video viewing box. Click that and you'll start the download. For the exact location of this icon, please, check out the image below.
With this method though you'll download the video that is now loaded into your browser tab. On the image below you will see the button to the right of DOWNLOAD which now says 1280×720 mp4. This is the format that is playing in video box. That is the format you download by clicking the browser's native video download button.
If you want a different format, you can either click that number box and change the format you see. But since of audio/video split, this 1280×720 will alway be the best option, since it's the highest quality with audio. Well, of course, if it's available.. Even nowadays some videos don't have that much picture quality.. some come 240p, 360p or 480p.. So watch out…
The download button icon is marked with the red arrow on the image below (the one to the right).
2. Choose from multitude of available formats
with 1 more click, you can actually select any format you like. But as it is the case with most sites, you can only download 1080p video here without audio. Yes, it's even in the FAQ there.. As i've ranted about this before, almost none of the websites that deal with youtube video downloads allow you for 1080p video with audio downloads.
Thanks to the way youtube gives 2 streams, one for audio and one for video. it makes sense, of course, why would you stick same audio into every video file and by doing that greatly increase data transfer (audio is 5-10% size of video, so on youtube's scale it is savings of thousands of terabytes every day).. Thus they split audio and video into 2 files. Thanks to some legacy format i don't know why, but youtube still serves several options which do include audio. like 720p option always has audio.. It's pretty much HD, but not the best HD that could be – 1080p or 4k..
Below is the illustration screenshot of the options given when you click the green DOWNLOAD button bottom left corner of video box. It also shows that little native browser video download icon on the bottom right of the video box – as promised in (1) above.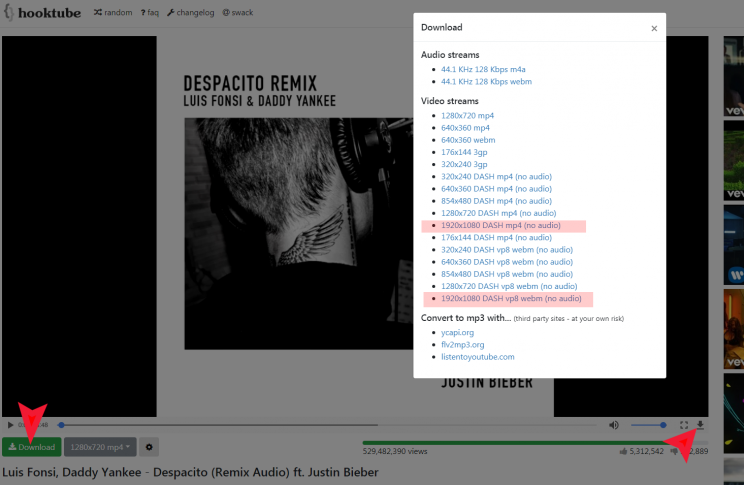 Hooktube.com converts Youtube to mp3
well, not really, but at least it offers options for converting. If you want to save youtube as mp3, simply click that DOWNLOAD button and look to the bottom of the modal window that opens up. First all the video and audio links (btw, why not get M4A, most new audio video players can play m4a, even in cars and ipods) are shown, and below you can see several options to "convert to mp3 with…." 
At the moment, ycapi.org, flv2mp3.org and listentoyoutube.com are listed as youtube to mp3 converters, but that can change any time.. And again i must mention here: this action is not performed by hooktube, you will be redirected to another website, so beware..
Negative Sides of Hooktube.com
yes, don't get me wrong, I'm as excited about hooktube as i've ever been. But there are negative sides to this site, and I'd like to share them here, hoping maybe creator is a bit narcissistic and will look up articles about his hooktube.com and reach this bottom part and read it… hehe.. lots of hypotheticals… but oh well.. I must say my piece:
hootube loads pages sometimes very long. it is mostly caused by trying to prefetch the page and relies on how youtube answers… that's why when making your website, always try to keep images and videos on your own servers.. this simply ensures fastest access. what do you do if your images are all on some site that goes down for a few days? that's why keep all your resources next to you. obviously, it's not possible with hooktube's setup. so there are delays..
due to the thematic of this "watch restricted and hidden youtube videos", the suggested videos on the bottom of hooktube.com's pages are very very specific.. lots of nazi stuff, political issues, islamic videos.. seems a bit "otherworldly"… but it will be a gold mine for those who wants to watch such videos. Me – i'm in it for video downloads…
when you just open any video with hooktube, it starts with automatic playing – quite annoying.. You can change looping and start-end timing, but you cannot change this behavior.. In my opinion – it's a big loss..
Conclusion
If you like/need/want to watch censored youtube videos and need to circumvent geo-restrictions, – then hooktube is for you!! no censorship, no restrictions, watch videos as they were before edited by youtube's censoring department.. No ads, no annoying calls to signup or subscribe or follow.. very neat, nice website. And it also helps you download video from youtube, hides your action behind proxy and is generally cool. we here at savetube is giving them 5 stars!!